Binance to Launch NFT Marketplace this June
The world's biggest cryptocurrency exchange, Binance, has announced its plans to enter the NFT space.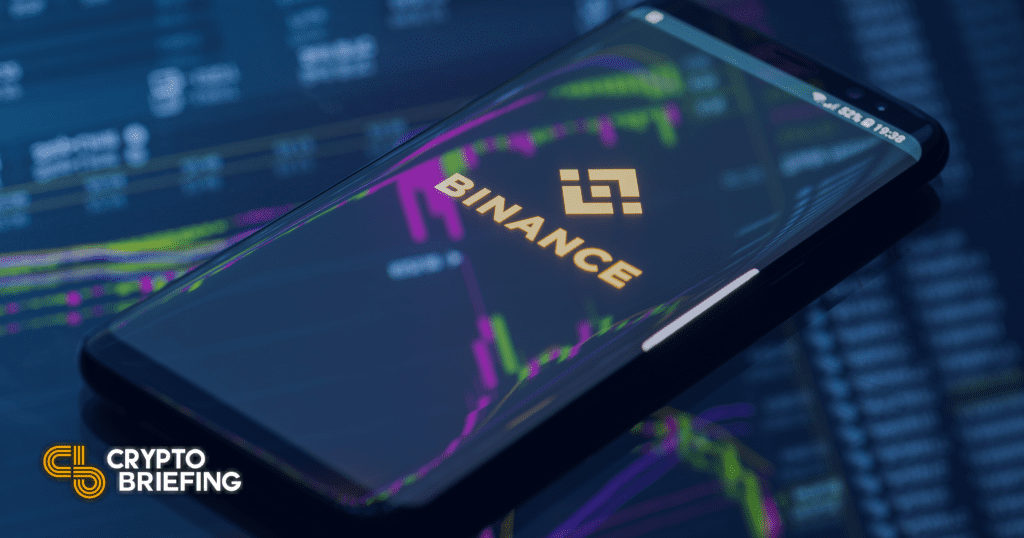 Key Takeaways
Binance is unveiling an NFT marketplace this June.
The platform will host a market for premium auctions and exhibitions, and a regular day trading market.
It will initially support Binance Smart Chain and Ethereum.
It looks like Binance wants in on the NFT hype.
Binance Eyes NFT Market
Binance is about to open its own NFT marketplace.
The cryptocurrency exchange announced its plans to launch a new platform called Binance NFT for trading non-fungible tokens on Tuesday. It's set to launch this June.
The platform will host two main markets: one for premium auctions and exhibitions and another for regular day-to-day trading.
Binance will charge a 10% fee for sales in the premium market, with the remainder going to the creators. Meanwhile, the trading market will take a 1% processing fee on every sale, and the creator will earn a 1% royalty on every trade of their respective NFT.
Helen Hai, who will be leading the project, told CNBC:
"Our aim is to provide the largest NFT trading platform in the world with the best minting, buying and exchanging experience, by leveraging the fastest and cheapest solutions powered by Binance blockchain infrastructure and community."
Binance's step into the NFT space won't likely come as a surprise to anyone who's been following the cryptocurrency space closely over the last few months. The exchange's blockchain project, Binance Smart Chain, has found enormous success by replicating elements of the second blockchain by market cap and home of the NFT boom, Ethereum. Binance's BNB coin has jumped to the third biggest cryptocurrency by market cap this year; it's worth over $88 billion at publication.
Many apps running on Binance Smart Chain offer a similar experience to DeFi on Ethereum, only without the exorbitant gas fees. Some have described Binance Smart Chain as "CeDeFi" as it's a more centralized offering than Ethereum itself. Changpeng Zhao, Binance Smart Chain founder and CEO, has been forthright with his views on Ethereum.
I love Ethereum; I just don't like the high gas fees part.

— CZ 🔶 Binance (@cz_binance) April 20, 2021
The NFT Boom
While DeFi continues to grow, it's arguably the NFT space that's stolen the crypto spotlight in 2021. In the first quarter of the year, NFTs generated over $2 billion in sales, according to NonFungible.com. With Binance charging a transaction fee on every trade, it stands to reason that there could be a big incentive to establish a stronghold in the market. Earlier this month, Binance launched stock trading, something that's also been popular in DeFi communities like Mirror and Synthetix.
Binance's NFT platform will initially support Binance Smart Chain and Ethereum. Though most NFTs are minted on Ethereum today, they're occasionally found on other blockchains like Binance Smart Chain. If the NFT space experiences further growth, it's not unlikely that there'll be an increase in activity away from Ethereum mainnet to other sidechains and blockchain networks. Binance has set up a landing page to invite collaborations from NFT creators, and a mobile app will be released sometime after the launch.
Of course, it's not only Ethereum that Binance needs to compete with: Gemini, the cryptocurrency exchange run by Tyler and Cameron Winklevoss, has been a leader in the NFT space, hosting high-profile sales through its Nifty Gateway platform. This weekend, Eminem raised $1.78 million from his first sale on Nifty Gateway, joining the likes of The Weeknd and Grimes to partner with the marketplace. Beeple will also drop his spring collection on Nifty Gateway this Friday. Beeple has been recognized as a central figure in the NFT space since his historic Christie's sale in March when his "Everydays: The First 5,000 Days" NFT sold for $69.34 million.
Christie's is continuing to explore the space, too. Nine NFTs from the canonical CryptoPunks collection will go on sale at the world-famous auction house next month, signaling a possible shift in which the traditional art world starts to embrace the technology. Should the trend continue, Binance will have yet more competition ahead.
Disclosure: At the time of writing, the author of this feature owned ETH, SNX, and several other cryptocurrencies.