Beeple NFT Now World's 3rd Most Expensive Auctioned Piece by Living Artist
Beeple has entered the art history books.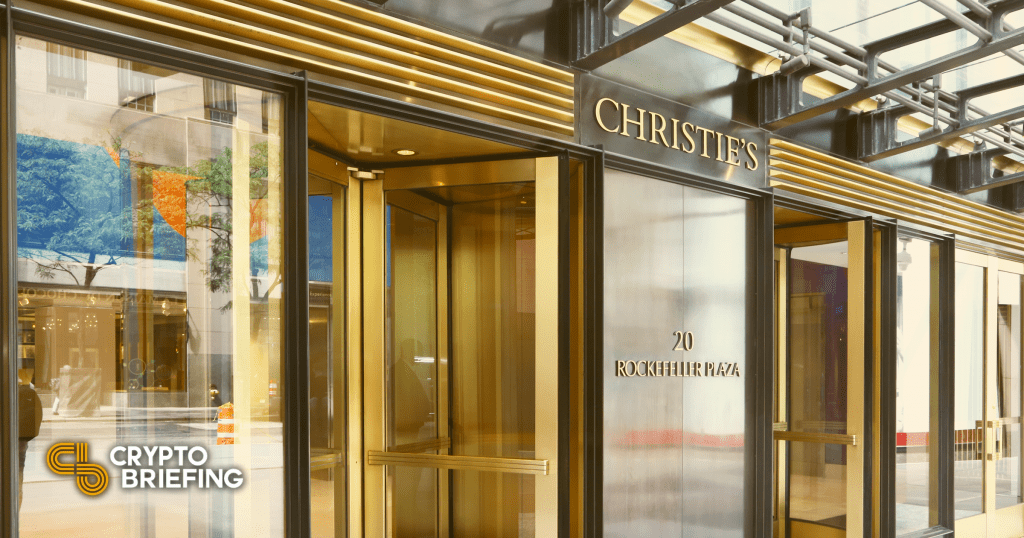 Key Takeaways
Beeple's "Everydays: The First 5,000 Days" has sold for $69.34 million in a Christie's auction. It's now the third most expensive piece of artwork sold by a living artist.
Minted as an NFT on Ethereum, it was the first purely digital artwork sale Christie's has hosted.
The event has been described as an historic moment as the NFT space hits the mainstream.
Digital art superstar: Beeple's "Everydays: The First 5,000 Days" has sold for $69.34 million in a landmark moment for the NFT space.
Christie's Hosts Landmark NFT Auction
Beeple's "Everydays: The First 5,000 Days" has sold for $69.34 million at the world-famous Christie's auction house.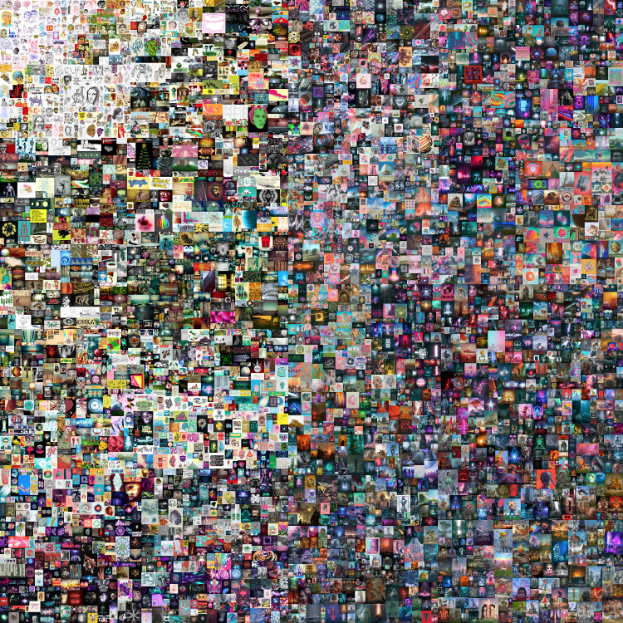 Bidding on the artwork drew to a close this morning after a two-week auction. The piece was minted as an NFT on Ethereum ahead of the sale. It's the first purely digital artwork Christie's has sold; digital art specialists Makers Place helped arrange the sale.
In another Christie's first, ETH was accepted as payment.
The event attracted a huge amount of attention before it went live. It was described as a landmark moment for the NFT space, owing to the prestige Christie's holds in the fine art world. The auction house was founded in 1766 and has sold pieces by some of the most legendary names in art history, including Leonardo da Vinci, Pablo Picasso, and Banksy.
Noah Davis, an art specialist at Christie's in New York, said of the sale:
"Christie's has never offered a new media artwork of this scale or importance before. Acquiring Beeple's work is a unique opportunity to own an entry in the blockchain itself created by one of the world's leading digital artists."
Bidding on the piece opened at $100 on Feb. 25. The auction hit $1 million within 10 minutes of going live and climbed to a price of $13.25 million with a few hours to go. A bidding frenzy ensued in the last 10 minutes, with the price jumping from $14.75 million to the final $60.25 million bid (the total realized price was $69,346,250). It received 353 bids in total.
At the final $69.34 million sale price, "Everydays: The First 5,000 Days" has become the third most expensive auctioned artworks by a living artist (including private sales, it ranks as the sixth most valuable piece by a living artist).
Jake Brukhman, a prominent NFT evangelist and founder of CoinFund, told Crypto Briefing that the auction represented a seal of approval from the traditional art sector. He said:
"Just like Justin Bieber on YouTube, Beeple was discovered by the mainstream on a digital medium (NFTs) [via] Christie's. But NFTs are poised to deliver more disruption to the business models of art intermediaries, bringing the creator in direct contact with buyers. With this auction, the art world is acknowledging both the legitimacy and disruptive nature of blockchain technology."
"Everydays: The First 5,000 Days" is the most elaborate work Beeple has ever released. Christie's described is at "Beeple's opus." It comprises 5,000 images taken from the first 5,000 days of his "Everydays" project. Beeple, real name Mike Winkelmann, has created one digital image from start to finish every day since launching the project in 2006. His style has evolved dramatically over the years. Today, he's known for creating cartoon dystopian worlds that often reference politics and current events. The pieces are created using 3D animation techniques. Many of them take the form of short videos.
Beeple had established a dedicated fanbase over the years he'd worked on "Everydays."
He's also created pieces for Nike, Louis Vuitton, and Katy Perry. But his career skyrocketed when he discovered the NFT space. NFTs are non-fungible tokens—unique assets that live on Ethereum and offer provable scarcity and ownership. They're a potential game-changer for artists like Beeple, as many digital artists struggle to sell their work when it can mostly be found online where anyone can access it.
When an artwork is tokenized, it can be attributed to one true owner. Some of Beeple's works are issued as one-of-a-kind pieces.
Beeple's NFT Success
Since winning the praise of NFT enthusiasts, Beeple has been hailed as a pioneer of the digital art movement. The space has gathered steam this year, welcoming major pop artists like Kings of Leon and Grimes, as well as a slew of other celebrities. In February, an NFT of the popular meme "Nyan Cat" sold for roughly $590,000. The mainstream press has picked up on the craze, sometimes taking shots at the market's speculative nature and the high level of carbon emissions some cryptocurrencies are responsible for.
But few artists have come to fly the flag for the movement like Beeple. Before his Christie's listing, he sold several NFTs for record-breaking sums. In 2020, he dropped two collections through the Gemini-owned auction house Nifty Gateway, one of them fetching a total of $3.5 million.
In February, one of his recent pieces centered on last year's U.S. Presidential Election sold for $6.6 million on the secondary market. The sale briefly made it the most expensive piece in NFT history.
$6.6 million is only a fraction of what the Christie's piece has fetched, though.
Now among the auction house's most valuable sales, the "Everydays: The First 5,000 Days" auction is arguably the NFT space's most significant moment to date. Digital art on Ethereum has hit the mainstream, and Beeple has found himself as its central figure.
Disclosure: At the time of writing, the author of this feature owned ETH and a number of other cryptocurrencies.