Ethereum NFT of Burned Banksy Piece Sells for $380,000
An original Banksy piece that was recently burned by a group of crypto enthusiasts and tokenized as an NFT has sold for 228.69 ETH.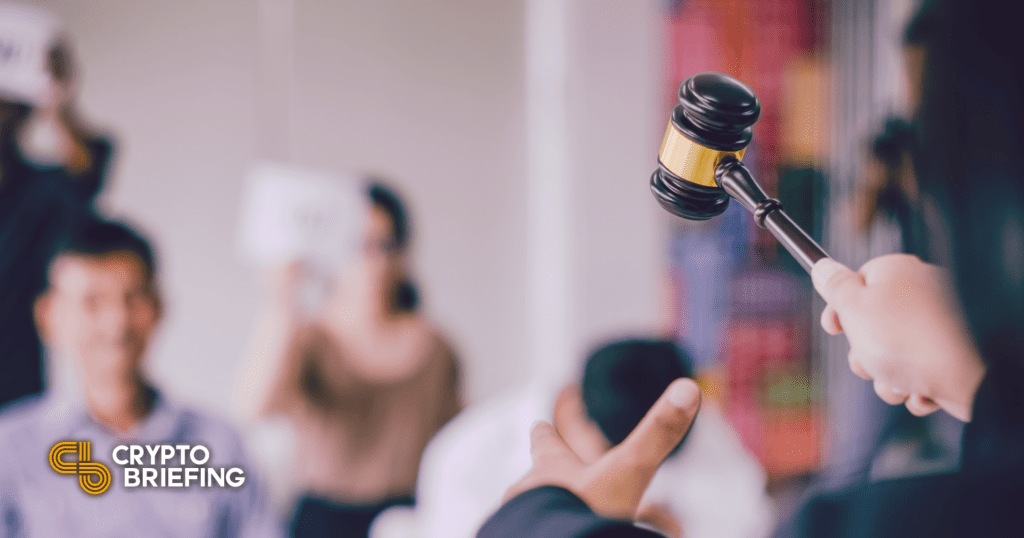 Key Takeaways
A group of crypto enthusiasts burned an original copy of Banksy's "Morons" and listed the artwork in an NFT auction last week.
The NFT has sold for 228.69 ETH, worth over $380,000 at purchase.
The group said that they hoped to "inspire artists and explore a new medium of creative expression."
Burned Banksy hits six figures: the landmark NFT sold for just over $380,000 yesterday.
Burned Banksy Gets Tokenized
An NFT of Banksy's "Morons" has sold for 228.69 ETH, worth around $382,000 at purchase.
The original artwork was acquired by a group of crypto enthusiasts and burned on a live stream in Brooklyn last week. The purpose of the burning was to tokenize the piece as an NFT. The video's host, who also burned the piece, said they hoped to "inspire artists and explore a new medium of creative expression."
A bidder using the moniker GALAXY bought the NFT on OpenSea yesterday afternoon.
The piece depicts an auction for an art canvas that reads, "I can't believe you morons actually buy this shit." Banksy produced the piece in 2006, and prints were initially sold at $500 each.
A 2007 edition of the piece sold for $84,494.79 (£60,480) in a Sotheby's auction last year.
The piece was acquired by members of Injective Protocol and SuperFarm, who reportedly paid around $100,000. It came with a Certificate of Authenticity from Pest Control, Banksy's official authenticator.
It's the first time a genuine Banksy piece has appeared on-chain, as the NFT trend continues to snowball.
By tokenizing "Morons" on Ethereum, the group said they hoped to make a point that the art could live on even after destroying the physical copy. GALAXY is now the provable owner of the piece, and the record of their purchase is immutable. As the token is fungible, no-one else will be able to claim ownership until they decide to sell.
NFTs and Art Merge
The Banksy item is only the latest in a series of massive drops across the NFT space, which has now seen several major musicians making an entry.
EDM superstar Steve Aoki released his first collection on Nifty Gateway over the weekend, raking in around $3.4 million in the process. Last week, 3LAU raised a record-breaking $11.7 million from tokenizing his "Ultraviolet" album.
Kings of Leon also became the first band to release their album as an NFT this weekend. The event attracted a significant amount of press attention from the mainstream media and music world. Over 489 ETH has been traded on the collection with 16 hours to go. With ETH trading at almost $1,700 today, the sale is a lucrative move for U.S rock artists.
But arguably the biggest NFT event so far is the release of Beeple's "The First 5,000 Days."
The digital artist's piece is on sale at Christie's, with bidding at $3.75 million. The auction closes Thursday.
The hefty price tags that some NFTs fetch have led some to criticize the space. Many argue that the six-figure valuations are unsustainable. It's difficult to say whether the bubble is about to burst. Still, NFTs offer provable scarcity in a similar way to Bitcoin, whose meteoric rise has stunned doubters time and again over the last decade.
If they go the same way, some early investors could be in for a windfall in years to come.
Disclosure: At the time of writing, the author of this feature owned ETH and several other cryptocurrencies. One or more members of Crypto Briefing's management team owns INJ. The company (Decentral Media Inc.) owns INJ.