Kings of Leon Will Release Next Album as Crypto NFT
The Grammy-winning rock band will distribute their next album and related items via blockchain.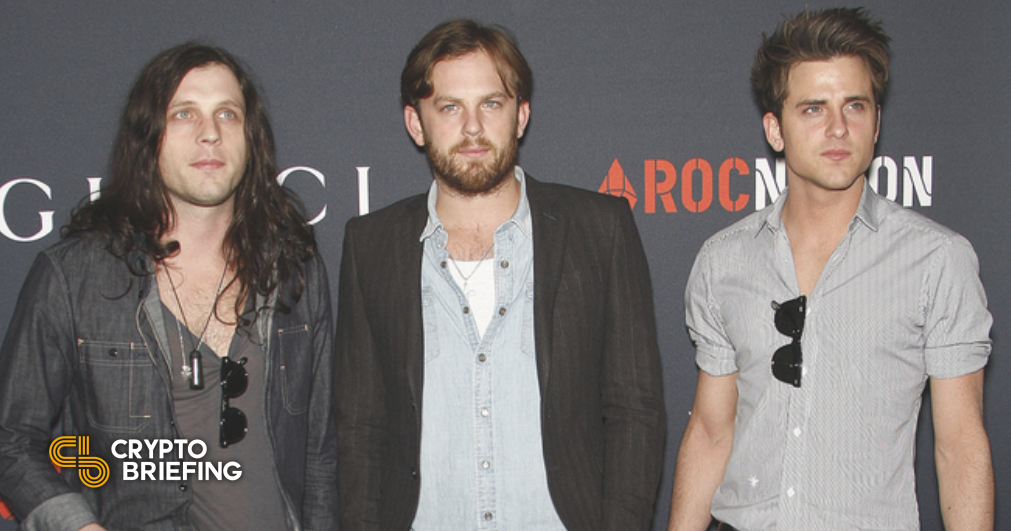 Key Takeaways
Kings of Leon is releasing a series of NFT tokens alongside their next album, "When You See Yourself."
Those NFTs will variously contain the album, art, and show tickets.
The tokens will be auctioned by YellowHeart starting Friday, Mar. 5.
Four-time Grammy winning rock band Kings Of Leon will release their next album, "When You See Yourself," alongside a series of non-fungible tokens (NFTs) on Ethereum.
NFTs Provide New Revenue Source
COVID-19 restrictions have kept concert venues closed, cutting off one of the most profitable sources of income for artists. As platforms like Spotify, Soundcloud, and YouTube continue to underpay artists, Kings of Leon have decided to seek out a new source of revenue.
In addition to offering their next album on traditional streaming platforms and on physical media, the band will also issue a series of cryptocurrency collectibles or non-fungible tokens (NFTs). This includes three types of tokens: full album packages, exclusive art collectibles, and show tickets.
More specifically, there are 18 golden tickets, 6 of which will be auctioned to buyers. Each ticket entitles buyers to four front row seats to each Kings of Leon tour for life. Each of those tickets will also have a unique piece of art linked to the band. Finally, 6 unique artwork tokens will also be put up for auction.
Auction Begins Friday
Kings of Leon has coordinated the creation of their NFTs through YellowHeart, a cryptocurrency startup that helps artists maximize their presence on the blockchain.
The auction begins at 12 PM PST on Mar. 5 at yellowheart.io, coinciding with the release of the album.
Several other musical artists have also created NFTs over the past several months, including EDM DJ Steve Aoki, singer-songwriter Grimes, and the rapper Soulja Boy.
Disclosure: The author held BTC and ETH at the time of press.