Bitcoin Cash Holders Dump BCH as Chain Split Fears Build
Whales and retail traders alike are exiting their BCH positions as uncertainty around the future of Bitcoin Cash mounts.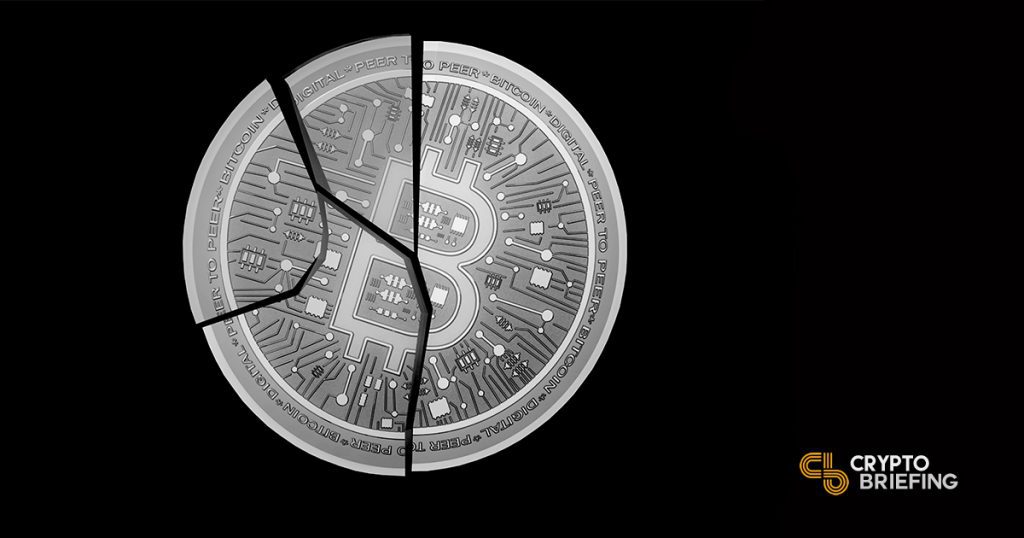 Key Takeaways
Discussion is heating up among Bitcoin Cash's core developers over an upcoming system upgrade, which could lead to another chain split
Data reveals that investors are losing confidence about the future of BCH and have decided to sell their holdings
If the selling pressure continues, BCH could be poised for a steep correction that would be hard to recover from
The core development team behind Bitcoin Cash is once again butting heads over the features that will be included in the upcoming November protocol upgrade. Investors are selling their holdings as the risk of another chain split builds.
Bitcoin Cash: On the Brink of a Schism
Things are not looking good among the core developers behind Bitcoin Cash. Key developers are now feuding about the mining difficulty algorithm for the network. Discussions have been so heated up that even Bitcoin.com's CEO Dennis Jarvisis affirmed that he is concerned about another Bitcoin Cash fork.
"I hope everyone can come back together to work on the future roadmap. There are no good outcomes from forking/splitting for anyone who believes in the long-term value and usefulness of Bitcoin Cash," said Jarvis.
Those who work on the Bitcoin ABC implementation proposed a Difficulty Algorithm Adjustment (DAA), dubbed Grasberg, for the planned upgrade in November. The hardfork was set to tackle three main issues: the consistency of block production, miners' profitability, and the rate at which new coins are minted. But, Jonathan Toomim, a proponent of the BCHN proposal, stated that this new code represented a "big step on the path to corruption," and it "was not properly simulated."
As the rivalry between both camps made headlines, it seems that they were able to compromise and find a solution. BCH advocate Hayden Otto announced that a new plan was created that resolves the issues between the ABC and BCHN developers, but failed to give further details.
While some remain optimistic that tensions will ease, it is uncertain whether or not the community will clash again in the future. The depth of the disagreement points to future clashes. As a consequence, a considerable number of investors have opted out of the project, selling their BCH.
Whales Dump Their BCH Bags
Santiment's holder distribution chart registered a significant decline in the number of addresses with millions of dollars in Bitcoin Cash, colloquially known as "whales."
Since August 1, the number of addresses holding 10,000 to 100,000 BCH has been dropping steadily. Roughly ten whales have left the network, representing a 5.6% nosedive in over just a few weeks. When considering that these big investors hold between $3 million and $30 million in BCH, the spike in selling pressure can translate into staggering price drops.

It is worth mentioning that the sudden drop in the number of BCH whales can also be seen across the board. The overall number of addresses holding this cryptocurrency has been plummeting. Over the past three months, roughly 6% of all investors have entirely exited their positions.
There were 17.7 million addresses with a BCH balance in early May. Now, data from IntoTheBlock shows that 16.7 million addresses are holding this altcoin.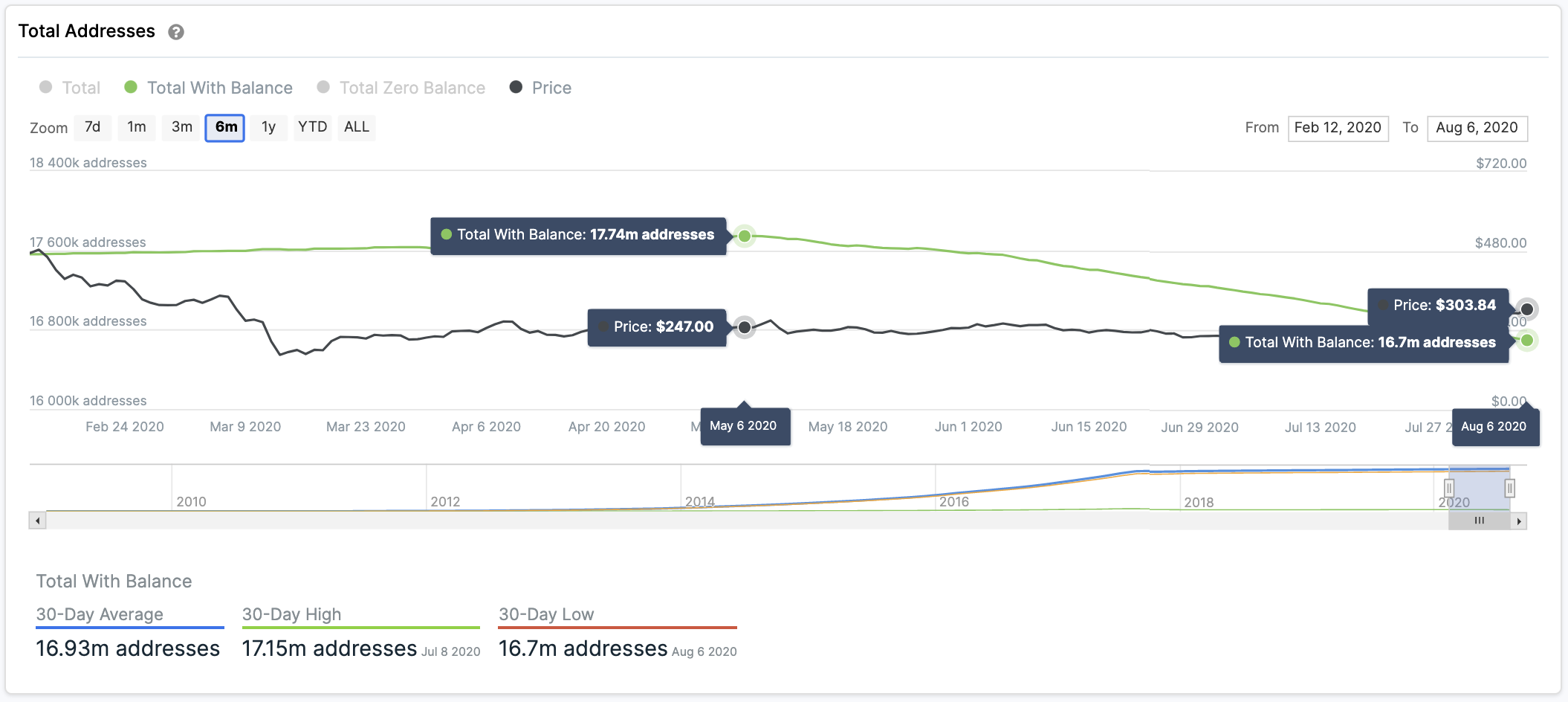 If the selling spree by whales and retail investors continues, Bitcoin Cash could be poised for a steep decline that would be difficult to recover from.
Can Price Support Save Bitcoin Cash Prices?
IntoTheBlock's "In/Out of the Money Around Price" (IOMAP) model suggests that Bitcoin Cash sits on top of a massive supply barrier despite the mounting selling pressure. Based on this on-chain metric, roughly 150,000 addresses had previously purchased over 161,000 BCH between $283 and $290.
In the event of a correction, this considerable support area may have the ability to hold prices from further decline. Holders within this range would likely try to remain profitable. They may even buy more tokens to avoid seeing their investments go into the red.
But if the sell-off continues, it may have the strength to push the peer-to-peer electronic cash token below this support wall. Under such circumstances, the IOMAP cohorts reveal that the next major critical hurdle lies between $256 and $266. Here, approximately 119,000 addresses are holding nearly 420,000 BCH.

On the flip side, Bitcoin Cash would have to break above the significant supply barrier that sits between $293 and $316 to aim for higher highs. Moving past this resistance level may have the ability to jeopardize the bearish outlook and allow the BTC fork to advance further.
Crypto Market Grows Overwhelmingly Bullish
While there are many reasons to be concerned about Bitcoin Cash's future, market sentiment worsens this situation. Crypto investors seem to be growing exuberant about what the future holds for the overall market, which historically has proven to be a sign that cryptocurrency prices are overheating.
Based on the Crypto Fear and Greed Index (CFGI), market participants are "extremely greedy" due to the recent price action. This metric indicates that the market could be in a short-term bubble. In the past, each time the CFGI sensed intense greed among investors, a slump in crypto market capitalization soon followed. Bitcoin Cash may fare even worse given its shaky governance, hampering its ability to recover from a drop.
Therefore, traders must implement a robust risk management strategy especially now that the crypto market seems to be on the cusp of a major bull run. Right now, gradually taking profits and staying realistic about the crypto market is a must for traders.
For more key market trends, subscribe to our YouTube channel and get weekly updates from our lead bitcoin analyst Nathan Batchelor.
Recommended News
Roger Ver Stopped Mining Bitcoin Cash After Halving
Bitcoin Cash saw its hashrate drop dramatically following yesterday's halving, bringing its network security to all-time lows. Even the mining pool operated by Roger Ver, one of the main figureheads...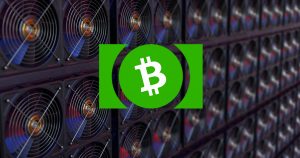 BITCOIN CASH DIGITAL ASSET REPORT
Bitcoin Cash has failed to beat Bitcoin in terms of transaction volume and network hashrate metrics. Similar to other altcoins, the BCH continues to face adoption problems.