Bitcoin Dominates Crypto by Brand Recognition, Says FCA Survey
A major UK regulatory agency has published a survey of cryptocurrency adoption, showing that Bitcoin is clearly in the lead by brand recognition.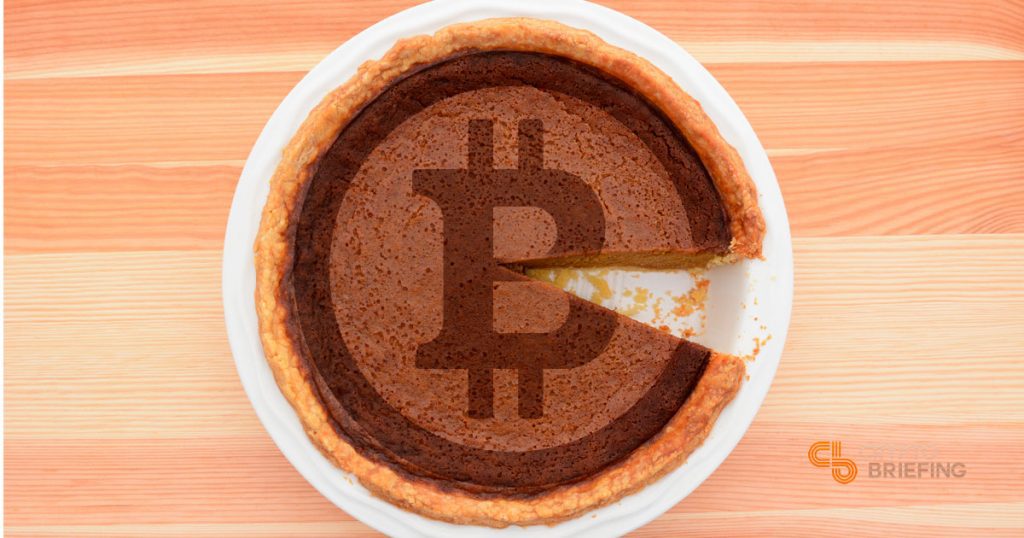 Key Takeaways
The UK Financial Conduct Authority (FCA) has published a report on cryptocurrency adoption
About 5% of the UK population owns cryptocurrency, and 78% of the population has heard of Bitcoin
Bitcoin is the best-known coin. Surprisingly, Libra came in at second among altcoins
By far, Bitcoin has the strongest brand recognition among cryptocurrencies, according to a new report from the UK's Financial Conduct Authority. The report surveyed over 2,200 consumers and 658 cryptocurrency owners to find out about people's crypto investment habits.
Bitcoin Leads the Pack
The FCA asked consumers about which cryptocurrencies that they had heard of. Bitcoin was by far the best-known cryptocurrency: 78% of respondents have heard of it.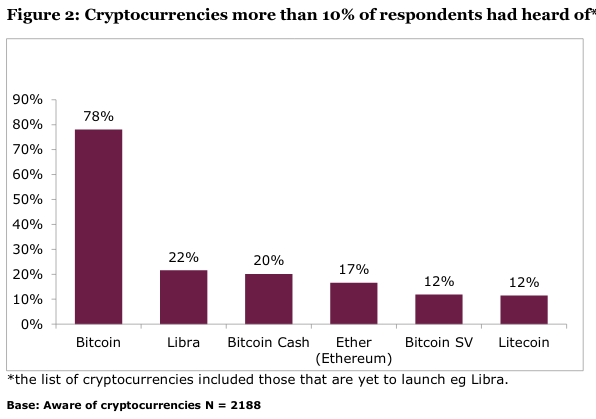 Surprisingly, Facebook's Libra was more popular than other altcoins. 22% of respondents have heard of it, even though it does not yet exist and faces regulatory barriers.
Respondents also reported awareness of altcoins like Bitcoin Cash (known by 20% of consumers), Ethereum (17%), Bitcoin SV (12%) and Litecoin (12%).
The FCA also examined exchanges. Among respondents, Coinbase was the most popular site, used by 63% of investors. Binance (15%), Kraken (10%), Bittrex (8%), and Bitfinex (7%) also had good usage among United Kingdom residents.
Other Findings
The FCA found that 5.3% of the United Kingdom's population owns cryptocurrency, equal to about 2.6 million people. That number is up from last year, when 3% of the population (1.5 million people) reported owning crypto.
Crypto owners have the technical knowledge to understand the risks of investment, the FCA says, adding that most (47%) consider cryptocurrency a "gamble."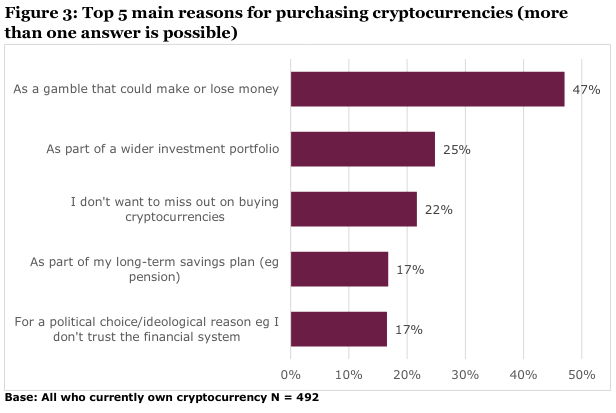 Most investors (89%) recognized that they do not have regulatory protection for their purchases. 73% of respondents did not own crypto but plan to purchase in the future and cited a lack of regulatory protections for their decision. 29% of respondents do not intend to buy crypto at all, but said that protections would cause them to reconsider.
The report also found that advertising is important. 45% of all crypto owners reported seeing crypto ads, and about one-third of those 45% said that advertisements made them more likely to consider buying crypto.
Similar Studies
It should be noted that this data reflects UK users and may not generalize to other countries.
However, other groups and companies have run their own surveys. Paxful has published surveys on crypto adoption in India and in the U.S. in recent months. Meanwhile, Fidelity and Bitwise have published surveys on institutional investment in cryptocurrency.
Finally, these reports tend to focus on the perception of cryptocurrency. Surveys reveal very little about market conditions and on-chain activity—an angle that is left to cryptocurrency analysts.