Bitwise Bitcoin ETF Application: Assessing The Facts, Not The Hype
Can you hold your breath for six months?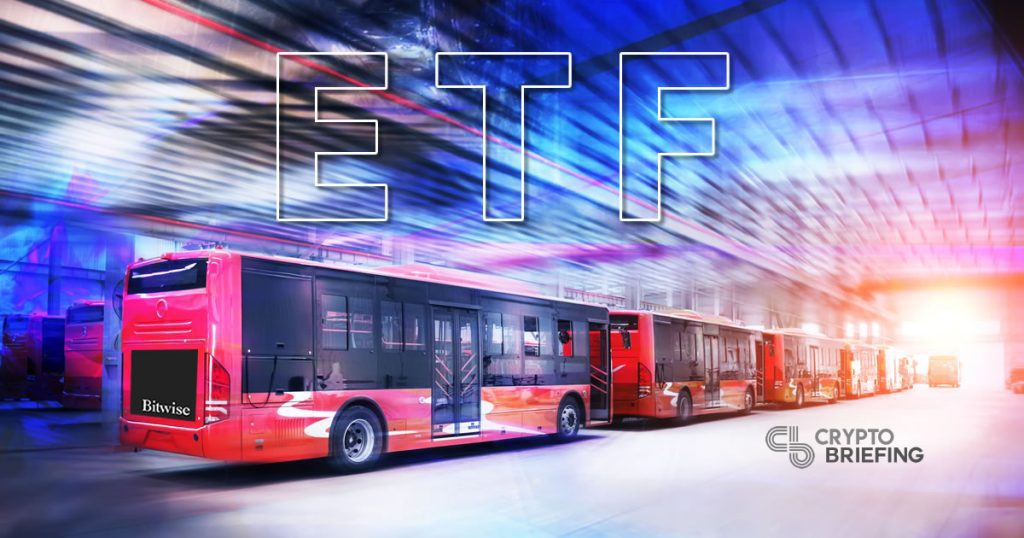 Stories about Bitcoin ETFs are similar to the Number 38 bus: you wait outside in the cold and damp for ages and then three come along all at once. Following last summer's hype about the imminent approval of Bitcoin ETFs – none of which actually happened – we've gone through periods with little-to-no news, followed by flurries of underwhelming developments.
Well, it looks like it's one of those periods again. Yesterday, Matt Hougan, the Managing Director and Head of Research at index and fund provider Bitwise told CNBC that the crypto market was "closer than ever" to having a Bitcoin ETF.
Speaking days before the SEC's deadline for the Bitwise ETF application, Hougan said that the market had improved considerably over the past two years.
The regulator's concerns about proper custody and regulation had been addressed, he said, and a regulated ETF product would now afford retail investors with a "safe, simple, secure access to the wealth generation taking place in bitcoin and crypto. It would let financial advisors give it to their clients easily instead of them going rogue."
---
Not Bloody Likely, Mate
But it seems the rest of the market doesn't share Hougan's sunshine optimism. "I view the approval of the Bitwise ETF as a low probability event," said Nicholas Pelecanos, an advisor at NEM Ventures.
"Neither the bitcoin spot market or derivative market are really liquid enough for any institutional investment firm to consider them," said Christoph de Courson, co-founder and CEO of Olymp Capital. "Bitcoin also has extremely high volatility, which would make it very difficult to handle as part of an investment portfolio."
Developing infrastructure and increased liquidity will slowly make the case for a Bitcoin ETF stronger. But Nick Cowan, Founder and Managing Director at the Gibraltar Stock Exchange, which launched a Bitcoin asset-backed security in 2016, said providers had not been able to convince regulators they are still safe for retail investors.
"[T]here is certainly a place for these products," Cowan wrote in an email, "[but] I envision this process taking longer to iron out."
---
What Bitcoin Needs For An ETF
The priority for the market, according to Pelecanos, is to show regulators that the market cannot be manipulated. The timing is unfortunate. A class action filed this week against Bitfinex and Tether in New York, accusing them of market manipulation, means that regulators are unlikely to approve an ETF until the case is settled.
"There's too much negative news about scams out there," added Martin Sabljak, Manager at blockchain incubator, Adel Ecosystem. "Every month we get some scam report about this and the main concern is if it's safe enough for "grandma" to invest in."
If the Tether case goes in Bitfinex's favor, that could make the success of the next ETF application much more likely, Pelecanos added. The next deadline is the Wilshire Phoenix application on December 28.
The omens for the Bitwise ETF proposal do not look good and, depending on whether the case is settled before December, so too are those for the Wilshire Phoenix one.
Potential ETF providers, the likes of VanEck and Gemini, might hold back for the time being. A favorable outcome of the Bitfinex case might give them the green light to press forward with a host of new ETF applications as early as the new year.