Demand Rising For Regulated Bitcoin Futures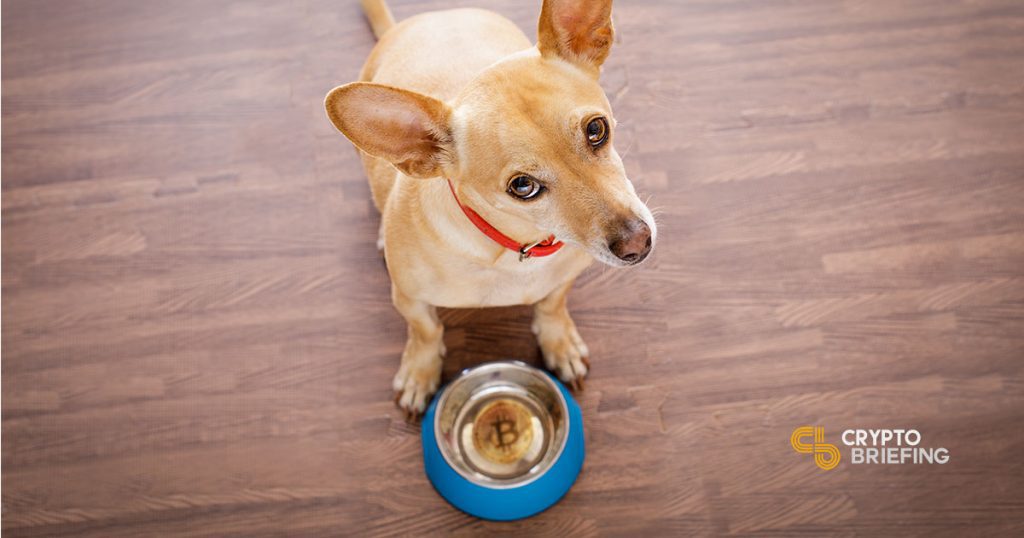 The volume of Bitcoin futures traded on the Chicago Mercantile Exchange (CME) has increased significantly in the past two months, even as overall futures activity declined during the same period.
CryptoCompare's January 2019 study reported a significant growth in the number of Bitcoin futures contracts traded on the CME, as a share of the broader crypto futures market. Daily volumes increased by 20%, from $66.5M to $79.9M in January.
The overall volume of Bitcoin to USD futures traded on the regulated exchanges, CME and Chicago Board Options Exchange (Cboe), increased from 6.36% in December, to 11.7% in January. However, Cboe's volumes actually decreased, falling from $10.7M to $8.1M, in the same timeframe.
Having increased marginally in December, the volume of futures trades against spot trades fell slightly, dropping from 28% to 24% of all trading activity in January. This is in line with the rest of the market; activity has been on a gradual decline, dropping from $300bn worth of monthly trades to just under $250bn between last November and January of this year.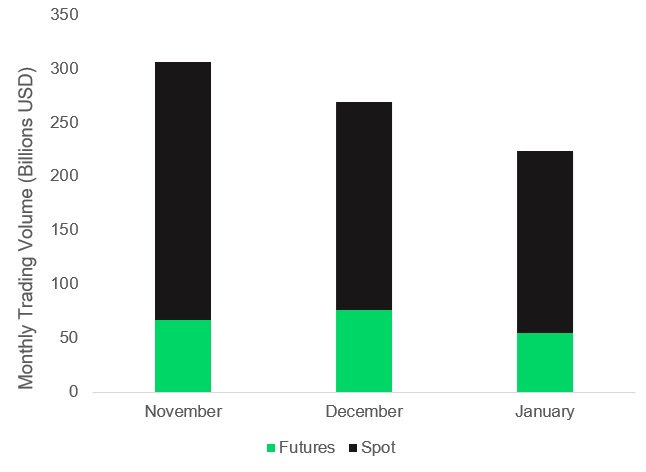 The growing volumes on regulated exchanges come at the same time as unregulated futures products, offered by BitMEX and bitFlyerFX, the market leader, declined. BitMEX volumes fell by 41%, taking average daily contract volumes down from around $1.7bn to just over $600M in January.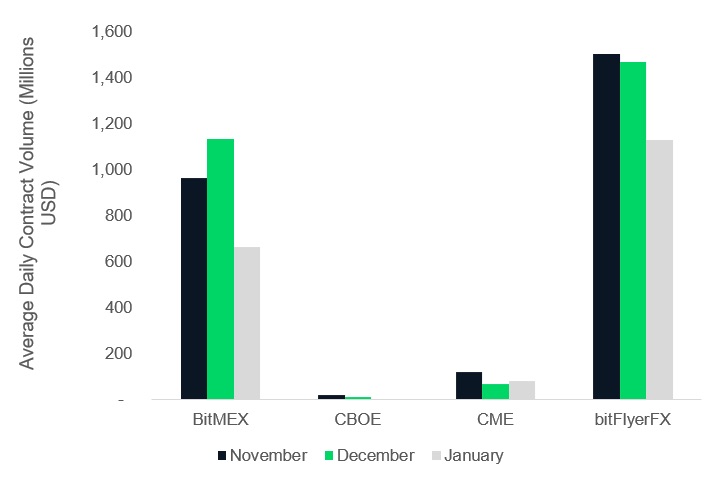 ---
Does it matter?
Futures contracts are agreements to buy an asset at a certain price at a point in the future. They can be used as a speculative tool, allowing traders to effectively place bets on future prices.
Cboe and CME had to wait for regulatory approval from America's Commodity Futures Trading Commission (CFTC) before they could begin offering their XBT contracts. Platforms like BitMEX and Japan's bitFlyerFX created their contracts without the same sort of green light from a regulatory body.
Even though the CFTC approved the Cboe and CME futures offering in December, Crypto Briefing found last June that total volumes were still very small and unlikely to have a significant impact on bitcoin's market price.
Rising volumes for regulated bitcoin futures are bucking an overall trend for declining activity across the futures market, as to be expected in a bear market. But it's not certain whether today's findings could be the start of a shift towards regulated futures providers.
Constantine Tsavliris, CryptoCompare's blockchain researcher and data analyst, highlighted that it's still "too early to tell whether this is a significant trend."
"Volumes on any regulated market generally see a reduction during the Christmas period, so this seasonal effect may be the likely factor for the December to January increase," Tsavliris said in an email.
---
The author is invested in digital assets, including BTC which is mentioned in this article.