As Bitcoin Loses $19,000, Crypto's Hopes Rest on the Ethereum Merge
The global cryptocurrency market capitalization dipped below $1 trillion late Tuesday as prices tumbled.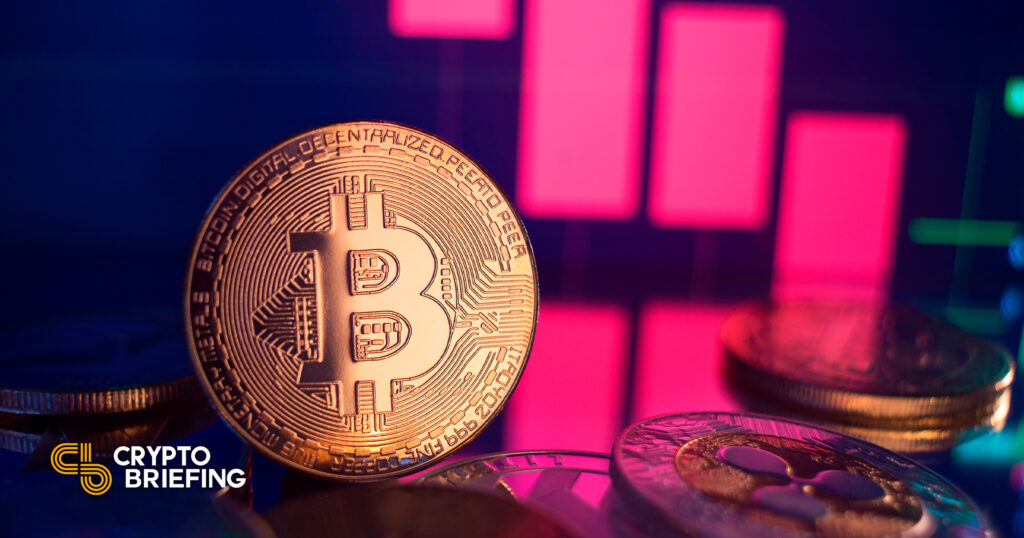 Key Takeaways
Bitcoin has slid below $19,000 for the first time since June.
The cryptocurrency market has looked rocky for weeks despite a relief rally over the summer.
Crypto traders and investors are anticipating Ethereum's upcoming "Merge" event, but it may not have the immediate impact people have been hoping for.
Ethereum's highly-anticipated "Merge" is set to ship next week, but even that may not be enough to stop Bitcoin and the rest of the crypto market from bleeding.
Bitcoin Sends Crypto Market Tumbling
As is a tradition in the crypto market, September has got off to a rocky start for Bitcoin and its younger siblings.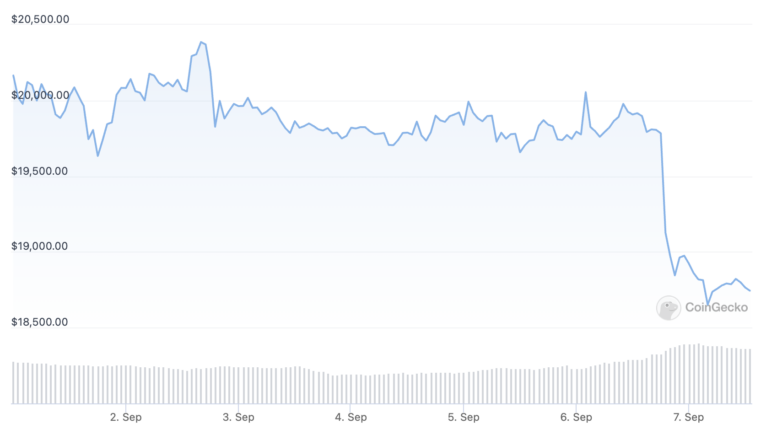 The world's top cryptocurrency extended its weeks-long losing streak Wednesday, tumbling below $19,000 for the first time since the crypto market's liquidity crisis event in June. Per CoinGecko data, Bitcoin is trading at about $18,730 at press time, down 5.8% on the day. It's currently over 70% short of its November 2021 peak.
Bitcoin's latest selloff has hit the likes of Ethereum, BNB, Cardano, and Solana even harder, leading to a market-wide downturn that's brought the global cryptocurrency market capitalization below $1 trillion.
After Three Arrows Capital's blow-up and the subsequent collapse of crypto lenders like Celsius and Voyager Digital, the crypto market had shown signs of recovery over the summer. Ethereum and other assets surged more than 100% from the June bottom helped in part by slowing inflation rates and relatively conservative moves from the Federal Reserve, but the market's bullish momentum was called into question in mid-August when Bitcoin failed to break past $25,000 (Crypto and other asset classes took a big hit on August 26 after Fed chair Jerome Powell warned of further "pain" for markets in a speech at Jackson Hole; he reiterated that the U.S. central bank hopes to bring inflation down to 2%.)
Can the Merge Save the Market?
September has historically been a weak month for crypto prices, and the past week has seen the market extend its late summer slump. Over recent weeks, traders have looked to the upcoming Ethereum "Merge" to Proof-of-Stake as a possible catalyst for a recovery, helping Ethereum and other related assets like Lido and Ethereum Classic soar. Touted as one of the most significant crypto events of the past few years, the Merge kicked off in earnest Tuesday with the successful activation of Ethereum's Bellatrix upgrade, while the main event is estimated to ship around a week from now. Still, with Bitcoin down, Ethereum and other assets have taken big hits. Despite its summer run, ETH is trading at $1,508 at press time, roughly 69% short of its all-time high.
While there's still time for the Merge narrative to revive the market, with Bitcoin representing roughly 36.5% of the total cryptocurrency market cap, crypto's faithful will be hoping that interest in the top crypto returns as it did for Ethereum over the summer.
The Merge is set to improve Ethereum's energy efficiency by 99.99% and slash ETH issuance by 90%, but those changes won't directly impact Bitcoin. In fact, a Proof-of-Stake Ethereum is likely to expose Bitcoin's reliance on an energy-intensive Proof-of-Work consensus mechanism, something that Elon Musk and several major institutional players highlighted as a point of concern in 2021. Bitcoin has lost ground to Ethereum in recent weeks, leading the second crypto's top supporters to call for a "flippening" in which Ethereum's market capitalization overtakes Bitcoin's.
"Flippening" hopefuls could be waiting some time, though—while Ethereum's fundamentals have never looked stronger, ETH has rarely come out unscathed from BTC's biggest crashes in the past. With crypto now almost a year into a bear market and ongoing macroeconomic fears like interest rate hikes and the European energy crisis still spooking investors, it's difficult to see how the market will flip bullish for a sustained period over the months ahead. The latest selloff proves that even the biggest crypto event in years may not be enough to instill confidence in the space's famously ardent believers.
Disclosure: At the time of writing, the author of this piece owned ETH and several other cryptocurrencies.