Bitcoin Prices Look Volatile After News of India Ban
Along with exchange transfers and liquidations, India's impending crypto ban may have affected prices.
Key Takeaways
Bitcoin prices dropped from approximately $60,000 to less than $56,000 in a matter of hours.
India's looming ban on cryptocurrency may have been one factor that affected prices early Monday morning.
Other factors include transfers concerning the Gemini exchange and mass liquidations of long orders.
A flurry of bad news about exchange inflows and an India-wide crypto ban has apparently caused a dip in Bitcoin prices. Market data, though, suggests that the drop was caused by over-leveraged longs.
Incoming India Ban May Affect Trading
On Sunday night, Reuters published an interview with a senior government official in India who stated that the nation will almost certainly ban cryptocurrency. The pending bill that could achieve that ban will be soon introduced in a right-wing-dominated parliament.
The Indian official added that, in addition to a ban on cryptocurrency trading and mining, holding cryptocurrencies will also be a criminal offense punishable by up to 10 years imprisonment. The report has reignited fear among crypto investors in India.
Nevertheless, India's Finance Minister Nirmala Sitharaman noted in an interview on Saturday that the government will provide a "window of opportunity" for crypto experiments. She vaguely mentioned "blockchain" and "Bitcoin" in her note and expressed uncertainty around a blanket ban.
Though news of the law may have affected the market, it has not stifled Indian trading entirely. Bitcoin continues to trade at a premium on peer-to-peer (P2P) exchanges in India. On LocalBitcoins, the lowest selling price is 6.6% higher than the global exchange rate, which suggests resilience among Indian crypto investors.

Exchange Activity May Have Affected Prices
Another potential cause of Bitcoin's price drop was seen on Monday. Analytics firm CryptoQuant suggested that the U.S.-based exchange Gemini saw an inflow of about $1.12 billion. That event could have affected Bitcoin's circulating supply, and, in turn, its market price.
However, other analysts have contested those claims. According to Glassnode, the transactions were internal: Gemini simply transferred funds between its own internal wallets.

Moreover, the 24-hour trading volume for Gemini was just $138 million, making it unlikely that the transaction was the result of user activity. The exchange has not commented on the matter.

Bitcoin prices fell from about $60,000 to less than $56,000 in the hours after the two events discussed above.
Bitcoin Long Orders Have Been Liquidated
In addition to the two factors discussed above, market euphoria could be an active source of price volatility.
Cryptocurrency long orders amounting to $2.2 billion have been liquidated over the past 24-hours, according to Bybt data. Bitcoin dominated the liquidations at $1.7 billion; Ethereum followed with $212 million worth of liquidations. The majority of the liquidations ($900 million) were on Binance, followed by Bybt, Huobi, and OKEx.
Despite the downturn, prices seem to be trending upward. The funding rate on Binance dipped only slightly below 0.1% in the drop. While there could be one more leg to this bull run, BTC slowly enters a corrective period.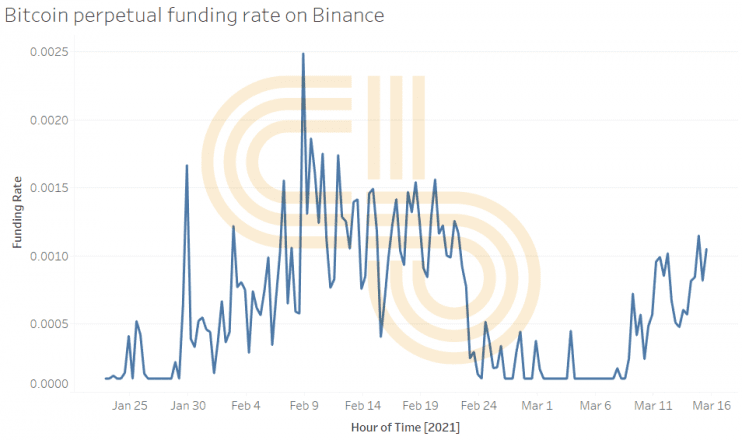 At publication, Bitcoin traded at $56,500, showing signs of a reversal from the short-term bearish trend.
Other factors also contribute to an overall bullish sentiment: new U.S. stimulus cheques are on the way, while Tether has minted $800 million of its U.S. dollar-pegged stablecoin.
On the other hand, Bitcoin appears to be losing ground to altcoin dominance, raising the possibility of further downturn in Bitcoin's price. Thus, crypto traders must brace for volatility this week.
Disclosure: The author held Bitcoin at the time of press.