Bitcoin Surpasses 18M Coins: Reward Halving Euphoria Picks Up Steam
We are only 205 days away. HODL on.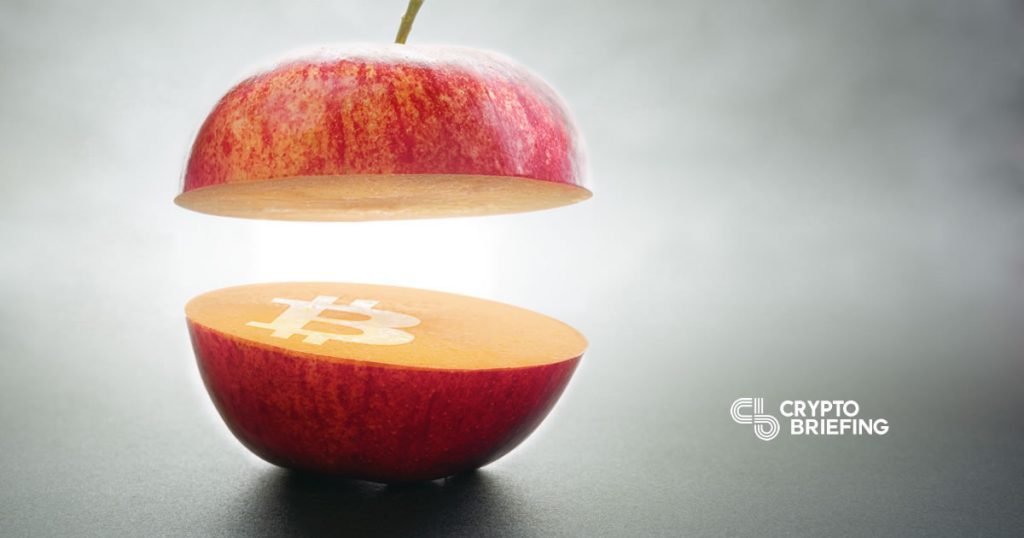 The weekend unexpectedly brought some life to Bitcoin, as it jumped by 300$ to stabilize at $8,200 today. Altcoins are generally in the green as well, with surprising gains coming from Bitcoin Cash and Bitcoin SV, up 7% and 15% respectively. Chainlink and Maker are also posting gains of 13% and 5%.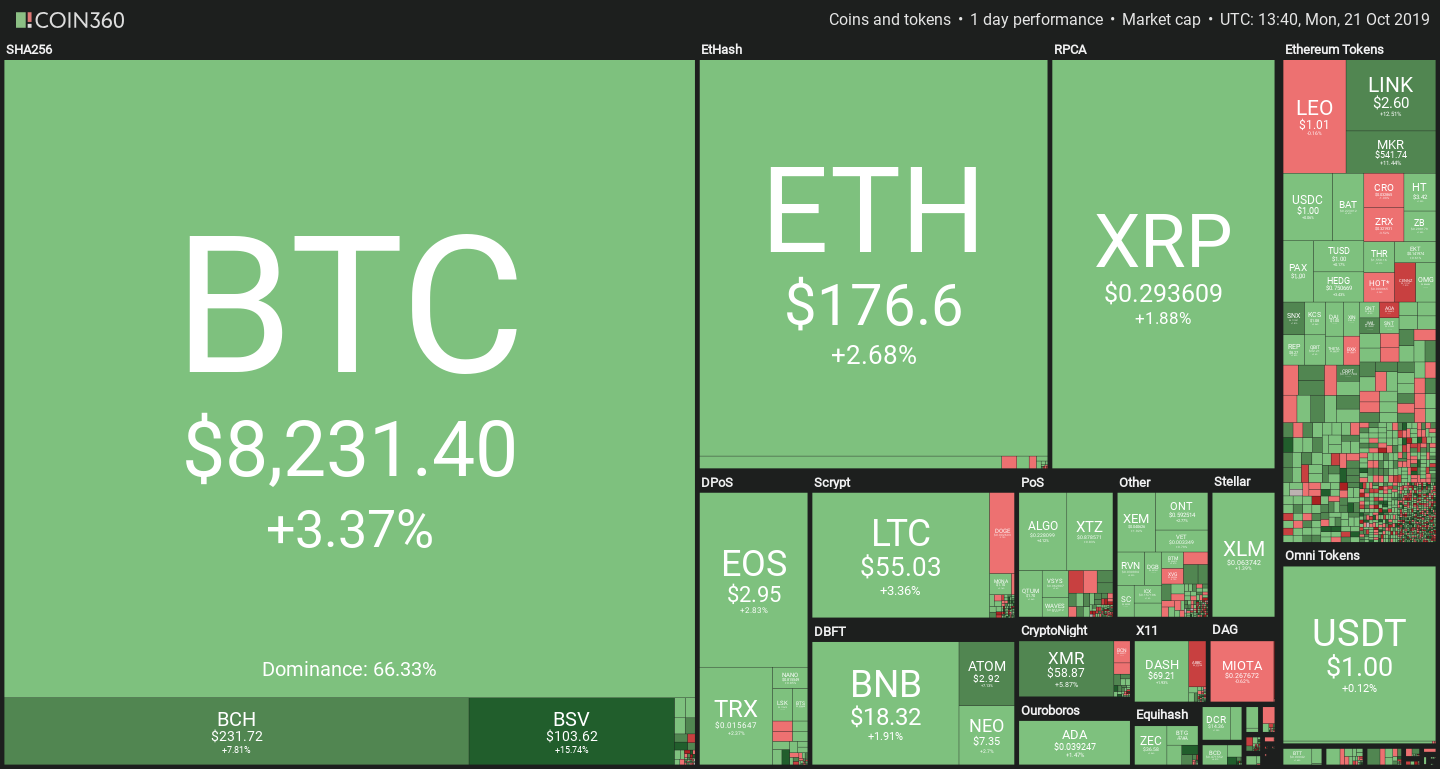 ---
Bitcoins on the rise?
Bitcoin appears to have overseen a change in its outlook over the last week. The coin has reached an important milestone on Friday: 18M bitcoins have now been mined, which means that only 3M more will ever be created.
This has reignited some of the excitement around the block reward halving. A common belief in the cryptocurrency community is that each block reward halving is preceded by a significant bull run. The market gradually prices in the decrease in supply from reduced emission, in a trend that appears to have repeated multiple times in Bitcoin history.
The blue vertical lines are the halving dates for #Bitcoin. pic.twitter.com/JLlfyKsPrB

— Alex Melen (@amelen) October 17, 2019
Multiple tweets with significant engagement were posted last week, highlighting this event. But despite a positive daily sentiment today (59.56 according to thetie.io), average sentiment is still on a downtrend.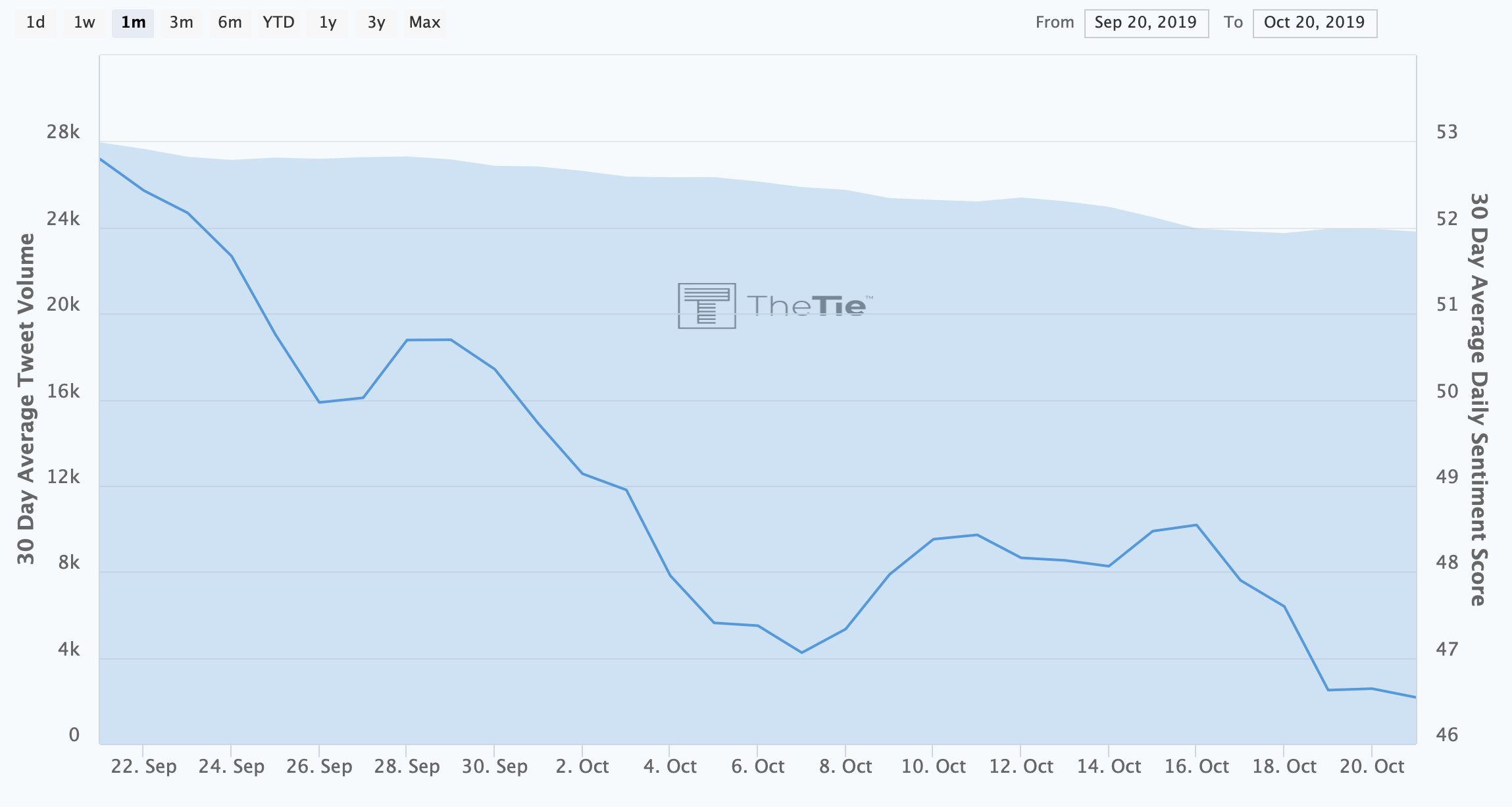 As for the forks, Bitcoin Cash has also surpassed the milestone, but Bitcoin SV still did not. While Bitcoin is correlated quite strongly with Bitcoin Cash, lesser partner BSV tends to go on its own, with 'only' a 0.5 correlation since its inception.

Despite the high correlation, Bitcoin Cash's rise today is likely attributable to its acquisition of O3 Labs, a software startup. It thus seems to be a case of specific news boosting the price of the coin, rather than block reward excitement.
Bitcoin SV on the other hand has not released news since August, but its sentiment has nonetheless risen from previously depressed values, which is what could have caused this correction. It's also possible that the steady stream of negative stories about Craig Wright earlier this year has slowed to a trickle, which may have tempered the negative feelings about the cryptocurrency.
---
Nathan Batchelor's Daily Bitcoin Commentary
Bitcoin has opened the new trading week to the upside, with the short-term bullish recovery so far extending towards the $8,300 resistance level.
It appears the move is technically driven, after sellers failed to hold price below the $7,900 support level, encouraging a rebound back above the $8,000 level.
Retail sentiment data from a leading brokerage shows that traders are split towards the BTC/USD pair, with 50% of traders currently short the BTC/USD pair, while the other 50% are long the BTC/USD pair.
This data is notable, as it shows a marked decline in BTC/USD long positions amongst retail traders, who are typically on the wrong side of current or emerging trading trends.
Some 68% of retail traders were long the BTC/USD pair last week, while 32% were short the BTC/USD pair. Furthermore, 80% of retail traders were net long the BTC/USD pair at the start of this month, with just 20% going long.
It is also important to note that 82% of traders stayed long the BTC/USD pair from the $13,880 level until the $8,000 level.
Extreme retail sentiment readings tend to be highly accurate as contrarian trading signals. With this in mind, a continued drop in BTC/USD long positions amongst retail participants may be warning that the recent bearish trend is about to end.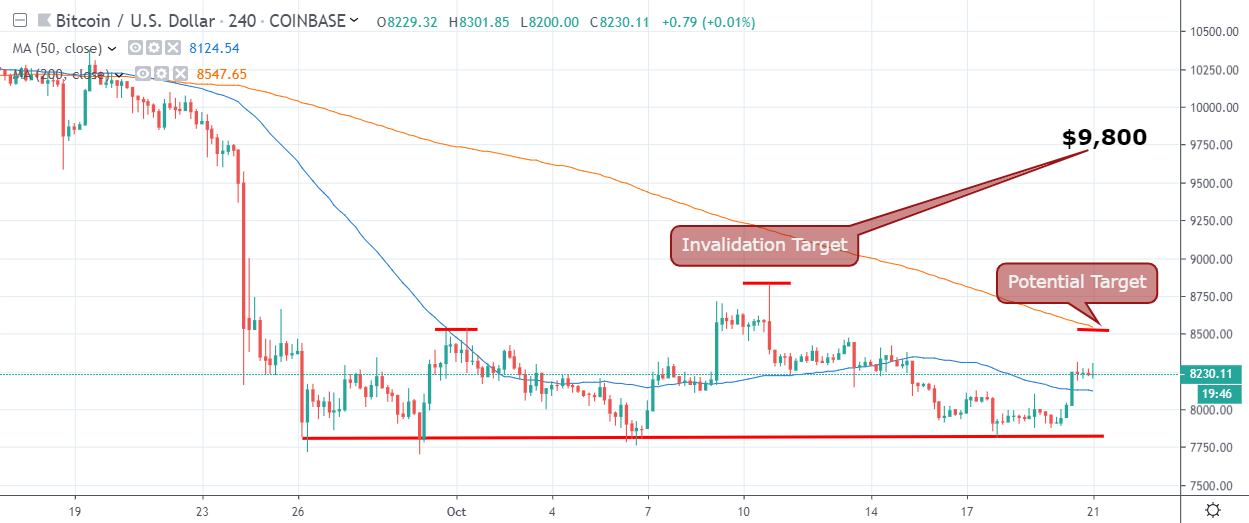 * 'A breakout from the $7,800 to $8,810 price range should decide the next major directional move'.*
SENTIMENT
Intraday sentiment for Bitcoin has risen, to 58.21%, according to the latest data from TheTIE.io. Long-term sentiment for the cryptocurrency has slipped, to 58.00%.
UPSIDE POTENTIAL
The four-hour time frame is showing that a major bullish breakout will occur this week if the BTC/USD pair trades above the $8,810 level. The breakout would mark the invalidation of a head and shoulders pattern, with the $9,800 level the overall bullish target.
Traders should expect short-term bullish momentum in the BTC/USD pair to remain intact this week while price trades above the $8,060 level.
DOWNSIDE POTENTIAL
The four-hour time frame shows that a bearish head and shoulders pattern with a $1,000 downside projection is now in place. A sustained break under the $7,800 level could trigger a decline towards the $6,800 level.
A recovery back towards the $8,500 resistance level this week may help to complete the bearish head and shoulders pattern across the lower time frames.
---
A full version of Nathan Batchelor's Daily Bitcoin Commentary, together with his calls, is available to SIMETRI Research subscribers earlier in the day.