Bitcoin Beats XRP At Global Remittances, Says New Report
Global acceptance makes Bitcoin a more suitable asset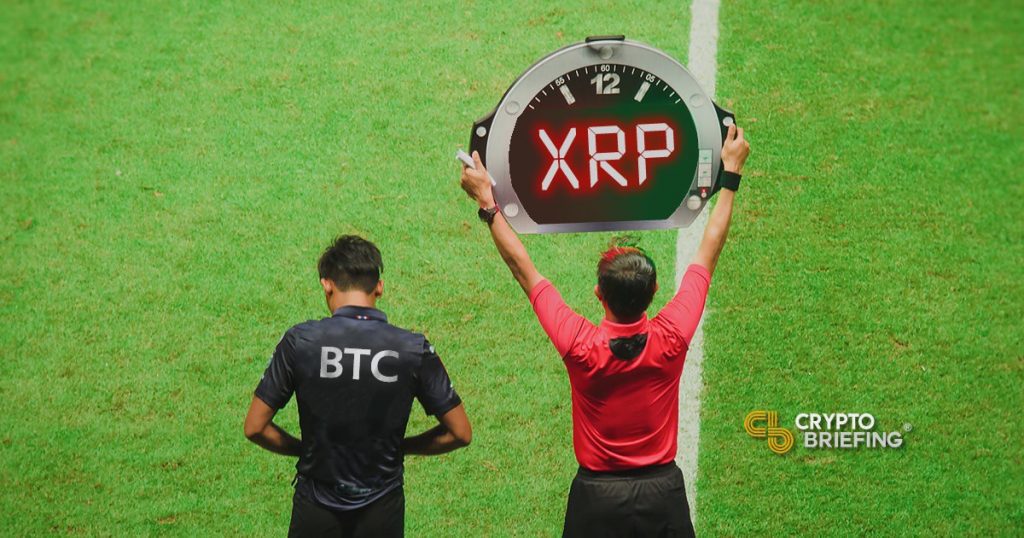 Bitcoin (BTC) will always be a better solution for cross-border payments than XRP, according to the head of a Hong Kong-based cash-to-crypto solution. George Harrap, CEO of Bitspark, says that bitcoin has a clear edge because it is already globally accepted and has sufficient liquidity for established remittance companies.
On the other hand, Harrap notes, the remittance industry has not adopted XRP because it lacks liquidity with local fiat currencies, making it either prohibitively expensive or simply impossible to use as a cross-border solution.
The report, titled "The Compendium of Cryptocurrency Remittances," examines several cryptocurrencies as well as their respective viability for cross-border payments. Bitcoin and Ethereum are both considered to have "medium" viability. Stellar- thanks to a built-in decentralized exchange and the ability to establish trusted stablecoins- has a viability of "high."
"Ripple" -referring to the company's xRapid product, as well as the XRP token- is given low viability. According to the report, that's because XRP has so far failed to develop liquid markets in multiple currencies.
xRapid relies on a network of trust lines and gateways to quickly move value across borders and exchange it for the destination currency. Although it's relatively straightforward for transactions in a single currency, it becomes harder, according to Harrap, if it involves multiple currencies.
XRP's primary markets are with Bitcoin and the USD. Trying to transfer USD to a recipient in a less popular currency, such as Kenyan Shillings, would require routing the payment through multiple nodes and quite possibly multiple currencies, with associated fees for each.
Because there is no direct market, corridors using XRP would become expensive, due to the cumulative exchange costs. As markets remain illiquid, there's every chance that large transactions might not be able to go through. "This is assuming that multiple gateways in these currencies exist when in reality, they don't," Harrap writes.
"The number of Ripple gateways that exist hasn't changed in four years and basically consists of bitcoin exchanges for people to speculate on the price of XRP for BTC," Harrap adds. "None of these companies are remittance companies, nor are they using XRP for its intended purpose."
That restricts its utility as a multi-currency remittance solution. "It is for these reasons XRP, in its current form, is never used in the crypto remittance industry," he says.
The report notes that Western Union has trialled Ripple's products, but have steered clear of xRapid, the solution which uses XRP. According to the report, this is because "there is not enough liquidity, depth, nor enough on-ramps and off-ramps for it to work as intended."
"The lack of local fiat currencies connected to Ripplenet settling through XRP means this option is not viable," Harrap concludes.
---
Why is Bitcoin better?
Remittances, referring to monetary transfers between people across borders and currencies, are a multi-billion dollar industry. More than $700bn was transferred globally in 2018, according to the World Bank. If the remittance market were a country, it would rank comfortably be above Saudi Arabia as the world's nineteenth largest economy, based on data from the IMF.
The majority of remittance payments are sent to developing countries, whose local fiat currencies that are unlikely to have liquid markets with XRP. A 2018 World Bank report found that three-quarters of the global remittance volume in 2017 was sent to low and middle-income economies.
That's why bitcoin is a far better digital asset for remittance solutions, according to Harrap. Although Bitcoin transactions are slower than the XRP ledger – requiring up to an hour for full transaction finality- it has broader market acceptance, numerous on and off-ramps, as well as some level of regulatory recognition.
And, crucially for multi-currency remittances, Bitcoin can usually be directly traded into local currencies. According to the report, 99.9% of all cryptocurrency money transfers are in Bitcoin, as of February 2019.
Although there are approximately 15-20 tokens that are designed for remittances, many of these have failed to take off because they have not been able to establish reliable liquidity channels with smaller fiat currencies.
That puts the original digital asset far ahead of the competition, at least when it comes to liquidity.
"There are no liquid Nigerian naira (NGN) and Ethereum (ETH) market, EOS and Vietnamese dong or XRP and Philippine peso markets," Harrap observes. "The only market which has sufficient liquidity and people willing to provide a local currency in exchange for a cryptocurrency is usually bitcoin."