Bitcoin's Diminishing Role in the Drug Trade
As Bitcoin's criminal credentials fade, its use as a mainstream asset flourishes.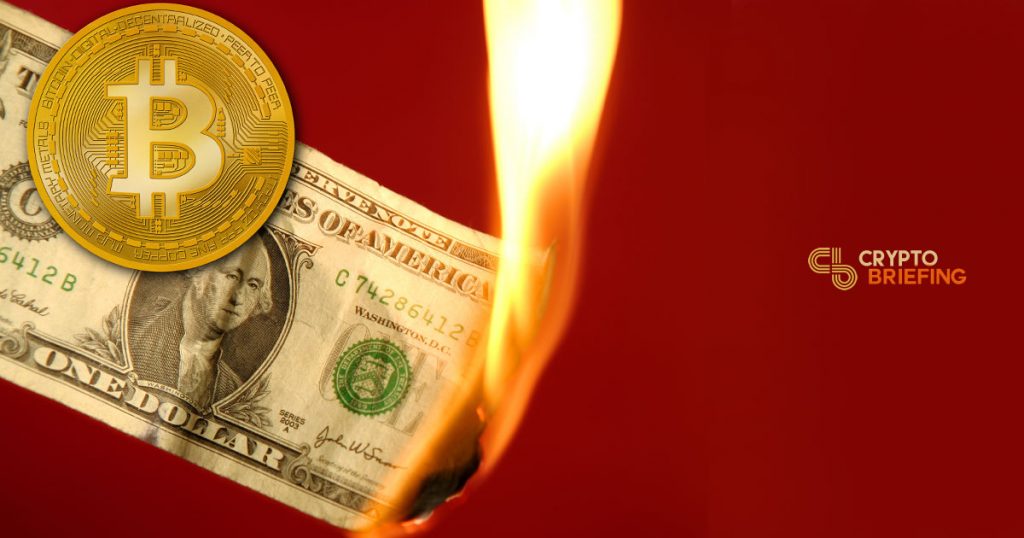 Key Takeaways
In the early days, Bitcoin and other cryptocurrencies were used to buy drugs.
Illicit activity as a percentage of total activity has fallen dramatically over the past few years.
Bitcoin does not offer the anonymity some might think.
Contrary to public perception, the drug trade is hardly a driving force behind Bitcoin adoption. BTC's use in illegal activity is quickly dwindling as the asset enters the mainstream.
The Early Days of Bitcoin
Bitcoin was created in 2008 as an electronic peer-to-peer payment system. There is some evidence that in the earlier days of Bitcoin, one compelling use case was for buying drugs, weapons, and other illicit substances on the dark web.
The dark web consists of internet sites that are not cataloged by search engines and that are only accessible using a Tor browser. Some of the sites on the dark web are marketplaces for illegal goods and controlled substances.
Silk Road was a high-profile online marketplace for drugs, guns, assassination contracts, and stolen credit cards, among other things. It operated between 2011 and 2013, and was shut down after it was seized by the FBI.
Bitcoin's Dark Past
Silk road offered anonymity to surfers and participants in the marketplace, but they still needed a way to exchange money. Ross Ulbricht, the site's founder, provided a payment service using Bitcoin. He created an escrow service between buyers and sellers and took a commission from every transaction.
The Bitcoin-based site saw over a million transactions in its brief history. According to analysis from crypto sleuthing firm Chainalysis, Bitcoin and other cryptocurrencies have been used extensively in dark net environments. Since 2014, Bitcoin spending on illicit purchases grew from around $250 million, to peak at almost $1 billion in 2017.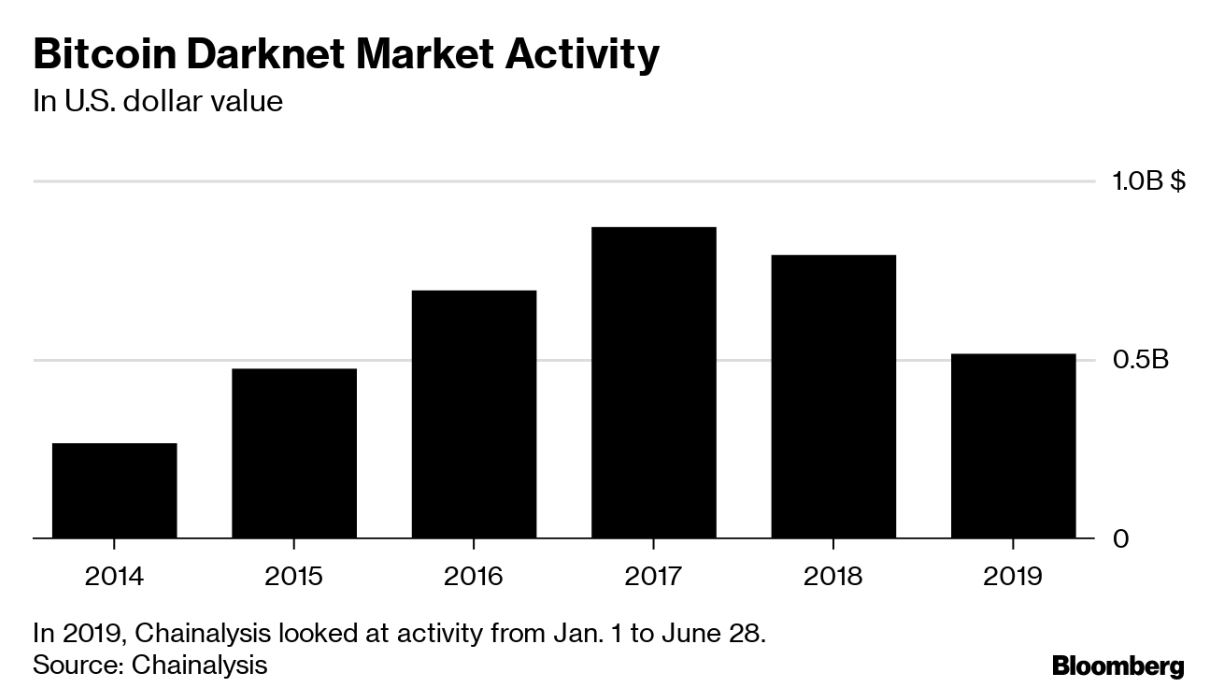 Times Are Changing
Since the bull market of 2017, the use of Bitcoin for illegal purposes as a percentage of its total use has dwindled. Chainalysis has found that the percentage of Bitcoin transactions involved in criminal activity fell from 30% in 2012 to 1% in 2017.
Using Bitcoin to buy drugs leaves a trail of evidence that law enforcement agencies are becoming more skillful at examining. In 2017, the U.S. Justice Department sold almost 150,000 Bitcoin seized from Silk Road, for around $48 million. That sale followed two prior auctions in 2014 and 2015.
The fall in the use of Bitcoin for illicit purposes as a percentage of total activity is a function of two forces. Firstly, Bitcoin is not as effective at hiding a user's identity as some might think. And secondly, Bitcoin is gradually climbing as a mainstream method of making purchases and investing.
Bitcoin transactions occur on a decentralized, public blockchain, making all activity traceable. With a large, permanent record of publicly viewable transactions, analysis firms and law enforcement can trace Bitcoin transactions to specific addresses.
Those transactions can only be traced to Bitcoin addresses, which can be created without any links to a real person's ID. But as exchanges and other crypto services increasingly impose KYC rules on their users, cryptocurrencies are becoming increasingly less useful as a way to transact anonymously. Even if proceeds from crime can be transmitted in crypto, it is becoming more difficult to turn those funds into cash.
Mixing services have been seen as a way for users involved in illicit activity to hide their transactions from authorities. However, an Elliptic study published in 2018 found:
"While most types of conversion services have received some bitcoins from illicit activity, the vast majority of the funds they receive do not appear to be illicit."
And compared to cash, the level of criminality involved with cryptocurrencies, with Bitcoin being the most significant by far, is minuscule. The United Nations found that somewhere between $800 billion and $2 trillion worth of fiat is laundered annually to cloak criminal activity. The cryptocurrency market as a whole is worth less than $200 billion at press time.
So Is Bitcoin Used To Buy Drugs?
Bitcoin is no doubt still used to buy drugs online. But it is becoming increasingly difficult for people to use for illicit purposes and expect to remain anonymous. Blockchain tracking and tracing capabilities have improved markedly since 2008. Any transaction found to have involved the purchase of narcotics is permanently time-stamped into history.
And as Bitcoin becomes more attractive to legacy institutions like hedge funds and pension funds as an investment vehicle, its use in crime will likely continue to fall both as a percentage of total activity and because that use case will only become less viable.
Digital investment company Grayscale recorded inflows of around $600 million in 2019, signaling that interest in Bitcoin as an investment is surging. Conservative institutional money will likely have the impact of squeezing illicit activity from the market as well as render it proportionally insignificant.
The company famously ran the #dropgold campaign to highlight the benefits of digital assets to investors. It is no coincidence that institutional demand for Bitcoin has coincided with the emergence of KYC/AML requirements at crypto exchanges and the rise of crypto sleuthing companies. Both factors are poised to dampen crypto criminality and make it very much a thing of the past.
While it is, of course, possible to buy drugs with Bitcoin, when it comes to crime, cash remains king.