Bitcoin's Hashrate Has Hit a New High. What Does That Mean for BTC?
The Bitcoin network's hashrate has posted a new high, which could be a sign the top cryptocurrency has bottomed.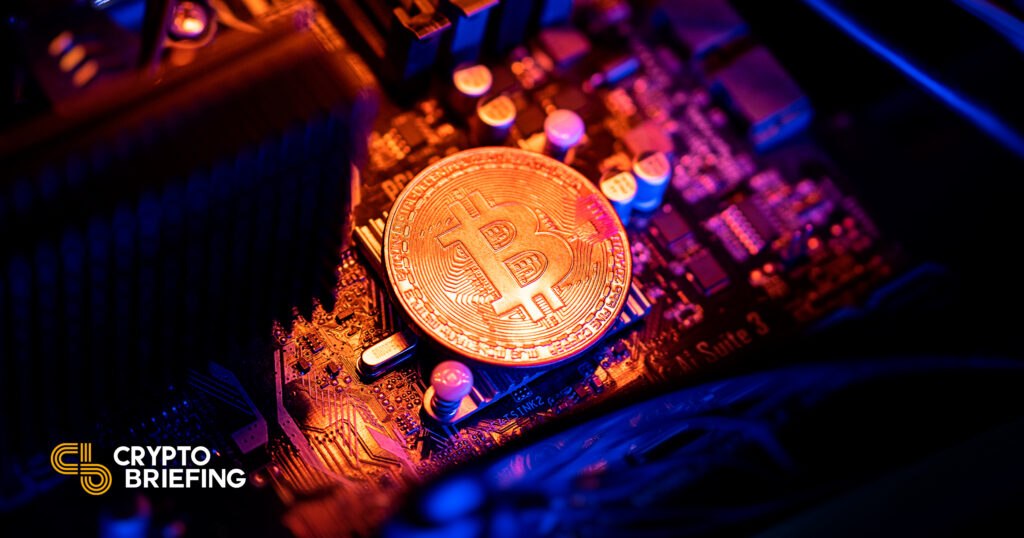 Key Takeaways
Bitcoin's hashrate made a new all-time high of 242 exahashes per second this week.
The network's hashrate fell to 193 exahash per second in July.
Price and hashrate have historically been correlated, indicating that the recent rise could signal the beginning of a new uptrend.
Bitcoin's hashrate has recovered from its summer slump. The top crypto network's hashrate bottomed at around the same time as its price did in 2011, 2018, and 2021, indicating that Bitcoin may have found a floor.
Bitcoin's Hashrate Posts New High
Bitcoin's hashrate is rising.
According to data from Glassnode, the top cryptocurrency network's hashrate reached a new all-time high of 242 exahash per second over the past seven days. This could be good news for Bitcoin investors, as hashrate and price bottoms have historically been largely correlated.
Bitcoin is secured by a Proof-of-Work consensus mechanism, relying on miners to solve highly complex mathematical equations to produce new blocks and add them to the blockchain. The hashrate indicates the amount of computational power currently involved in resolving these equations. 242 exahash per second represents an enormous amount of processing capacity; Glassnode claims it's the equivalent of having "all 7.753 billion people on Earth each completing a [hash calculation] approximately 30 billion times every second."
Bitcoin previously hit a record hashrate of almost 230 exahash per second in early June. BTC's subsequent drop in price from about $28,000 to $18,000 led to a hashrate decline to just over 193 exahash per second. It marked the network's most significant drop in hashrate since the summer of 2021 when China's ban on crypto mining forced institutional Bitcoin miners to turn off their machines and relocate worldwide.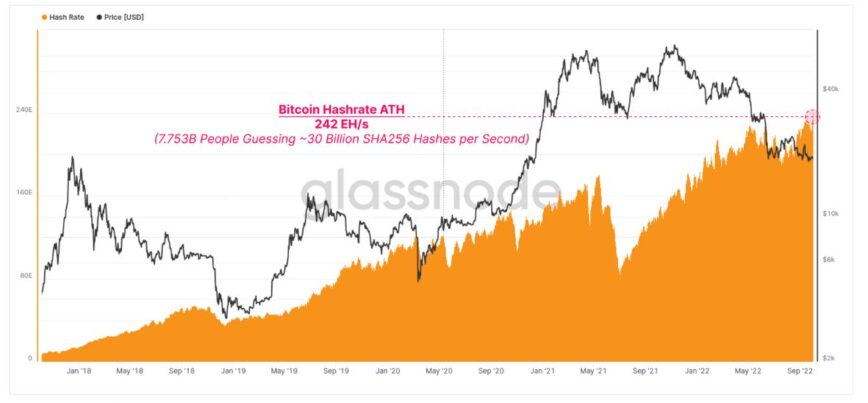 Bitcoin's hashrate recovery is notable because the metric has often been correlated to BTC's price action, and especially cycle bottoms. In 2011, when Bitcoin's price plummeted from $28 to $2.25 over the course of three months, the network's hashrate decreased from 14 trillion hashes per second to 7 trillion hashes per second. Importantly, hashrate and price bottomed at around the same time.
A similar trend played out in 2018. Bitcoin reached a low of $3,217 on December 15, the same day the hashrate bottomed at 34 exahashes per second. More recently, in the summer of 2021, the hashrate bounced back from 86 exahashes per second 20 days before BTC touched $30,000. It rallied to new all-time highs weeks later.s
Bitcoin's Hash Ribbons indicator is also showing hints of a possible BTC recovery. Hash Ribbons uses the ratio between the hash rate's 30-day simple moving average and its 60-day simple moving average. In the last two years, the 30-day moving average overtaking the 60-day moving average has repeatedly signaled the beginning of a price uptrend. The two trend lines crossed again in such fashion on August 20.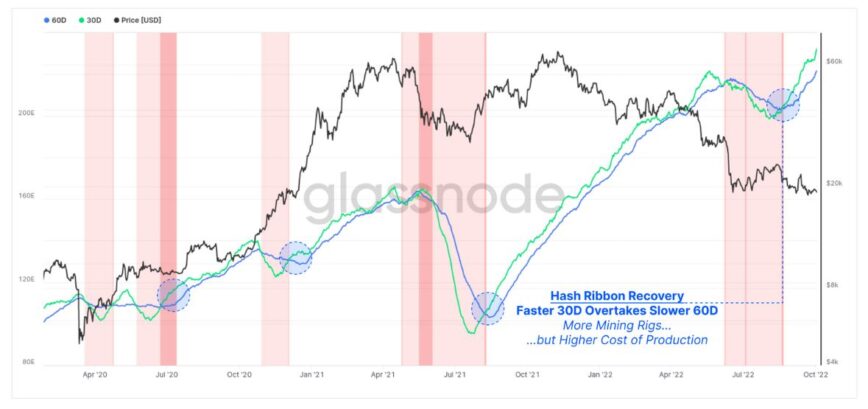 Bitcoin is currently trading at $20,086, up 2.9% in the last 24 hours, per CoinGecko data. The top cryptocurrency has been evolving in a tight range between $20,380 and $18,310 since September 13. The top crypto is currently over 70% down from its $69,000 peak recorded in November 2021.
Disclaimer: At the time of writing, the author of this piece owned BTC, ETH, and several other cryptocurrencies.