Bitmain Could Be Casualty In US-China Trade War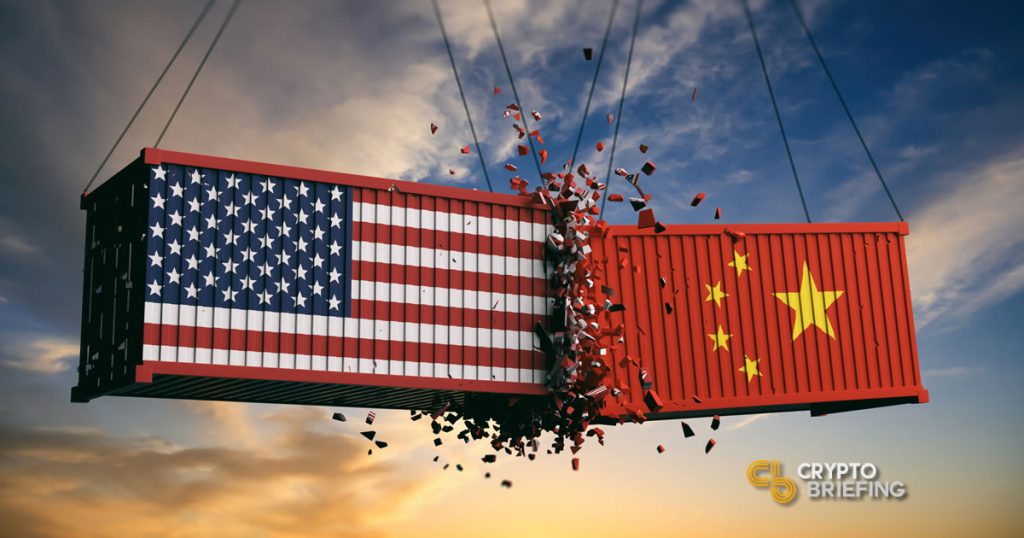 "An eye for an eye" is a Biblical principle of justice that is seeing 21st century use case. And if applied to its full extent, the tit-for-tat approach towards one's adversary will do harm to the world's two largest economies. That is until either side blinks.
The U.S.-China trade war escalated last month when President Donald Trump imposed 10% tariffs on $200 billion worth of Chinese goods. It's the second and more painful round of taxes levied on imports, and it's set to increase to 25% by year-end unless the world's most populous country of 1.4 billion opens its markets to the world's biggest economy (America) worth $19.4 trillion.
The billionaire-turned-politician isn't backing down. He's doubling down with the same resolve of an angry voter.
During the 2016 campaign, Pres. Trump's politics of populism appealed to disenfranchised Americans who have been left out of the middle class by competitive – and arguably predatory – Chinese business practices. He called for retaliatory actions (an eye for an eye) against China's trade practices which include tariffs on American imports, restrictions on U.S. products, and outright theft of proprietary technology and intellectual property.
So how big is the trade imbalance between the two superpowers? Last year, China reaped trade surpluses of $167 billion in computers and electronics; $39.9 billion in electronic equipment; and $38.6 billion in miscellaneous manufacturing, according to U.S. Census Bureau.
"We've already lost the trade war," said Trump in April 2018 who acknowledged there'd be pain for American consumers (through higher prices) and U.S. businesses (through lower Chinese demand). "I'm not saying there won't be a little pain … But we're going to have a much stronger country when we're finished."
Economists say mutual tariffs will hurt both sides. But Trump has a long view on the outcome that his administration insists will bring back jobs to American families, and reduce the filthy tent cities that are spreading across Uncle Sam's heartland.
China's manufacturers rely on low costs to compete. But the White House's actions are cutting off demand from China's biggest and most profitable market. All this is bad timing for Beijing-based Bitmain, the world's biggest maker of cryptocurrency hardware whose flagship mining rig is the Antminer S9. It lets miners harvest Bitcoin (BTC), Bitcoin Cash (BCH) and other SHA-256 coins.
Bitmain last month filed for one of the world's largest initial public offerings (IPO) which could fetch a valuation between $15 billion to $18 billion. Its prospectus discloses that 52% of its 2017 sales came from overseas, although no geographic breakdown was provided. The company needs the U.S. market to reverse lagging sales, and to keep its ASIC rigs (application-specific integrated circuit) price-competitive amid growing pressure from rival manufacturers.
The U.S. Trade Representative recently classified crypto mining rigs as "electrical machinery apparatus." Thus, they'd be subject to an extra 2.6% tax on top of the forthcoming 25%. But Trump's tariffs is only one of Bitmain's problems, as some analysts see fundamental concerns with the business. These include declining gross margins, and more importantly, failure to innovate more efficient processing chips. Increased competition has also forced the company to lower prices on its rigs.
One analysis of the IPO prospectus found incomplete and possibly misleading financial information that sell an overly optimistic story. The documents claim estimated profits of $2 billion for 2018. However, the company may have actually lost $400 million in Q2 due to an inventory write-down of $391 million.
U.S. tariffs are expected to put the brakes on China's economic expansion as Chinese businesses — which must find new markets (such as Latin America and Asia) — take a conservative approach, such as keeping more cash in the bank and avoiding capital investments.
China's officials seem to pursue an accommodating stance. Last month, the finance ministry softened its position by lowering overall tariff levels from 9.8% in 2017 to 7.5% in 2018. The lower taxes will affect nearly 1,600 products and take effect Nov. 1. It's the second time this year that Beijing has lowered tariffs on imports, which means less taxes on goods shipped from U.S. and elsewhere.
But these may be token gestures (no pun intended) that have little impact. Did Beijing blink or pretend to blink?
America continues to see record trade deficits with China. According to U.S. Census Bureau, these stood at $38.5 billion in August; $36.8 billion in July; and $33.4 billion in June. In 2017, China's gross domestic product (GDP) per capita was $16,600.
The author holds BTC which is mentioned in this article.