Gold Finger: Bittrex Delists BTG In Bitter Compensation Fight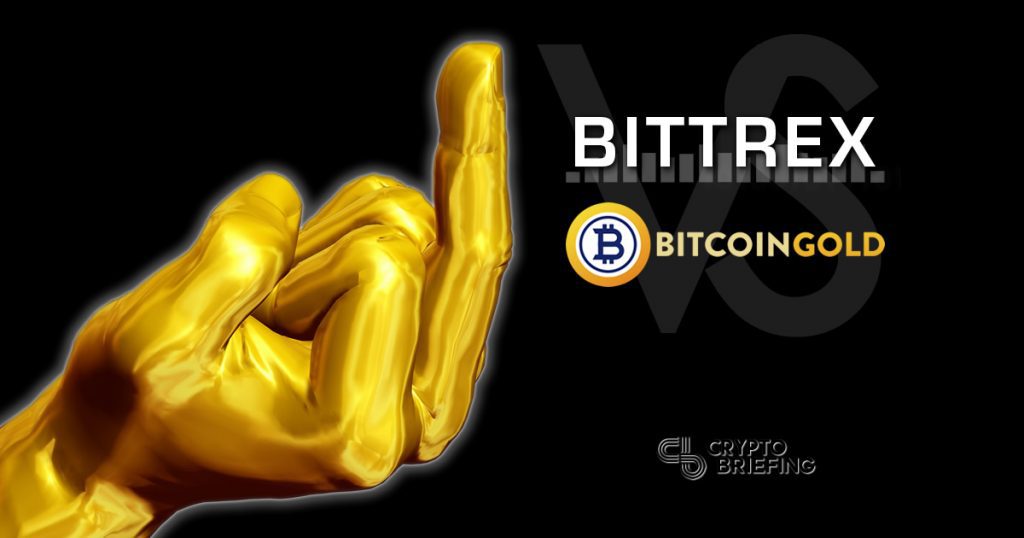 Bittrex is all set to delist Bitcoin Gold (BTG) thanks to a series of hacks that total more than $20 million in stolen funds.
Bitcoin Gold is a hard fork of Bitcoin and it has gone through the wars of late. More than $18 million worth of tokens, 388,000 of them, were stolen from Bittrex on May 19th through the tried-and-trusted double spend hack that tricked the cryptocurrency exchange into transferring coins twice on every transaction.
The 51% attack used computing power rented from NiceHash and is thought to be the largest double spend attack ever.
BTG Feels The Effect Of Hacks
This was the highest profile incident, but there have been others. Last year an advanced phishing scam tricked users into downloading a fake wallet and $3.3 million in BTG went missing. At the time, the coin was ranked 5th in the market. Now it has slid to 29th.
Bittrex demanded compensation, which Bitcoin Gold claims is 12,372 BTG, which equates to almost $265,000. Despite Bittrex supposedly offering a reduced settlement in the region of 6,000 BTG, the team behind the token refused. Bittrex followed through on its ultimatum and will officially delist the coin on September 14th.
Is Bittrex Secure? BTG Says No
In an extended statement on its site, Bitcoin Gold denied ultimate responsibility for the 51% attack. The company argued that the confirmation requirements at Bittrex simply weren't good enough and that the exchange should implement measures to flag up unusual deposits. An official statement said:
"The Bitcoin Gold team is not responsible for security policy within private entities like Bittrex. Those who earn revenue running a private business must manage the related risks and are ultimately responsible for their own security.

"Bittrex informed us that they made this decision because the BTG team would not 'take responsibility for our chain,' and that taking responsibility meant paying Bittrex 12,372 BTG to cover the loss they incurred. They later informed us they would cover part of the loss from their own BTG reserves and requested we pay the remaining ~6,000 BTG, and that if we did not, we would be delisted."
The Bitcoin Gold team claims this won't have a significant impact, as Bittrex handles a fraction of its daily trading volume. It's still a top 10 exchange for BTG, but it's right at the bottom of the top 10 with a daily trading volume of $338,406. The total daily trading volume of Bitcoin Gold was $2,259,472 at the time of writing.
Cryptocurrency is a fragile ecosystem, though, and a coin getting delisted sends a powerful message to the market and investors that can spook easily. We'll have to wait and see what happens with Bitcoin Gold, but there really isn't much of a positive spin on this. Multiple hacks and a very public dressing down don't look good.
The author is currently not invested in any cryptocurrency.