Bittrex Cancels RAID Offering After Project Terminates Partnership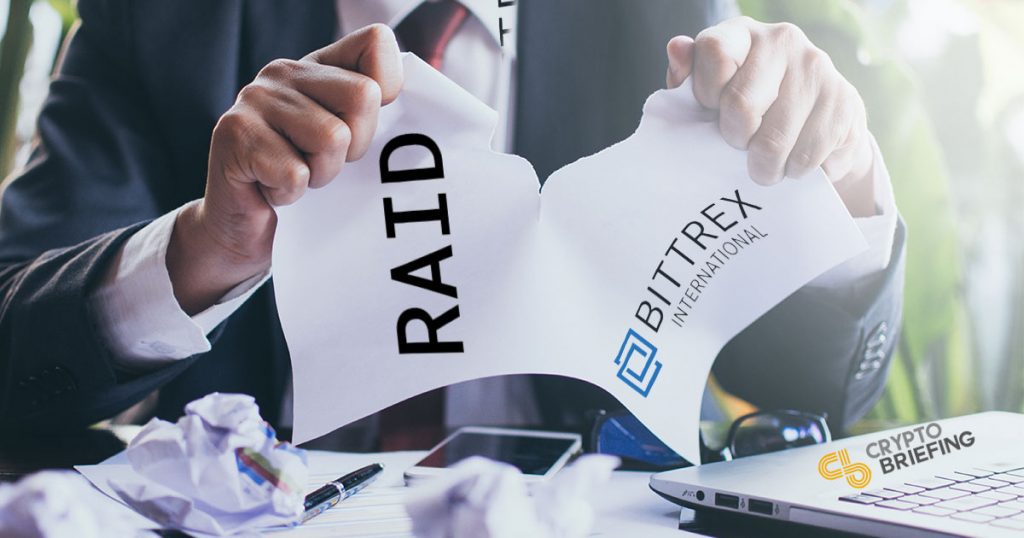 Bittrex International has abruptly cancelled its first Initial Exchange Offering (IEO), mere hours before it was scheduled to begin. The exchange cited "significant, last minute changes" with the RAID (XRD) cryptocurrency project, saying they had no choice but to stop the IEO.
Bittrex broke the news on Twitter this afternoon.
Trust and integrity are the most valuable assets of Bittrex International. As a result of significant, last-minute changes with RAID, we have cancelled the IEO offering of the RAID token. We apologize for the inconvenience. We will provide a more complete statement shortly.

— Bittrex Global (@BittrexGlobal) March 14, 2019
RAID is a blockchain-based game data supplier, and its XRD offering was expected to be Bittrex's first token sale. The sale was only announced on Tuesday, as Crypto Briefing reported. At the time, Bittrex's CEO, Bill Shihara, said that the sale would provide the sector with a regulated token sale space; it was to be their contribution to help move "the blockchain revolution forward."
This is related to a breakup with one of RAID's key business partners. A game data analytics platform, OP.GG, had been a core partner to RAID and a "vital part" of their business model. The company decided to end its partnership with RAID a few hours ago, leaving Bittrex with little choice but to cancel the IEO.
Both companies' websites have announcements confirming that their partnership is now at an end. On RAID's website it says the relationship had now been "terminated" because of "circumstances" at the partner company.
OP.GG has also distanced itself from RAID. "OP.GG has stopped all potential business discussions related to RAID project and there will be no economic and technical cooperation with RAID coin," it says on their website. "In addition, OP.GG has no intention of developing any blockchain related business utilizing RIOT GAMES data."
"OP.GG will take all possible legal measures against individuals or organizations disseminating false facts related to this," it adds.
In a statement to Crypto Briefing, a Bittrex International spokesperson said the exchange cancelled as soon as it "became aware of this significant event". Considering the important role OP.GG had for RAID's viability, Bittrex "did not feel that it was in the best interest of our customers to move forward with the IEO."
---
The author is invested in digital assets, but none mentioned in this article.
This article relates to breaking news. It will be updated as we learn more information.