Blockchain Company Dispatch Labs "On Life Support" After Burning Almost $13M
Market downturn and poor liquidity turned funds into air.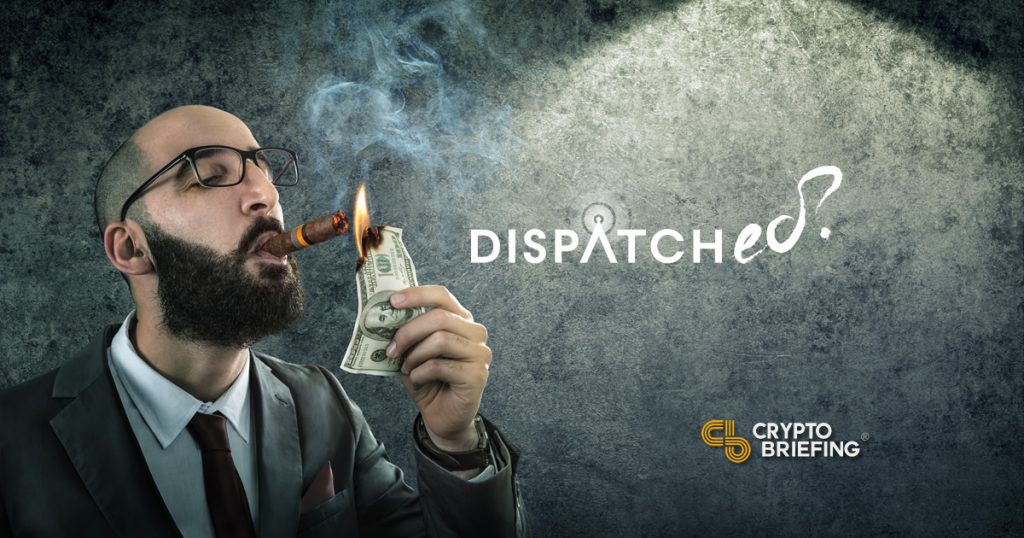 A bear market casts a long shadow. Crypto's total value may have doubled since December, but it turns out that some companies in the space are still reeling from the downturn.
One such company is blockchain-agnostic solutions provider, Dispatch Labs, which Crypto Briefing has learned has been running very low on operational capital for months. The company has now been forced to attempt an additional raise so it can bring a working product to market.
The Bay-Area company has twenty members of staff, and CEO Matt McGraw admitted: [W]e are on life support."
It all started so well. Dispatch received initial funding from the executive team; a year later the company raised more than $13M in a series of private rounds from professional investors, including Fenbushi Capital, during the first half of 2018.
But complications arose almost immediately afterwards. The value of their raise dropped considerably in the market downturn in the first quarter of the year. One significant investor provided capital in a coin – he wouldn't name which – that proved very difficult to liquidate.
Although the team quickly recognized the imminent threat posed by the downturn, McGraw claims there simply wasn't the market infrastructure or sufficient OTC availability for them to easily liquidate millions of dollars' worth of cryptocurrency.
"We've been quite open about the financials", McGraw said. But by the time they had successfully converted completely from digital assets, their total remaining investment had fallen by more than half, from $13M to around $6.5M.
---
Finding a 'boogieman'.
Dispatch Labs is designing a protocol that will provide developers with the tools to create applications for handling large volumes of data securely. The idea is that as data privacy laws begin to take effect across the world, blockchain-based businesses can use Dispatch to use data lawfully.
Although the company now needs more capital, McGraw argued that they still have enough working capital to last them for the rest of the year. With the market beginning to recover, he anticipates their worst days are behind them.
Although some have criticized McGraw for poor financial management and paying high salaries, he argued that Dispatch would otherwise be unable to attract the talent needed in order to create a revenue-earning product.
---
Doubts remain.
Dispatch isn't the first blockchain company to suffer from the market downturn. The crash destroyed the finances of lead Ethereum Classic developer, ETCDev, which was forced to shut up shop in December. ConsenSys drastically cut back the financial support it gave to spokes, spinning out those that wouldn't be able to become revenue-earning fast enough.
Dispatch now wants to raise an additional $600,000 in order to finalize the product and bring it to market. Once they have a full product, McGraw is "mildly confident" the additional revenue will make them cash flow neutral within the next couple of years.
But there's still doubt. Although investor appetite for a protocol is far higher than it was last year, McGraw admitted that it's not a certainty they'll raise the funding. "It's absolutely possible that we could go out of business", he said.
McGraw also spoke about the regret in not trying to raise more money, "We could have raised $100M if we went there", he explained. Although he still maintains their funding target was the "responsible choice", he admitted that if they had raised more, Dispatch may not now be in its current position.
"I keep on kicking myself about it", he added.