Blockchain Wins Big At SXSW As Nebula Genomics Takes Best In Show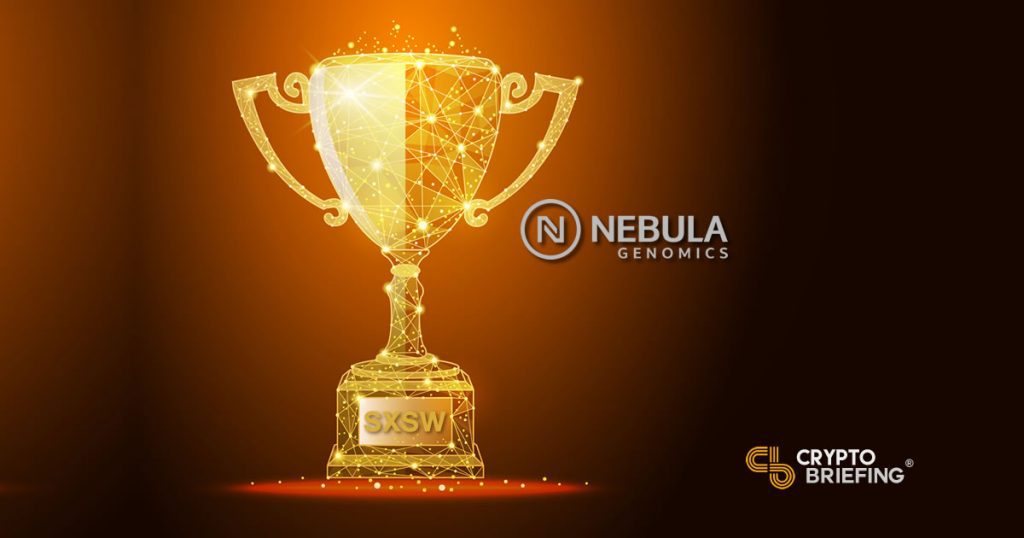 A blockchain project has won the highest award at a world-leading technology conference. Nebula Genomics, a blockchain startup in the field of genetic data, was awarded "Best in Show" at SXSW Pitch, as part of the annual South By Southwest festival.
Nebula was chosen from among 50 startups, in fields ranging from Virtual Reality to Artificial intelligence. Each company pitched their products to a live audience and a panel of expert judges over the course of the two-day event.
Nebula Genomics was one of eight companies competing in the blockchain category. Also in attendance was Bext360, which uses blockchain technology to "provide a traceable fingerprint for commodities from producer to consumer."
Steamchain, an IIoT company that integrates financial transactions to machinery, was also in the running, along with and Knowbella Tech, a blockchain marketplace that gives researchers access to scientific tools and services. Four other blockchain companies participated as finalists or alternates.
Nebula Genomics uses the blockchain to connect users with researchers, while protecting the users' control over their genetic data. "At Nebula, we give you complete control of your data," the company explains on its website. "You can choose to keep it private or you can get rewarded for securely and anonymously sharing with medical researchers."
The company currently offers affordable DNA sequencing kits, for $99. Users can also opt to share their data with research institutions, which cover the cost of gene sequencing, as well as sharing further analytics and insights based on their research.
Along with the other nine category winners, Nebula Genomics will receive a trophy, two tickets to next year's SXSW, and a cash prize of $4,000, according to SXSW Pitch. More importantly, organizers say, they will also have a stage in front of investors and venture capitalists who are looking for the latest word in entrepreneurship.
"In its 11th year, our Pitch event continues to showcase the best technology from around the world, proving our dedication to highlighting today's most forward-thinking innovators," said Chris Valentine, a producer for SXSW Pitch. "We're thrilled to offer recognition to each of this year's winners as they continue their journey toward evoking change within our ever-evolving society."
Yesterday we published a short guide to some of the most interesting blockchain events at SXSW this year – and our co-founder and Managing Editor, Jon Rice, will be in Austin this week moderating a discussion with Jeremy Millar, Chief of Staff at ConsensSys, and Tim Grant, CEO of DrumG, on the Future of Banking. If you'd like to connect while he's there, please email editor @ cryptobriefing.com
---
The author is invested in digital assets, but none mentioned in this article.