Blockcloud ICO Review BLOC Token Analysis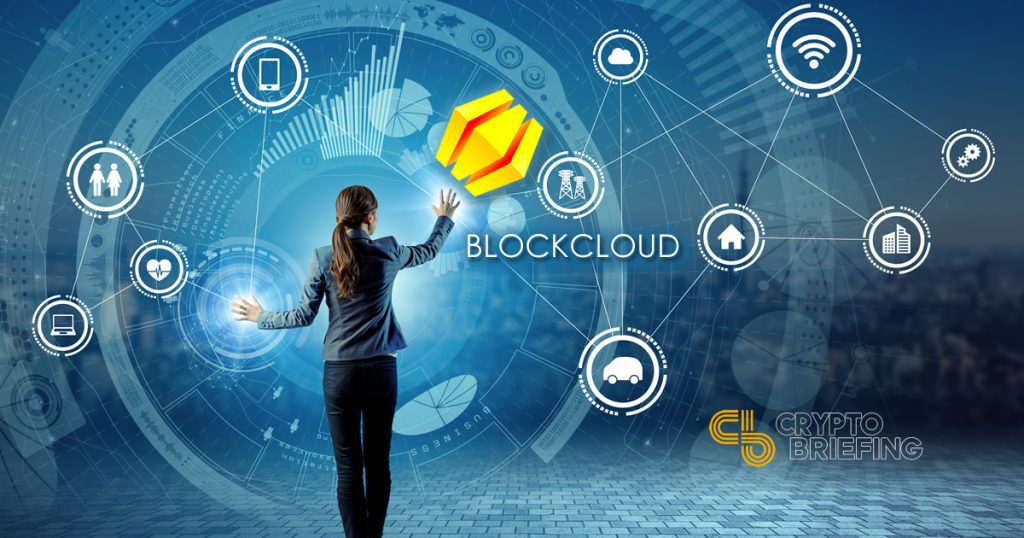 Blockcloud ICO Overview
The Blockcloud ICO and BLOC Token offer a solution to the challenges of scalability and trust stifling the growth of the IoT sector. On a traditional IoT network, most platforms provide a centralized server to aggregate all connected devices, data, and services. Such structuring ultimately creates barriers to scaling through high-bandwidth consumption and a centralized point of failure.
As a solution to these problems, Blockcloud propose an incentive-driven protocol for IoT services, architected for scalability and security, that will form the foundation of a viable ecosystem of interconnected smart devices.
Blockcloud ICO Value Proposition
Blockcloud contend that blockchain technology offers the most viable means to introduce the mechanisms for incentivization and trust necessary for a functional IoT ecosystem. The protocol will include an application-layer overlay on top of the underlying network of connected devices, utilizing Service-Centric Networking (SCN). In essence, Service-Centric Networks (SCN) provide the mechanisms required to deploy replicated service instances across a distributed network, routing client requests (i.e. from IoT connected devices) to the closest instance while maintaining the most efficient usage of the network infrastructure.
On Blockcloud, the SCN constitutes the architecture of the underlying physical network. As a solution for expanding the IoT ecosystem, however, SCNs alone lack the trust, security and economic incentivization which are necessary for a viable IoT ecosystem to flourish.
This is the crucial point in which Blockcloud integrate blockchain – the blockchain layer operates on top of the SCN to provide security and trust through decentralization and a fair economic incentive model.
To verify service providers, Blockcloud utilizes a Proof of Service (PoS) consensus mechanism, which confirms the veracity and contribution of participants on the network while eliminating bad actors. Consensus is reached through a network of verifiers that are incentivized to validate the service providers.
To accommodate the asynchronous transaction of data and value between providers and subscribers on the network, Blockcloud will include a novel DAG structure, or Compacted Directed Acyclic Graph (CoDAG). The flexibility afforded by a DAG is better suited to recording transactions between ecosystem participants in a dynamic manner as devices move on and offline.
Truthful Continuous Double Auction (TCDA) is a mechanism employed to fairly distribute services, matching providers and subscribers automatically on the network. The matching process is performed by a smart contract which cannot be controlled by any end-point or centralized party. Utilizing TCDA, the smart contract prevents price cheating, treats marketplace participants equally, and minimizes trading costs.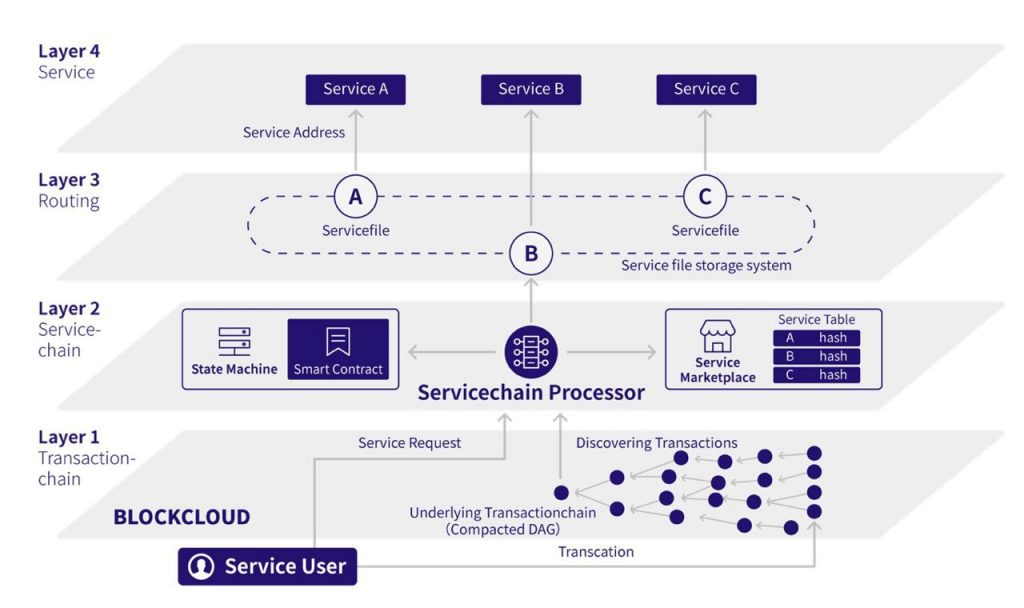 Blockcloud Architecture
Incentivization is an integral aspect for the functionality of the Blockcloud network. To facilitate this, the network utilizes the BLOC token as a means of transacting value and rewarding participants within the ecosystem. BLOC rewards service providers for contributing to the marketplace, miners for maintaining the ledger and verifiers for ensuring the quality of service providers.
On top of the network is the Blockcloud Marketplace, a dapp to facilitate the exchange of value between service providers and subscribers. The Marketplace will act as a channel for service providers to publish services and users to subscribe to them.
Blockcloud ICO Team
The Blockcloud team includes 12 members from parent company Oudman and has 15 project advisors. We have included information below on the founding team members and some notable supporters of the project. Complete information on the team is available here.
Zhongxing Ming (CEO)- Zhongxing Ming has served as the CTO of Oudman, the parent company behind the Blockcloud ICO, since co-founding the company along with Shu Yang and Dai Pan. He has an extensive track record of success in research, which includes 13 publications in leading journals and time as a visiting scholar at Princeton University. He holds a PhD from Tsinghua University.

Shu Yang (Chairman/SCN Lab Principle)- Shu Yang currently serves as the CEO of Oudman. He has published 10 papers, and spent time as a visiting scholar at Case Western Reserve University. He holds a PhD from Tsinghua and conducted his postdoctoral studies at Hong Kong Polytechnic University.

Dai Pan (COO)- Dai Pan has served as COO with Oudman and will preserve this same role with Blockcloud. He holds a Master Degree in Information Security from Peking University.
Hoan Soo Lee (Advisor)- Hoan Soo served as an economic advisor during the first term of Obama government. He is the COO and Co-founder of Give2gether and a Professor of Finance at Tsinghua University.
Fred Baker (Advisor)- Fred is an internet pioneer. From 1996 until 2002, he served with both the Internet Engineering Task Force (IETF) and the Internet Architecture Board. In addition, he has co-authored and edited around 50 internet standards. He also co-chaired the IPv6 Operations Working Group with the IETF from 2005 until 2013
The Blockcloud ICO has received institutional investment from Genesis Capital, Innoangel Fund, Ok Capital, Neo Global Capital, BKFund, JRR, GBIC, BlockVC, S.capital, Brink Asset Consensus Capital and MW Partners.
Blockcloud ICO Strengths and Opportunities
The team behind Blockcloud have an exceptional track record in the application of technical knowledge to business use case scenarios. Between the 12 members, they have published more than 50 papers in top academic journals, which have been cited more than 300 times worldwide, and they have applied for more than 80 patents. Moreover, the developer team draws on previous experience with Chinese tech giants such as Huawei, Baidu, Alibaba and Tencent.
Oudmon, the IoT parent company led by the team, has been in operation for the past 6 years, and serves around 8 million users while offering a line of over 100 products from smart home devices to vehicle communication modules. The company has most recently generated approximately $15 million in annual revenue.
The success of their current enterprise not only speaks to depth of the team's industry domain in the IoT sector, but also to the quality of their business acumen. This combination of technical prowess in the academic realm and entrepreneurial success is exceptional in the space.
It's important to make note that Blockcloud is not just a foray for parent company Oudmon into the blockchain space. The team is building the IoT layer protocol as a universal solution to meet a need they have identified as industry players to the challenges currently facing the IoT industry. While Oudmon will provide a springboard from which Blockcloud can launch, the team is already well underway with establishing an ecosystem of other IoT companies through their current network of clients and partners.
The industry connections afforded by parent company Oudmon in the IoT sector have already resulted in over 30 signed partnership agreements with various players and efforts are underway to expand these arrangements. Many of these partners will serve both as service providers and customers in the Blockcloud ecosystem.
Blockcloud ICO Weaknesses and Threats
The roadmap of Blockcloud naturally raises questions when it comes to the timing of the project in relation to both the growth of the IoT sector and the cryptospace itself. At present, the developer team is working on an MVP product, but the complete test net is not planned for release until mid-2019.
While the team has indicated that a certain degree of crossover exists in the technical realm between their current software and the protocol, the complexity of the architecture and development of novel technical implementations will require a considerable amount of time until the final 4 layer solution is complete, with the roadmap extending into Q4 2019.
This said, the team has informed us of their intention to develop and deploy the protocol in stages, focusing first on the base-level transactional layer (i.e. the CoDAG). As Blockcloud aim to be fully compatible with existing IoT networks, which currently rely on IP addresses to communicate, their incremental roll out is designed to coincide with the transition of current TCP/IP-based IoT infrastructure toward establishing a framework for the provision of services on a truly decentralized network.
While the developer team has certainly demonstrated respectable technical knowhow through their success with Oudman, they are not particularly versed in the development of blockchain protocols. Given the early stage of project development and conservative timeline ahead, the option is of course available to bring on programmers who have more experience with blockchain. We will be keeping an eye on how the team mitigates any potential deficits in this realm with the addition of new members.
The Verdict on the Blockcloud ICO
The Blockcloud ICO offers a well-positioned project targeting the rapidly growing IoT industry. The domain expertise of the team and track record of success lend a high degree of credibility to their proposed solution for a decentralized IoT ecosystem.
With a long list of partnerships and strong community support for an early stage project, the Blockcloud ICO is showing signs of a bright future ahead.
Additional Information
We have been in discussions with the Blockcloud ICO team and our ratings are based on conversations and information that they have asked us to keep confidential. While it may seem premature to rate their ICO highly, we have been made privy to insights that suggest a very strong project, and we will update this review when the Blockcloud ICO team is ready to share further data.
A detailed Code Review by Andre Cronje is also available for this project.
The Blockcloud team has a Telegram Group at https://t.me/BlockcloudTeam for more immediate updates.
As a Top 5% rated project, we took a medium position in the Blockcloud ICO (BLOC Token).
Learn more about the Blockcloud ICO in our 4800+ member Telegram Group.
---
We have rated hundreds of projects to unearth ICOs in which members of our team intend to invest.
We won't often go into further depth on projects that we don't consider as candidates for our investments after the initial rating process, which is why you will usually see our stamp on our detailed ICO reviews – they are the best we have found. However, on occasion, we might also rate a well-hyped project that does not meet our personal investing criteria.
The Crypto Briefing Top 5 stamp is awarded to ICO projects that we rate in the top 5% of all projects.
BLOCKCLOUD ICO REVIEW SCORES
SUMMARY
The Blockcloud ICO (BLOC Token) is laying the groundwork for a new Internet of Things protocol. The team has clearly identified the assets that such a network will need, and is in the process of building a foundation that answers the unique challenges inherently presented by the scale of an IoT solution. We see a team that has clear academic and entrepreneurial experience, and that has compartmentalized these challenges such that each is tackled in the whitepaper – fairness, trust, incentivization, security, scalability – all are addressed as unique hurdles, and unique solutions are then proposed. This type of segmentation is lacking in many ambitious projects, and we see it as a clear differentiator (along with the team's academic rigor) which could offer Blockcloud a major advantage in the competitive IoT market.
Founding Team……………………….9.0
Product…………………………………..6.3
Token Utility…………………………..9.5
Market…………………………………..8.4
Competition…………………………..7.8
Timing……………………………………8.2
Progress To Date……………………8.8
Community Support & Hype…..8.4
Price & Token Distribution……..7.9
Communication……………………..9.5
FINAL SCORE……………………….8.2
UPSIDES
Team has strong technical and business experience in IoT domain

Huge number of partnerships already in place

Impressive level of organic community support
DOWNSIDES
Product development is in early stages

Blockchain experience of developer team is limited
Today's Date: 6/12/18
Project Name: Blockcloud
Token Symbol: BLOC
Website: https://www.block-cloud.io/
White Paper: https://www.block-cloud.io/blockcloudtechnicalwhitepaper.pdf
Crowdsale Hard Cap: $15,000,000 USD
Token Distribution: 20% to crowdsale, 10% to team, 30% to foundation, 30% to mining awards, 10% to early contributor incentives
Initial Market Cap (at crowdsale price): $75,000,000 USD
Additional Information: https://t.me/BlockcloudTeam
---
ICO Review Disclaimer
The team at Crypto Briefing analyzes an initial coin offering (ICO) against ten criteria, as shown above. These criteria are not, however, weighted evenly – our proprietary rating system attributes different degrees of importance to each of the criteria, based on our experience of how directly they can lead to the success of the ICO in question, and its investors.
Crypto Briefing provides general information about cryptocurrency news, ICOs, and blockchain technology. The information on this website (including any websites or files that may be linked or otherwise accessed through this website) is provided solely as general information to the public. We do not give personalized investment advice or other financial advice.
Decentral Media LLC, the publisher of Crypto Briefing, is not an investment advisor and does not offer or provide investment advice or other financial advice. Accordingly, nothing on this website constitutes, or should be relied on as, investment advice or financial advice of any kind. Specifically, none of the information on this website constitutes, or should be relied on as, a suggestion, offer, or other solicitation to engage in, or refrain from engaging in, any purchase, sale, or any other any investment-related activity with respect to any ICO or other transaction.
The information on or accessed through this website is obtained from independent sources we believe to be accurate and reliable, but Decentral Media LLC makes no representation or warranty as to the timeliness, completeness, or accuracy of any information on or accessed through this website. Decentral Media LLC expressly disclaims any and all responsibility from any loss or damage of any kind whatsoever arising directly or indirectly from reliance on any information on or accessed through this website, any error, omission, or inaccuracy in any such information, or any action or inaction resulting therefrom.
Cryptocurrencies and blockchain are emerging technologies that carry inherent risks of high volatility, and ICOs can be highly speculative and offer few – if any – guarantees. You should never make an investment decision on an ICO or other investment based solely on the information on this website, and you should never interpret or otherwise rely on any of the information on this website as investment advice. We strongly recommend that you consult a licensed investment advisor or other qualified financial professional of your choosing if you are seeking investment advice on an ICO or other investment.
See full terms and conditions for more.
Founding Team
This category accounts for the leaders, developers, and advisors.
Poor quality, weak, or inexperienced leadership can doom a project from the outset. Advisors who serve only to pad their own resumes and who have ill-defined roles can be concerning. But great leadership, with relevant industry experience and contacts, can make the difference between a successful and profitable ICO, and a flub.
If you don't have a team willing and able to build the thing, it won't matter who is at the helm. Good talent is hard to find. Developer profiles should be scrutinized to ensure that they have a proven history of working in a field where they should be able to succeed.
Product
What is the technology behind this ICO, what product are they creating, and is it new, innovative, different – and needed?
The IOTA project is a spectacular example of engineers run amok. The technology described or in use must be maintainable, achievable, and realistic, otherwise the risk of it never coming into existence is incredibly high.
Token Utility
Tokens which have no actual use case are probably the worst off, although speculation can still make them have some form of value.
The best tokens we review are the ones that have a forced use case – you must have this token to play in some game that you will probably desire to play in. The very best utility tokens are the ones which put the token holder in the position of supplying tokens to businesses who would be able to effectively make use of the platforms in question.
Market
There doesn't have to be a market in order for an ICO to score well in this category – but if it intends to create one, the argument has to be extremely compelling.
If there is an existing market, questions here involve whether it is ripe for disruption, whether the technology enables something better, cheaper, or faster (for example) than existing solutions, and whether the market is historically amenable to new ideas.
Competition
Most ideas have several implementations. If there are others in the same field, the analyst needs to ensure that the others don't have obvious advantages over the company in question.
Moreover, this is the place where the analyst should identify any potential weaknesses in the company's position moving forward. For instance, a fundamental weakness in the STORJ system is that the token is not required for purchasing storage.
Timing
With many ICO ideas, the timing may be too late or too early. It's important for the analyst to consider how much demand there is for the product in question. While the IPO boom funded a lot of great ideas that eventually did come to fruition, a good analyst would recognize when an idea is too early, too late, or just right.
Progress To Date
Some of the least compelling ICO propositions are those that claim their founders will achieve some far-off goal, sometime in the future, just so long as they have your cash with which to do it.
More interesting (usually) is the ICO that seeks to further some progress along the path to success, and which has a clearly-identified roadmap with achievable and reasonable milestones along the way. Founders who are already partially-invested in their products are generally more invested in their futures.
Community Support & Hype
Having a strong community is one of the fundamental building blocks of any strong blockchain project. It is important that the project demonstrates early on that it is able to generate and build a strong and empowered support base.
The ICO marketplace is becoming more crowded and more competitive. While in the past it was enough to merely announce an offering, today's successful ICO's work hard to build awareness and excitement around their offering.
Price & Token Distribution
One of the biggest factors weighing any analysis is price. The lower the price the more there is to gain. But too low of a price may result in an under capitalized project. It is therefore important to evaluate price relative to the individual project, its maturity and the market it is going after.
The total supply of tokens should also be justified by the needs of the project. Issuing a billion tokens for no reason will do nobody any good.
Communication
Communication is key. The success of a project is strongly tied to the project leaders' ability to communicate their goals and achievements.
Things don't always go as planned but addressing issues and keeping the community and investors in the loop can make or break a project.