Cardano Aims For A Trillion, Bets On Five Or Tencard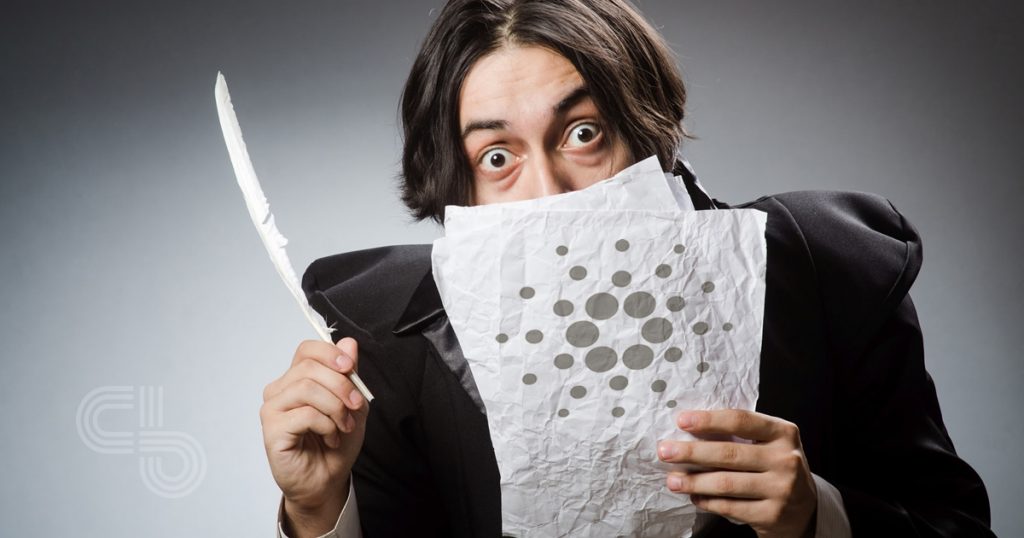 What is Cardano ADA?
Cardano is a smart contract platform incorporating Proof-of-Stake verification that could slash costs and streamline the next generation of blockchain. The team has taken a scientific approach with peer reviews at every stage. This technology is real and it has potential, which bodes well for the Cardano ADA crypto token.
Introduction to Cardano ADA
Cryptocurrency is never dull. Bitcoin's anonymous creator designed the protocol as a two-fingered salute to the financial sector; Ethereum wants to be the universal computer; when not battling the SEC, Ripple XRP cozies up to large corporations and central banks; Bitcoin Cash thinks it does a better two-fingered salute than Bitcoin.
But what about Cardano (ADA)? The blockchain platform with the quirky habit of naming its developmental phases after poets, philosophers, and a computer scientist…what are they up to?
Well according to the official Cardano roadmap, it's business as usual. Developers laying the foundations for the secure, decentralized network – otherwise known as phase Shelley* – are busy on Quantum-resistant signature technology and a new backend for the Daedalus wallet.
Meanwhile those on phase Goguen (that's the computer scientist) are building a smart contract tester and designing a new language specifically for financial smart contracts, named (predictably?) after the English playwright, Christopher Marlowe. A smart contract-enabled financial blockchain could be a pretty big deal around here, and Cardano has big ambitions.
Charles Hoskinson (CEO of IOHK and lead developer for Cardano) recently said that he would "love" the project to become the world's first trillion dollar cryptocurrency project in terms of market cap. Based on the 25.9bn circulating supply, Cardano ADA would have to reach just over $38.50 to have a total supply of a $1,000,000,000,000.
But to get there, Cardano is doing what Cardano does best: planning to be around in five or ten years, when the majority of the whiz-bang projects have burned through their cash after flying a little too close to Justin Sun. The next gen smart contracts should be near perfect when they hit the mainnet and only then will we see what this financial blockchain is capable of.
---
As this publication has highlighted in the past, listings on quality crypto exchanges are indicative of a project's worth. Just over two weeks ago, the cryptocurrency exchange Coinbase named Cardano ADA as among the five assets it was seriously considering listing on its servers. In an official blog post, Coinbase said that what drew them to Cardano was functional live-features, a long-term roadmap, a growing community, and its peer-reviewing process for the smart contract platform.
Transparency with its blockchain technology has counted in Cardano ADA's favor and the market cap reflects its potential. A listing on Coinbase tends to bring its own rewards and the powerful cryptocurrency exchange holds its own power and influence on the cryptocurrency market.
To be considered for a Coinbase listing, a cryptocurrency needs to prove it meets regulatory requirements, have long-term viability, as well as show potential for mass-adoption.
Coinbase are not Cardano's only fans. It was dubbed as "extraordinarily impressive" by eToro, a cryptocurrency brokerage firm. Although researchers stressed that it was still too early to tell, eToro's market research paper, released last week, singled-out the complex technology and strong development history as signs of potential for the blockchain project. In the end, the cryptocurrency token can only follow the technology an Cardano has impressed the industry so far.
Cardano is often described as less of a project and more of an idea. It is firmly committed to ensuring every stage of development is peer-reviewed by academics and blockchain experts. This added step, and the changes and alterations (which themselves have to be reviewed) means development has progressed at a snail's pace.
First established in 2015, it took until September of last year to launch the initial 'Byron' version of the network. Although Shelley is expected to be released sometime this quarter, the project won't be fully finalized until 2020 when Cardano's contract with its lead developer, IOHK, comes to an end.
Slow, timely development is not normally the stuff of headlines and Cardano has managed to stay under the radar since the beginning of the year. The Cardano Foundation intends to solve the problems with Proof-of-Stake blockchain development and slash the computing and power required by Proof-of-Work blockchains like Bitcoin.
Proof-of-Stake blockchains effectively allocate rights depending on how many coins you hold, which limits miners to a proportional stake and cuts the competitive aspect. Cardano ADA Hodlers and active community members will also be rewarded with tokens on a regular basis to boost engagement.
If the crypto community were a school and the children projects, Cardano would be the hardworking one who sat in the back of the class and didn't talk very much. But things are beginning to accelerate.
In years to come, Cardano would be a high-profile executive and probably a multi-millionaire before reaching thirty.
---
Cardano roadmap to success: tortoise vs hare.
Most people are aware of the hare and the tortoise fable. The two creatures agreed to race and while the tortoise plods along slowly and steadily, the hare runs ahead before taking a nap halfway around the circuit. When the hare wakes up, she is horrified to release that the tortoise has crossed the finishing line.
Over the past few months, Cardano has started to explore collaborations with the Ethiopian Agricultural Ministry and the Greek university degree-awarding body. Traxia, a company that supports cash-flow for SMEs, is the first project to launch on the Cardano platform, having moved from Ethereum.
The name 'Cardano' actually comes from the Italian sixteenth-century mathematician and polymath, Gerolamo Cardano, who (as well as inventing the combination lock and introducing negative numbers to the West) was an inveterate gambler.
The blockchain platform kept the scientific philosophy. Unlike its namesake, the Cardano project doesn't like to gamble. Its slow pace of development enables it to ensure its code and new features are in perfect working order before being released. Scrupulous peer reviews of the source code then shine a light on any snags for the development team.
Other cryptocurrency projects have been quick to release their mainnets and invite as many projects as possible to launch on their platforms. But there have been problems with bugs found in the code as well as issues to do with scaling way too quickly: despite the fanfare surrounding EOS at the end of May, the mainnet crashed two days after launch.
Although slow, Cardano's pace of development will pay off in the long run. Considering the project's love for intellectual references, maybe they could call it the Aesop effect.
The author is invested in BTC and ETH, which are mentioned in this article.
*In this case, the Shelley is apparently the poet whose works included Ozymandias. His wife, Mary, of Frankenstein fame, is overlooked on this occasion.