Cardano Moves Closer to Decentralization, ADA's Uptrend Approaches Exhaustion
Cardano's Shelley upgrade offers staking rewards, with possible returns of 4.65% per year, but the hype around the token is fading.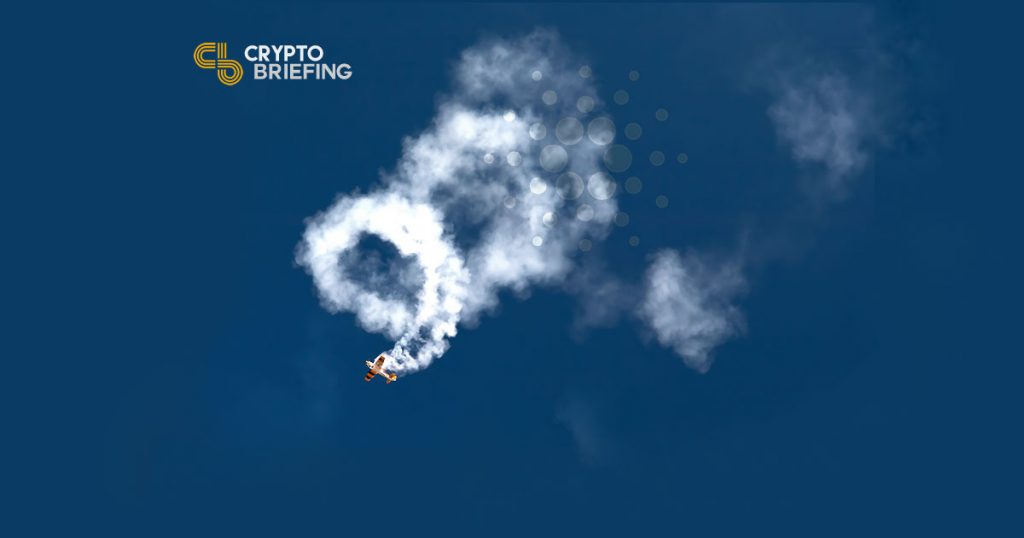 Key Takeaways
Cardano's Shelley mainnet has attracted over 856 stake pool operators over the past week
Regardless, retail investors seem to have lost excitement around ADA due to the recent lackluster price action
If this trend continues, the price of this cryptocurrency could soon pullback based on different technical metrics
Cardano has finally transitioned to proof-of-stake after the successful launch of its Shelley upgrade. Although many crypto enthusiasts have shown interest in staking rewards, different fundamental and technical metrics suggest that ADA is bound for a retracement.
Staking Pools Rush to the Network
Cardano launched the much anticipated Shelley mainnet last week, introducing staking rewards for all ADA holders. Since then, hundreds of stake pools have joined the network helping to make it more "decentralized," according to Charles Hoskinson, the head of IOHK.
Indeed, the smart contracts protocol is getting closer to "equilibrium." It currently has 856 stake pools in operation out of the 1,000 stake pools needed to reach this milestone.
The development team behind Cardano is already preparing for the next upgrade, dubbed "Voltaire."
This new stage in the project's roadmap is set to introduce a governance system to foster development on top of the protocol. The co-founder of Ethereum expects that thousands of developers around the world will flock to this blockchain to build their decentralized applications.
"This time next year, I predict there will be hundreds of assets running on Cardano, thousands of DApps, tons of interesting projects, and lots of unique use and utility. 2021 is going to be so much fun watching Cardano grow and evolve. The community is definitely ready to innovate," said Hoskinson.
While the founder of Cardano remains optimistic about what the future has to offer, the hype around this altcoin has faded dramatically over the past month.
Santiment's social volume index reveals that the number of ADA-related mentions on different social media networks peaked in early July. This fundamental metric plunged from a score of 268 to recently hit a low of 12.

The significant drop in social activity around Cardano can be considered a leading indicator of soon to be falling prices. Likewise, the steady decline in trading volume indicates that ADA is bound for a steep correction.
Cardano Sits on Top of Stiff Support
The TD sequential indicator adds credence to the bearish outlook. This technical index presented a sell signal on ADA's 1-week in the form of a green nine candlestick. The bearish formation anticipates a one to four weekly candlesticks correction before the uptrend resumes.
A glimpse at Cardano's weekly chart shows that the TD setup has been extremely precise at estimating local tops on this cryptocurrency's trend. The two times it presented a sell signal within this time frame, they were both validated, leading to significant price slumps.
Therefore, the current pessimistic forecast must be taken seriously.
IntoTheBlock's "In/Out of the Money Around Price" (IOMAP) model suggests that Cardano sits on top of a massive support barrier despite the bearish outlook that the TD sequential presents. Based on this on-chain metric, roughly 53,000 addresses had previously purchased over 5 billion ADA between $0.136 and $0.143.
Such an important area of interest may have the ability to absorb any downward pressure. Holders within this range will likely try to remain profitable. They may even buy more ADA to avoid seeing their investments go into the red.
Nonetheless, if the selling pressure behind this altcoin is significant enough that allows ADA's price to move below this support huddle, the next critical barrier lies between $0.121 and $0.126.
Here, the IOMAP cohorts show that approximately 25,000 addresses are holding over 1.2 billion ADA.

Given the unpredictability of the cryptocurrency market, the bullish outlook still needs to be considered.
A spike in demand for ADA could see it test the most notable resistance barrier ahead of it that sits at $0.145. The IOMAP model indicates that more than 7,800 addresses bought 2.6 million ADA around this price level.
Breaking through this hurdle could push Cardano to new yearly highs since there isn't any supply barrier that will impede so.
Market Participants Grow Greedy
Due to the bullish price action seen across most digital assets within the cryptocurrency market, investors appear to be growing overwhelmingly optimistic. The Crypto Fear and Greed Index (CFGI) has been sensing "extreme greed" among market participants for the past week. Historical data reveals that this is not a good sign.
In the past, each time the CFGI moved into "extreme greed," a selling opportunity was presented to traders. Given the different bearish signals previously mentioned, Cardano and the entire market, could be bound for a downswing if history repeats itself.
Thus, the $0.14 support and $0.145 resistance levels have a lot of importance for ADA's trend. Breaking below or above these price hurdles will determine whether the smart contracts' token will indeed retrace or continue marching towards higher highs.
For more key market trends, subscribe to our YouTube channel and get weekly updates from our lead bitcoin analyst Nathan Batchelor.