Chainlink Hits New All-Time Highs, Whales Get Ready to Dump
Chainlink steals the spotlight as LINK prices surge to new all-time highs, beating-out old records from its three-year track history.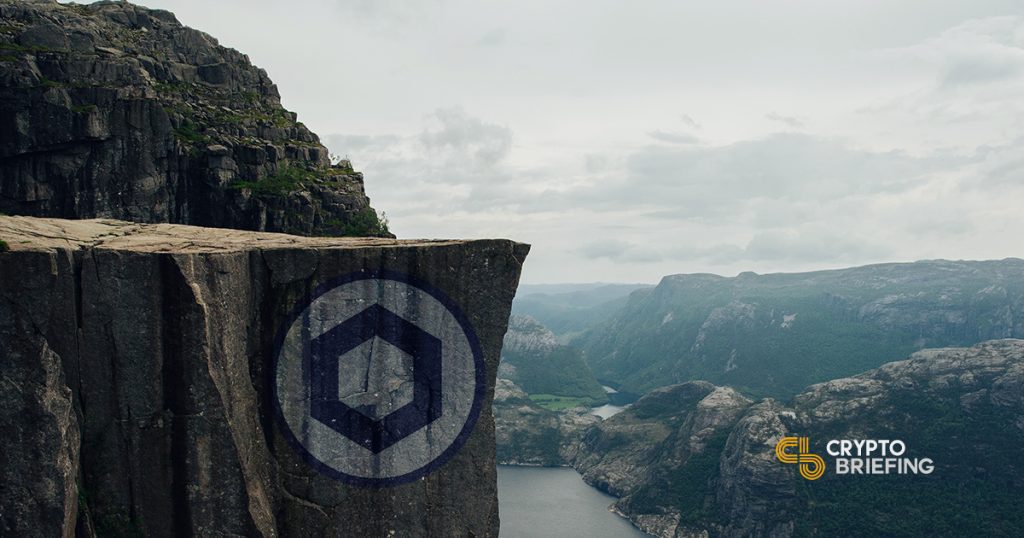 Key Takeaways
Chainlink moved past the $5 resistance level and hit a new all-time high of $5.60
LINK is now in price discovery mode, but data reveals that momentum for a sell-off is gradually building up
Nearly 4 million LINK were transferred to different crypto exchanges suggesting that some big investors are preparing to sell their holdings
Chainlink just set a new all-time high, with LINK prices pushing $5.6. Despite investor optimism around the altcoin, data shows that big investors are getting ready to take profits.
Chainlink Reaches New All-Time Highs
Roughly $200 million was injected into Chainlink over the past 24 hours. The substantial buying pressure behind this altcoin allowed it to turn a mid-March's high of nearly $5 into support. Following the upswing, investors seem to have FOMOed, pushing LINK's price further to reach a new all-time high of $5.60.
Even though the decentralized oracles token is in price discovery mode, the Fibonacci retracement indicator can help identify potential resistance levels. Based on this technical index, the next hurdles LINK could face if it continues trending up are the 127.2% and 161.8% Fibonacci retracement levels. These potential areas of resistance sit around $6 and $7, respectively.
Despite the recent price action, data from Glassnode reveals that some investors anticipated the upswing and are preparing to profit from it.
Whales Prepare to Dump
The on-chain data and intelligence platform reported a considerable spike in the number of tokens transferred to exchanges.
On June 4 alone, approximately 4,900 transfers were made to different cryptocurrency exchanges, amounting to nearly 4 million LINK. These transactions represent the highest volume of coins ever sent to crypto exchanges in the three years history of Chainlink.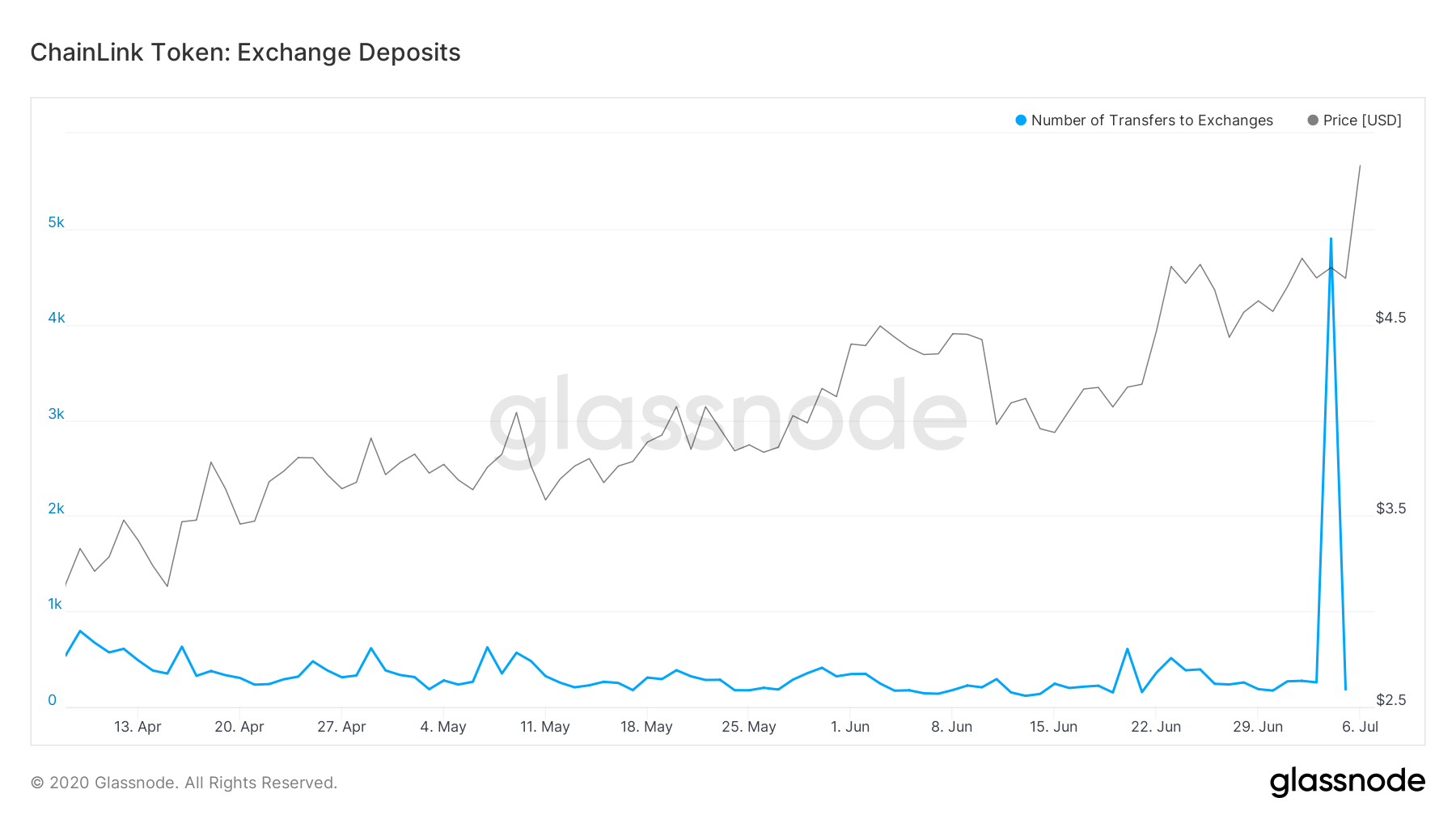 Santiment's holder distribution chart shows that a significant sum of the LINK sent to exchanges came from addresses holding 100 to 1,000 LINK. The number of holders within this group plummeted by 10%, while the number of addresses containing 1,000 to 10,000 LINK dropped by nearly 2%.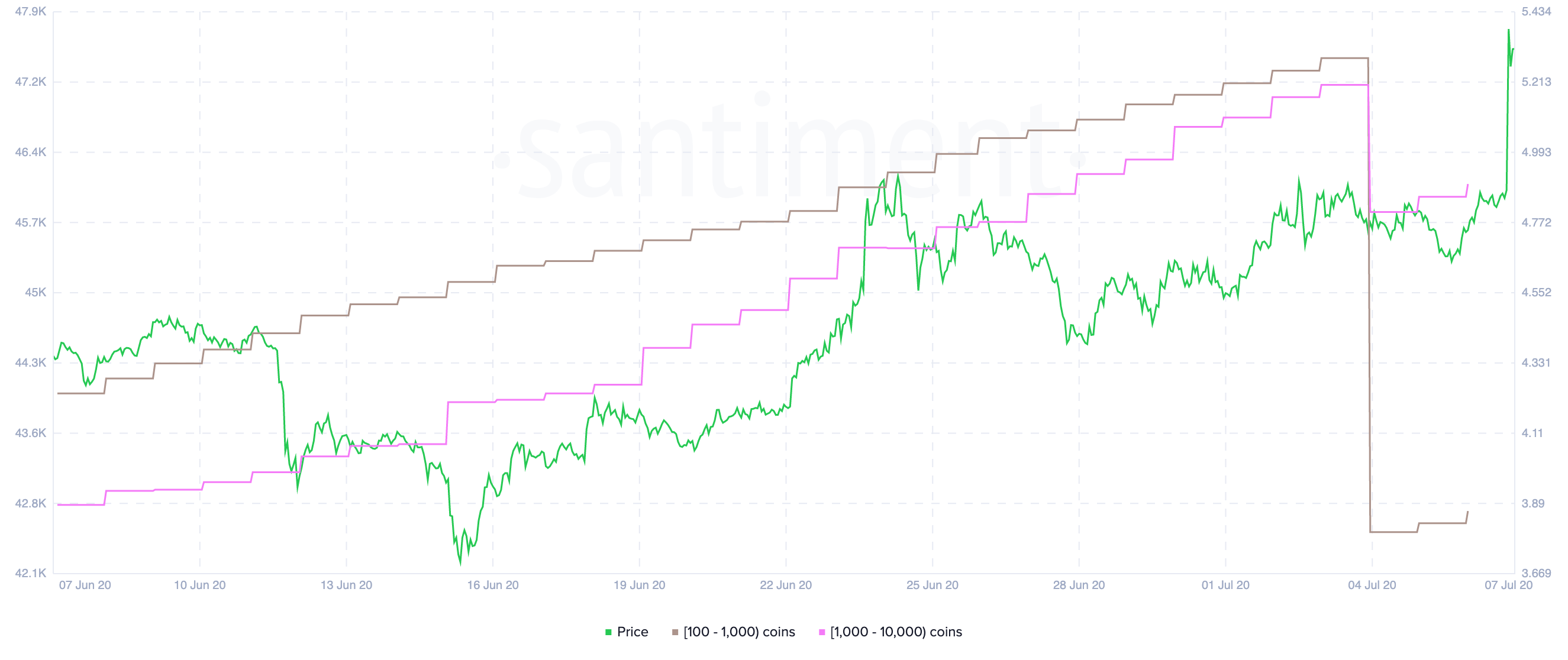 The current number of tokens sitting between multiple cryptocurrency exchanges indicates that downwards price pressure is brewing. If these market participants are preparing to dump their tokens on unware investors, the event could be followed by further selling, according to Garry Kabankin, the Project Coordinator at Santiment.
Under such circumstances, Chainlink could be bound for a downswing before it continues reaching higher highs.
"Essentially, people moving LINK are trying to offload their bags and take profits. If LINK's bulls are unable to absorb this rising sell pressure and sell walls, then usually it can affect the price quite negatively," said Kabankin.
Critical Support Levels Ahead of LINK
If this were to happen, IntoTheBlock's "In/Out of the Money Around Price" (IOMAP) reveals that the $4.80 support level may have the ability to prevent a steep decline. Around this price level, roughly 775 addresses had previously purchased over 2.7 million LINK.
Holders within this price range will likely try to remain profitable. They may even buy more Chainlink to avoid seeing their investments go into the red.

It is worth noting that the selling pressure behind the oracles token might be significant enough to break the $4.80 support level. Moving past this hurdle could see Chainlink plunge to the next substantial supply wall that sits at $4.70. Here, the IOMAP cohorts show that 1,860 addresses had previously bought more than 2.7 million LINK.
For more key market trends, subscribe to our YouTube channel and get weekly updates from our lead bitcoin analyst Nathan Batchelor.