Chainlink Likely to Correct Before Reaching New All-Time Highs
LINK's utility is rapidly expanding throughout every the crypto industry presenting sizable opportunities.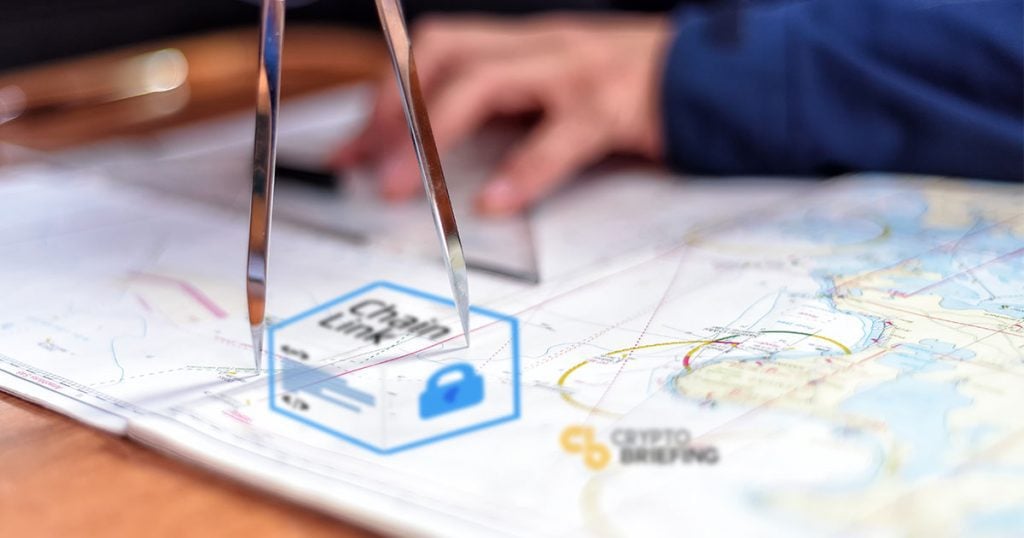 Key Takeaways
Chainlink scored a partnership with China's Blockchain Services Network (BSN) to assist in incorporating off-chain data.
The news was welcomed by investors who rushed to exchanges to get a piece of LINK pushing its price up by nearly 19%.
Now, the decentralized oracles token sits at a pivotal point, but technical indexes favor the bears.
Chainlink has proven that its technology is key to connecting on-chain and real-world data. While its future looks bright as more enterprises integrate the decentralized oracle service, its price is poised for a correction, offering sidelined investors an opportunity to get back in the market.
Chainlink's Utility Expands
Chainlink continues making significant strides to expand the utility of its decentralized oracles technology.
The blockchain startup recently made the headlines after scoring a partnership with China's Blockchain Services Network (BSN). The integration will enable Chinese authorities and enterprises to incorporate real-world data into their BSN-based applications.
Yifan He, CEO of Red Date Technology and BSN co-founder, said that both teams have been working together and will soon unveil a prototype that "demonstrates the value of Chainlink oracles."
"One of the main purposes of BSN is to provide interoperability to all DApps, regardless of whether they are for permissioned chains or public chains. On BSN, each Dapp should be able to call any other Dapps in a very convenient and low-cost way. This collaboration with Chainlink, IRITA, and SNZ Pool will help us achieve this goal and ensure that BSN users reach new levels of security, reliability, and interconnectivity," stated He.
Investors rushed to exchanges to add Chainlink to their portfolios shortly after the announcement.
The sudden spike in LINK's buying pressure pushed the token up by nearly 19%. LINK went from trading at a low of $4.18 to retest the early March highs of roughly $5.
Despite the high levels of excitement around the decentralized oracles token, different technical patterns suggest that momentum for a retracement has been building up.
A Correction on LINK's Horizon
The TD sequential indicator is currently presenting a sell signal in the form of a green nine candlestick on LINK's 1-day chart.
The bearish formation estimates that an increase in sell orders could trigger a one to four daily candlesticks correction before the uptrend resumes. A red two candlestick trading below a preceding red one candle will serve as confirmation of the pessimistic outlook.
Over the last four months, the TD setup has proven to effectively identify when Chainlink is about to reach an exhaustion point and retrace.
In early March, for instance, this technical index predicted that LINK was bound for a downward impulse after presenting a sell signal in the form of a green nine candlestick that transitioned into a red one candle.
Following the bearish signal, the cross-blockchain interoperability token took a nearly 70% nosedive.
Most recently, the TD sequential was also able to accurately estimate that Chainlink was reaching overbought territory in early June. After providing a sell signal, the price of LINK plummeted over 18%.
Now that the same bearish formation developed around a critical area of resistance, similar bearish price action may be underway.
IntoTheBlock's "In/Out of the Money Around Price" (IOMAP) model suggests that in the event of a correction, there is a massive supply wall that lies around $4.36.
Here, roughly 9,300 addresses had previously purchased nearly nine million LINK.
This is a critical area of demand that may have the ability to act as a strong support since holders within this price range will likely try to remain profitable in their long positions. They could even buy more tokens to avoid prices from falling below this level.
It is worth noting that the strength of the $4.8-$5 resistance level is weakening over time. For this reason, the bullish outlook cannot be taken out of the question.
If Chainlink manages to move past this resistance barrier and turn it into support, it will enter into a price discovery phase, which is usually characterized by extreme levels of volatility. Under such conditions, the next critical levels to watch are the 127.2% and 141.4% Fibonacci retracement levels.
These key points of potential resistance sit at $6 and $6.4, respectively.
Moving Forward
The World Economic Forum (WEF) recently recognized Chainlink as one of the "technology pioneers" of 2020. The announcement is an explicit endorsement of LINK's technology and its abilities to connect the emerging world of blockchain with off-chain data.
While Chainlink continues to prove its utility to solve real-world problems, demand for the altcoin is also surging.
Data from Santiment reveals that not only retail investors have entered a buying spree, but institutional interest is also trending up.
Indeed, the number of addresses holding 100,000 to 1,000,000 LINK is up 5% in the last week.
Roughly 15 new whales have joined the network during this short period. When considering that these addresses hold between $500,000 and $5 million worth of Chainlink, the upswing can translate into millions of dollars.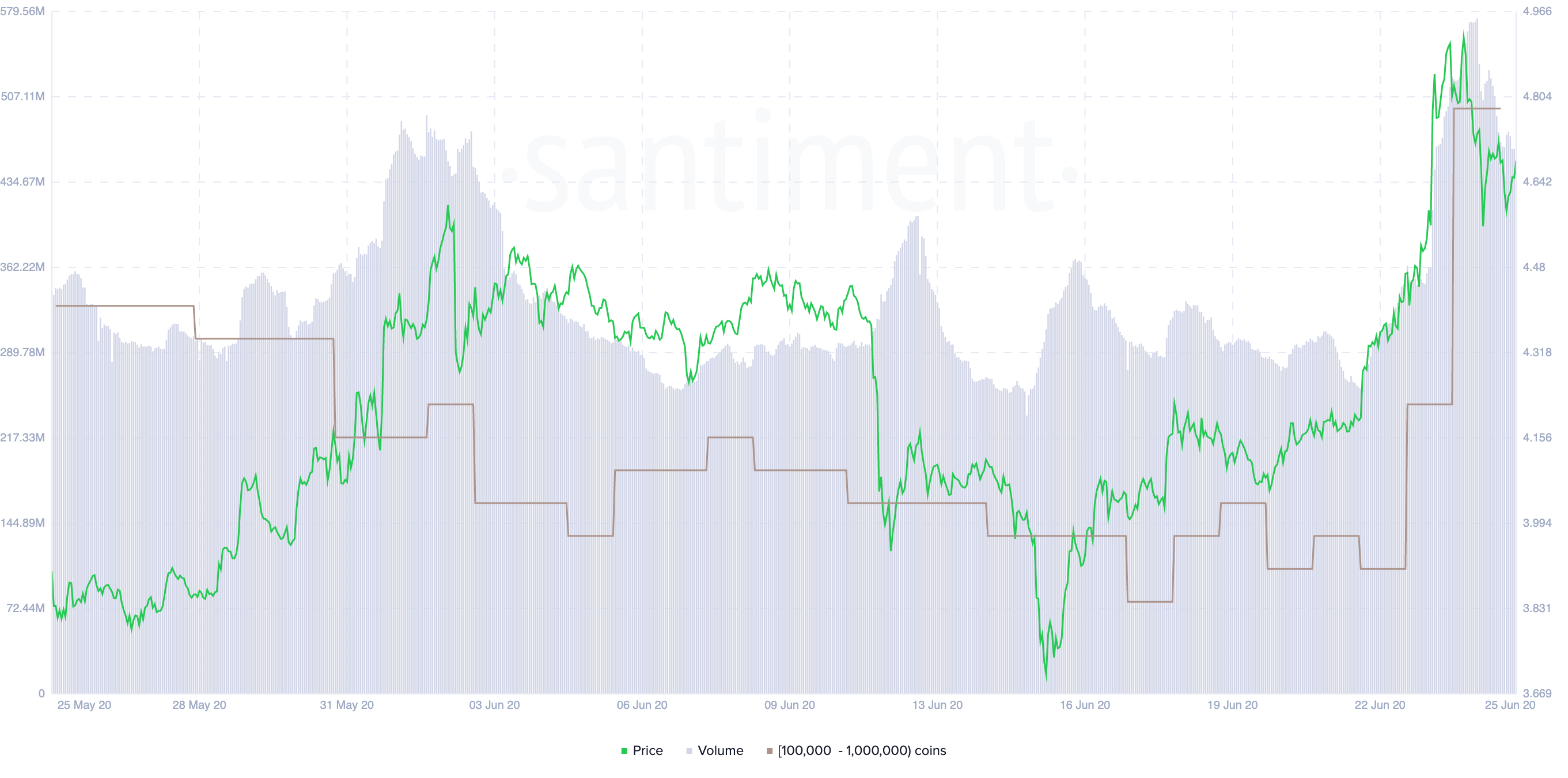 With on-chain volume also picking up, it is just a matter of time before resistance breaks and Chainlink reaches a new all-time high.
In the meantime, investors must be diligent in monitoring an imminent retracement before Link advances further.
For more key market trends, subscribe to our YouTube channel and get weekly updates from our lead bitcoin analyst Nathan Batchelor.
Recommended News
So-Called "Coinbase Effect" Is Overbought, Says New Resear...
Although OmiseGo (OMG) enjoyed a hefty 144% boost in price after earning a listing on Coinbase, the same cannot be said for other digital assets. New research from CoinMetrics suggests...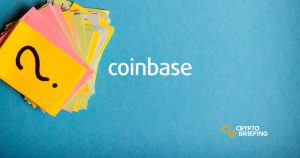 CHAINLINK DIGITAL ASSET REPORT
Chainlink aims to solve the smart contract connectivity problem by creating a network of decentralized data providers, known as oracles.