Chinese Energy Provider ENN Sheds Light On VeChain Tech
How VeChainThor is streamlining the energy industry.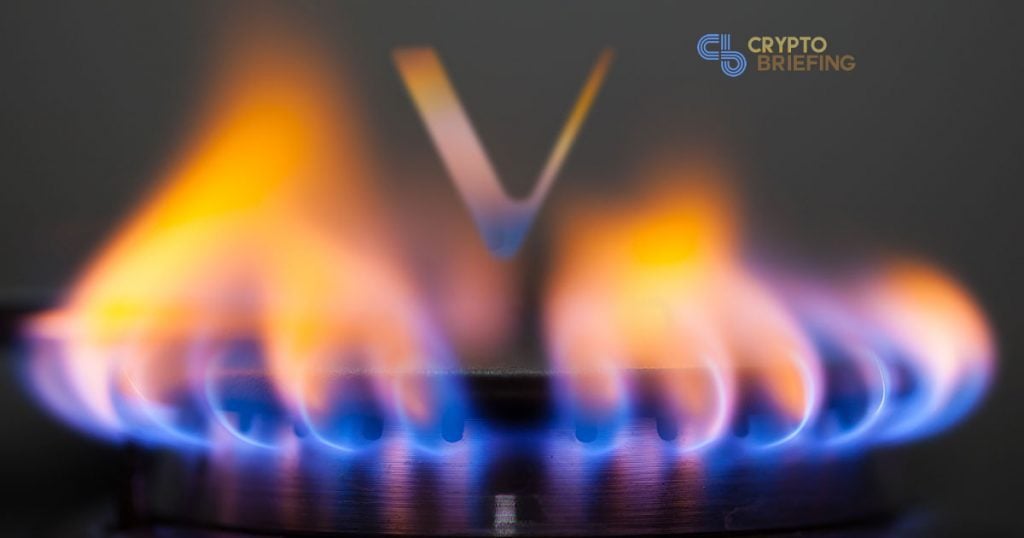 One of China's largest energy providers is using blockchain technology to trace the supply of natural gas. Serving an urban population of 94.57 million in 187 Chinese cities, ENN Energy Holdings Limited is harnessing VeChainThor technology for "optimal quality control and supply-chain management."
Since 2018, VeChain has been cooperating with ENN and the state-owned Shanghai Gas to develop a Blockchain-based tracing solution for liquefied natural gas (LNG). The VeChain Foundation recently highlighted details of the arrangement in an interview with Tao Zhou, Deputy General Manager of Domestic Trade Group at ENN.
According to the Foundation, VeChain's blockchain technology facilitates efficient and highly accurate data collection for ENN's supply chain. To accomplish this challenging task, ENN uses a series of IoT technologies in tandem with VeChainThor.
---
VeChain Supply Management
The supply management process is summed up in the VeChain Foundation's Partner Update and Spotlight Series.
"Upon arrival, the gas will be injected into different tanks, from there each tank of gas is assigned a tank number, associating with the relevant data stored on the blockchain," the Foundation explains. "When trucked out to retailers, logistics information and the LNG quality reports will be uploaded to the blockchain as well." VeChain's Blockchain technology allows for cross-validation and verification at each step of the process.
In the latest Partner Update, ENN's Deputy General Manager Tao explained how blockchain technology can be applied to supply management solutions, despite the natural skepticism and doubt that accompanies new technological implementations,.
"Being a brand new technology, it's natural for blockchain to be doubted or even criticized," he said. "[B]ut instead of evading the critics, we should rise up to the questions and develop solid solutions and explore new application scenarios to integrate it with the real economy."
Blockchain technology helps streamline the process of product evaluations, allowing users to access detailed records and verify complex data by scanning QR codes. This allows for much greater transparency throughout the system and further enhances safety and efficiency, according to Tao. "The natural gas is imported by ENN from all over the world, so the composition, quality, calorific value, and gasification rate varies from batch to batch."
VeChainThor's technology has already proven to be a huge time and resource-saver, at least for ENN. Without it, Zhou explained, information would have to instead be relayed through phone calls, emails, QQ, and WeChat, with plenty of room for human error and wasted time.
---
Beyond LNG
ENN is looking forward to rolling out the technology on a larger scale with further development of the Zhoushan LNG Terminal as a model for future roll-outs. At present, the terminal is used to ship around 60 truckloads per day, but the company plans to expand this to 400 truckloads. From there, Zhou anticipates implementing the Zhoushan Model at 20 other terminals in China.
ENN's plans for using VeChainThor are not limited to LNG. Tao envisions its implementation in a broadening range of fields, revealing plans to expand to related fields such as "electricity, renewable energy, thermal energy, oil and gas, coal and more." ENN even plans to introduce the model to work with clearinghouses, banks, and insurance and mortgage companies.
Throughout its years of development and implementation, VeChain has consistently adhered to its key purpose; providing a broadly useful and practical tool for enterprise. Acting as a bridge between business and technology, VeChain plans to continue working closely with ENN and other providers in a growing range of business scenarios.