What is VeChain? Introduction To VET (THOR)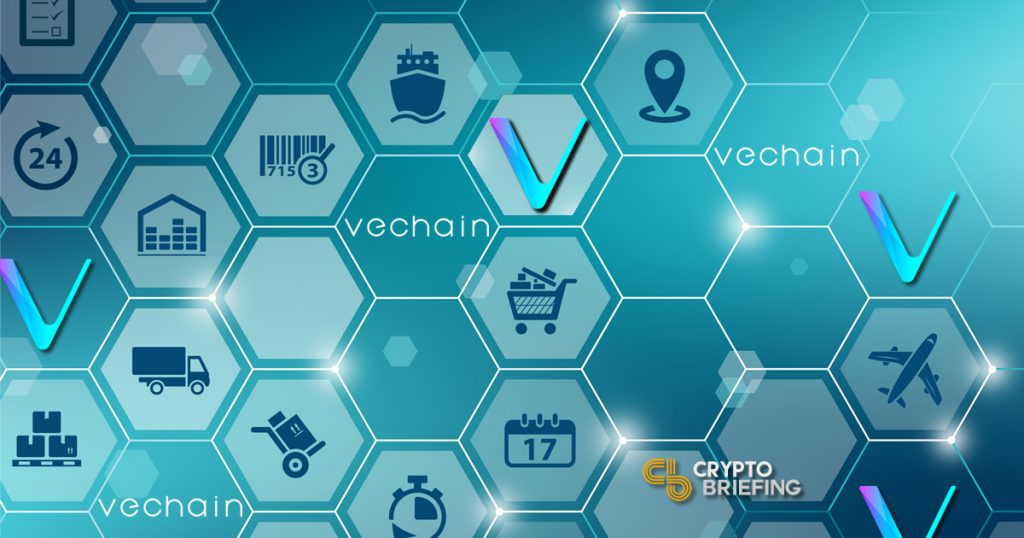 What Is VeChain Thor?
VeChain Thor is a dual-token, blockchain-as-a-service (BaaS) platform originally built on the Ethereum smart contract network to service enterprise users. Its mainnet launched June 30, 2018. VeChain focuses primarily on the supply chain, and on delivering Internet of Things solutions. VET is VeChain Thor's proprietary cryptocurrency, and VTHO is used to pay for tokenized transactions.
VeChain uses a proprietary smart chip to implement in NFC chips, RFID trackers, and QR codes to put enterprise IoT on the blockchain.
The supply chain is a massive industry with a lot of moving parts. We've discussed the blockchain and supply chain in more detail in another article, but we'll still give a general overview later down below. The basics you need to know are that it involves everything from seed to sale, farm to table, manufacturing to shipping, warehousing, and retail stores.
Everything involved in getting everything you buy, from gas to food, clothes, luxury items, and even drugs has a supply chain.
VeChain Thor's core team includes CEO Sunny Lu, CFO Jay Zhang, COO Kevin Feng, and CTO Jianliang Gu. This C-suite started the project in 2015 with pedigrees that include serving as LV China, PwC, Deloitte, and TCL Communications. It's a solid team that understands the ins and outs of enterprise software solutions deployed throughout China, Shanghai, and Southeast Asia.
The VeChain Foundation that maintains the VeChain Thor blockchain is a Singapore-based non-profit organization founded in 2017. It implements a system of checks and balances for network governance and has a lot of partnerships from the team's relationships. VeChain Thor enterprise partners include PricewaterhouseCooper, Renault, and Microsoft.
Before explaining how VeChain Thor plans to take over enterprise blockchain (and its odds of doing so), let's take a look at the crypto market performance of VeChain (VET) and VeThor Token (VTHO), the two proprietary cryptocurrencies of the VeChain Thor blockchain, on the crypto market.
---
VET and VTHO Crypto Market Performance
The peak price of VET so far was technically $9.55, which occurred on January 22, 2018. The total supply is 86,712,634,466 VET.
At this time, it was an ERC-20 token on the Ethereum blockchain called VEN. When the VeChain mainnet (as it was called at the time) launched, VEN was converted to VET at a 1 VEN:100 VET ratio. In addition, VTHO is generated (like GAS on the NEO network) and awarded to VET holders at a base rate of 0.000432 VTHO:1 VET.
With all this taken into account, the peak price of VET so far is $0.019533 on September 4, 2018, and the peak price of VTHO so far was $0.040216 on August 1, 2018.
The VeChain Thor ICO occurred from August 17 through September 17, 2017, raising approximately $20 million worth of ETH. The first ICO launched on the VeChain Thor mainnet was Plair (a VeChain-backed, blockchain-based gaming rewards system) on May 25, 2018.
Cryptocurrency markets that support VET include Binance, BitMart, Bitfinex, LBank, Huobi, DragonEX, Kucoin, and Gat.io. VET trading pairs include BTC, ETH, USDT, and fiat currencies like USD. Approximately $13,000,000 worth of VET is traded on a daily basis.
VET and VTHO can be stored in the official VeChainThor Wallet along with the Ledger Nano S hardware wallet. Storing VET in an exchange will not accumulate VTHO, unless explicitly stated otherwise.
---
Building the Supply Blockchain (Supply Chain 3.0)
VeChain Thor isn't the most consumer-friendly blockchain name, and they don't care. The average person isn't the target demographic for this blockchain. VeChain Thor's team has a strong pedigree in enterprise supply chain management, and that's where this platform has its roots.
Digital ledgers are used throughout the supply chain, from manufacturers like Clorox and Cintas to distributors like FedEx and the United States Postal Service and retailers like Best Buy and Walmart. A well-functioning company in this sector has a 98 percent fulfillment error rate using current technologies.
Technologies like Near-Field Communication (NFC), Quick Response (QR) and Radio Frequency Identification (RFID) are used to track products and supplies throughout the process so everything is accounted for.
Of course, any Six Sigma expert worth his or her Black Belt knows 100 percent is the only acceptable quality rating, but 99.999… percent is acceptable so long as you constantly strive to add another 9.
But current technology can't reach those limits, and that's why the VeChain Foundation moved this process to a distributed blockchain ledger. Using VeChain Identity (VID) to track each item creates a stronger trust system for shipping, receiving, and warehousing.
VIDs are created through "mining" an SHA256 hash function. They're then attached to the QR code, NFC tag, or RFID tag to create an IoT digital twin the company can then track throughout the supply chain.
The second blockchain layer is the smart-contract network. Here, legal ownership and possession of the digital and physical assets can be easily transferred from end to end using the familiar public/private key value transfer system of cryptocurrency.
As for VeChain network mining nodes, each business and organization using the system will run and maintain their own individual nodes, creating a private and exclusive ecosystem. Individual members of the public can't mine VET, but they can buy it and stake VTHO through VeChain Thor's Proof-of-Stake (PoS) system.
Most of the discussion around VeChain Thor revolves around its supply-chain roots, but its strong partnerships with enterprise-level clients inspired the Foundation to expand into other business operations.
---
Expanding to Service All Enterprise Operations
When Bank of America made its aggressive expansion in the U.S. consumer banking market, it did so by purchasing regional banks. For a long time, BofA customers in California (whose banks used the legacy COIN platform) couldn't use their debit cards at ATMs outside of California.
The same was true of customers in Washington and Oregon, but the proprietary system used in the Pacific Northwest was converted to Bank of America's proprietary system much faster.
Enterprises and governments that have been around for a few centuries have a lot of computers running a lot of proprietary software on legacy operating systems.
Upgrading enterprise systems isn't easy, as they often have multi-million-dollar, multi-year contracts with their current third-party vendors. Each program was custom-built for a specific platform, and these development cycles often take up to two years or more to go through all the proper approval processes.
VeChain Thor proved its concept with its current partners, which included Babyghost, PwC, Renault, Hyperledger, Healthcare Co Ltd, Microsoft, Xiamen Innov Information Technology Co Ltd, and many more.
The team realized they weren't serving the full supply chain until they also supported operations. Operational teams like accounting, management, sales/marketing, and the c-suite need real-time access to VID data. All systems need to be capable of accepting the data and presenting it.
VeChain pivoted to include all aspects of enterprise, not just supply chain. Development is underway, and more partnerships are being sought all the time.
In fact, the team partnered with a leading Chinese insurer in late 2018. It also partnered with Chinese electronics and home appliance company Haier in 2019.
---
VeChain Thor Summary
VeChain Thor doesn't have that catchy marketing name you'd expect from a cryptocurrency. That's because it's not meant for consumers – VeChain Thor is a secure, enterprise-grade blockchain that services the entire supply chain from end to end. The VeChain Foundation ensured the success of VeChain Thor with these key ingredients.
VeChain Thor has two layers: an IoT-based token layer that tracks digital assets on the blockchain, and a smart-contract layer to track ownership and build dApps to use the data.
VeChain Thor uses two crypto tokens: VET and VTHO. They're used like NEO/GAS, in which VET is used to stake VTHO, which is used to pay for tokenized transactions.
VET can not be mined on the consumer market. Nodes are run by organizations participating in the ecosystem.
With these pieces in place, along with an extensive list of corporate partners, VeChain Thor is a shining gem in the blockchain sector. Look for it to sustain value for as long as the VeChain Foundation convinces their clients to continue using it.