Everything. Everything. Absolutely Everything. The Truth Behind Blockchain Potential.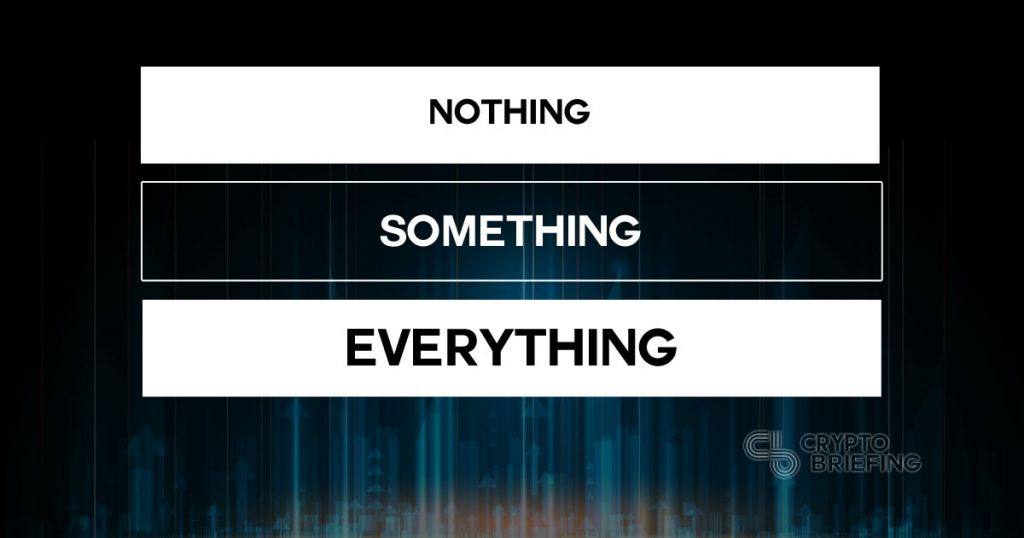 Investors and blockchain advocates spend a great deal of time discussing crypto markets and values: but the underlying blockchain technology is what truly makes cryptocurrency disruptive.
And the truth is that if an item appears on a shelf, whether made by humans or plucked from the earth, then in the very near future, it will have been placed on that shelf with the help of blockchain tech.
From lettuce to plush toys to computers, the scale of the opportunity is – as many have commented – as mind-blowing as the Internet itself. It's the real reason that investors are throwing money at anything with potential and starting funds at unprecedented rates. Nobody knows which company will be the next Amazon, but the sense that it's out there is palpable. There could be dozens of them.
Every transport company. Every manufacturer. Every tech company. Every retailer.
That's the target market for blockchain in the supply chain.
The supply chain includes all the pieces that ensure a product or service gets from creation to the end users. It includes manufacturing, distribution, warehousing, shipping, retailers, and all the logistics in between. One of the most valuable blockchains focused on supply chain management is VeChain, which we've discussed a bit here at Crypto Briefing.
But that's not where it stops. A recent Statista survey of 200 logistics companies found they're spending on understanding, testing, and implementing blockchain technology. Here's how the blockchain is currently being developed and deployed across the supply chain.
The Blockchain in Manufacturing
We're currently in the midst of what's called the 4th industrial revolution, or Industry 4.0. The first iteration was mechanization, water power, and steam power. The second was mass production via the assembly line. The third involved computers and automation.
Industry 4.0 combines the Internet of Things, artificial intelligence, and cloud computing to create what's known as cyber-physical systems. During this emerging process, digital twins are created for physically manufactured objects. These computer-generated models gather large amounts of data to identify inefficiencies, diagnose problems, and even predict maintenance.
Manufacturers have little room for error, and there are rigorous guidelines in place. If every piece being assembled isn't designed to exact specifications, we end up with a situation like Samsung's exploding phone debacle in 2016.
A recall of defective products can cost a company a lot of money. The Consumer Product Safety Commission has issued over $100 million in civil penalties since 2015 to companies over defective products. The agency reports that in 2016 (the most recent year with data available), there were 240,000 toy-related injuries treated in U.S. hospital emergency rooms.
This is why manufacturing companies are looking to the blockchain to decentralize their data.
Group Renault, for example, is partnered with Microsoft and VISEO on a prototype blockchain-based car maintenance digital twin. This ensures that a vehicle's maintenance history is traceable even if it changes owners. Carfax isn't necessary when you can simply check the digital ledger.
Bosch and TUV Rheinland are working on a similar automotive blockchain that will track odometer readings and save up to $7.5 billion in annual fraud. It's estimated that up to $3,700 in value is fraudulently added to used car values due to illegally manipulated odometers.
Cornell University's arXiv repository contains several case studies for blockchain in manufacturing, and IBM is dedicated to integrating manufacturing data into its blockchain platform.
The Blockchain in Distribution
FedEx CEO Fred Smith declared at Consensus 2018 that blockchain technology is the first technology that can solidify trust in cross-border shipments. Matthias Heutger, DHL's Global Head of Innovation echoed this sentiment in a public report titled "Blockchain in Logistics."
In the report,Heutger's team outlines the complex information flow and 10+ parties involved in any transaction in the import/export business. Even once inside the U.S., there are over 500,000 trucking companies employing nearly 3.5 million truckers in the U.S. alone. These trucks deliver nearly 70 percent of all freight transported annually, which accounts for $671 billion worth of goods just within the U.S.
Both DHL and FedEx have a massive stake in this industry, and they're looking at the blockchain to reduce errors, increase transparency, and ultimately eliminate friction that currently exists in their sector of the supply chain.
According to the World Economic Forum, reducing this friction could increase our GDP by nearly 5 percent, while increasing trade by 15 percent.
And they're not alone – in November 2017, UPS joined FedEx, Penske, SAP, Microsoft, Google, and hundreds of other companies in the Blockchain in Trucking Alliance. The forum's purpose is to develop blockchain technology standards and education for the freight industry.
Maersk and IBM are partnered on a supply chain blockchain to digitize and track global trade end-to-end. Zim is performing trials of a bill-of-lading blockchain that makes paperwork easier for shipping containers being carried across the ocean on cargo ships. Accenture is doing the same.
Even the U.S. Postal Service's Office of the Inspector General has been researching the usage of blockchain technology since 2016. Potential applications it recommends are financial services, device management, identity services, and supply chain management. It filed a blockchain patent in September 2017.
The Blockchain in Warehousing
Warehouses have all the challenges of manufacturers, distributors, and retailers. Inventory management is the core of their business, and they must know exactly where everything is at every step of the process.
They also need to ensure products are genuine. Counterfeiting is a real problem, and the Department of Homeland Security reports $44 million worth of counterfeited goods were seized through 1,845 seizures in 2017, an increase of 12 percent over 2016. Despite this, the "2018 Global Brand Counterfeiting Report" estimates $1.2 trillion in counterfeit goods were produced globally, leading to $323 billion in losses in 2017.
The biggest warehousing fraud committed in recent years is the Qingdao scandal, in which over 400,000 tonnes of metal was used to secure over $3 billion in funding. The problem was the metal didn't exist, and fake warehouse receipts were used to make it appear like they did.
Because of these problems, electronic tracking is being implemented in warehouses across the globe. Using QR codes and blockchain technology, shipments are being identified and tracked much easier.
Accenture and DHL partnered to create a proof-of-concept prototype of a blockchain-based serialization project that can prove pharmaceuticals are genuine. Walmart, IBM, and others recently formed the Blockchain Food Safety Alliance to improve the integrity of the food supply chain too.
Ardnamurchan distillery, which produces Scotch whisky using renewable energy, used blockchain-based QR codes for its Ardnamurchan AD 2017 release.
Each of these companies understands the utility of blockchain technology, and they're actively pursuing it to optimize current processes and relieve pain points.
In another decade, blockchain technology will be standard operating procedure throughout the entire supply chain.
So if you ever wondered where blockchain was really going to make a difference… it's everything, everywhere, all the time.
Until the next thing comes along, anyway.
The author is not currently invested in any digital currency.