Chopping Blockchain: Crypto Recession Calls Time On Startups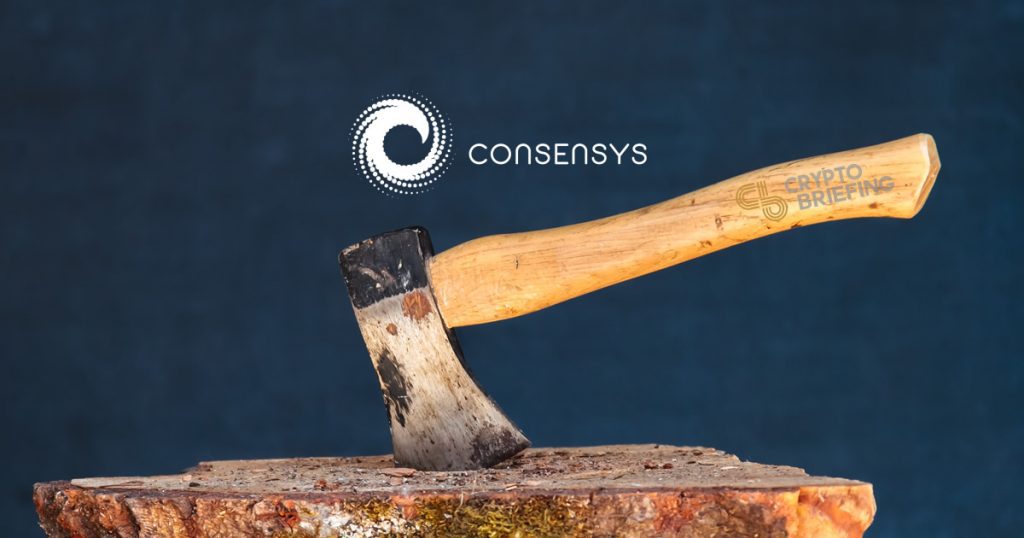 The temperatures may be just beginning to drop, but cryptocurrencies have been stuck in winter for what seems an ice age. For months blockchain leaders have insisted that the drop in market value has not affected projects negatively and if anything, has just given developers a chance to focus on building.
The reality is, however, that $700 billion has been shaved off the value of the market and the crypto recession has taken its toll on many leading projects, the evidence of which is now becoming apparent.
If there was any question about the impact of the bear market on the space, it was answered when Ethereum startup incubator ConsenSys revealed an overhaul of its business in a strategy shift that's been branded as ConsenSys 2.0. If price wasn't the motivator, then perhaps it's a sign of a maturing industry.
"Certainly we are seeing some conflation with the market and long term success of ConsenSys," a spokesman for the company told Crypto Briefing. "We don't see it that way."
Nonetheless, the restructuring reaches beyond the ConsenSys Brooklyn headquarters and will also impact the several dozen projects, or spokes, that the company's venture arm has been supporting. But the spokesman points out that despite the changes, ConsenSys hasn't stopped backing projects, as evidenced by its recent investment in "AZTEC, a protocol for privacy-preserving transactions on the Ethereum mainnet."
---
Crypto Recession: ConsenSys Is Becoming Leaner and Meaner
ConsenSys Founder Joseph Lubin penned a letter to staff outlining the overhaul, which includes transforming ConsenSys Labs, the venture capital arm that supports Ethereum projects, to resemble a "traditional startup accelerator," according to Breaker.
Spokes that got by on their potential will now have to show more substance. This time around, ConsenSys will evaluate projects using on a trio of more quantifiable metrics across revenue/ROI, "benefit to Ethereum" and social good, the latter of which has been the battle cry of blockchain pioneers.
"We're going to get a lot more rigorous in terms of milestones and timetables," Lubin reportedly said, adding that projects could be "dissolved," and layoffs are possible.
Some of the safe bets are those that have been the most successful, such as MetaMask and Truffle, each of which boasts more than 1 million downloads, in addition to blockchain startup Adhara, which is pursuing zero-knowledge proofs and which just completed a $2.1 million funding round led by ConsenSys. And it's helpful to keep in mind that the ConsenSys ecosystem boasts more than 400,000 developers.
Some of the less successful projects, however, could face a future without the marketing muscle, technology and financial backing that ConsenSys brings to bear, not to mention the camaraderie that is woven into the fabric of the Ethereum startup incubator.
Among the projects that could be facing the chopping block:
The Bounties Network. According to Forbes, the blockchain-fueled freelance marketplace has yet to hit its stride, as evidenced by a small team of fewer than 10, less than $50,000 in sales and $250,000 in low paying job offers.
Fathom. The Ethereum smart contract-fueled platform for performance evaluations is another project that might not make the cut. It similarly has a small team and, like many risky ICOs, has yet to launch a prototype.
GovernX. This early-stage startup on the Ethereum blockchain doesn't offer much of a website, though they are seeking a vice president of engineering.
Civil. ConsenSys had high hopes for this blockchain-fueled journalism startup, but the ICO was a victim of poor timing at the tail end of the cycle and a project that never resonated with investors. As a result, the ICO was scrapped and investors in the CVL token were reimbursed, though the project is said to live on with the $3.5 million directed to the Civil Foundation by ConsenSys.
While ConsenSys layoffs could be a byproduct of the restructuring, other projects have less of a war chest to keep them afloat during the crypto recession. Steemit, a decentralized platform for blogging, has gone into survival mode and is reportedly slashing its workforce by nearly three-quarters amid "the weakness of the cryptocurrency market, the fiat returns on our automated selling of STEEM diminishing, and the growing costs of running full Steem nodes," the company said, according to TechCrunch.
Meanwhile, the weakness in cryptocurrency prices has ETH hovering near the $100 level. While Lubin isn't fixated on price, he has suggested before that if the value dropped to $1 it would be a sign that there's a problem. Let's hope it doesn't come to that.
And while investments may have shifted, they haven't come to a standstill. There are more in the pipeline, and James Beck, ConsenSys' head of Global PR, tantalizingly hinted to Crypto Briefing: "Next week, we will announce an incredibly impactful investment in critical infrastructure."
The author is currently invested in ETH.