Coinbase Ready To K.O. Binance With New IEO Platform
The platform could launch in under a year.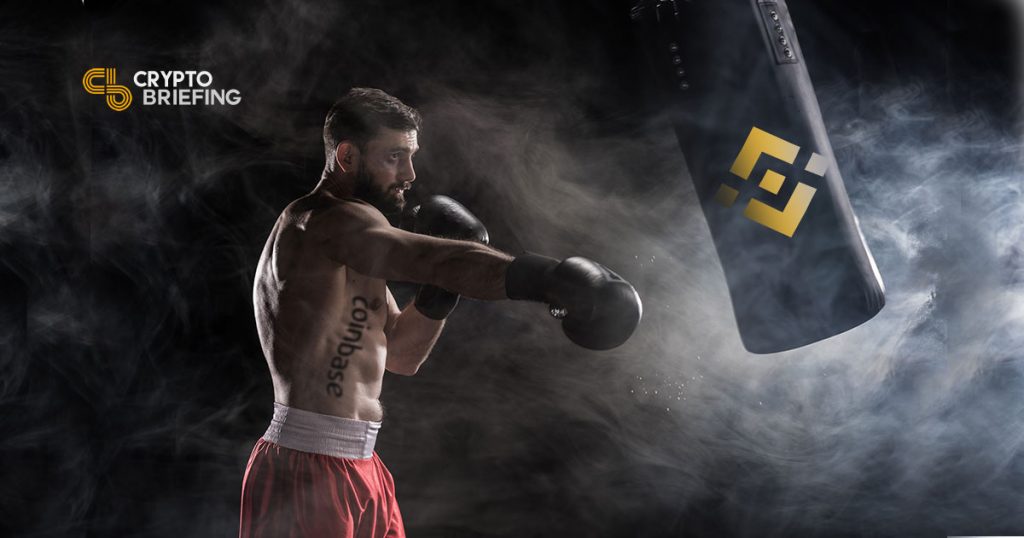 Binance is crossing the Atlantic, but Coinbase is ready for the showdown. The San Francisco-based wallet and exchange provider hopes that strong relationships with U.S. regulators will give their proposed IEO platform a competitive edge over Binance Launchpad, and any other rival.
Speaking at an event in London today, Zeeshan Feroz, CEO of Coinbase UK, said that his American colleagues had taken a "different regulatory approach" than Binance. Having worked closely with regulators and acquired the relevant licenses, Feroz said, Coinbase is confident that their IEO platform will meet the SEC's requirements.
"We hope that our investment in the last few years into these [regulatory] relationships, and in the way we've listed assets, has future-proofed our business," Feroz explained. "That's been our strategy all along."
Binance was the first marketplace to popularize the initial exchange offering (IEO) with its BitTorrent token sale earlier this year. Although other exchanges have created rival platforms, Binance Launchpad remains the biggest and most sought after IEO platform in the sector.
Coinbase's head of institutional sales in Asia, Kayvon Pirestani, revealed today that the exchange is currently exploring an IEO platform. Speaking at Invest Asia in Singapore, Pirestani hinted at several other capital formation tools, but refused to make any formal announcements.
But in the U.K., Feroz confirmed to Crypto Briefing that Coinbase is "working actively on it [an IEO platform]," and that it could launch in less than a year.
---
What would a Coinbase IEO platform look like?
Coinbase operates in more than one hundred countries around the world. One of their main challenges, according to Feroz, is to ensure that they can continue to operate a global business while satisfying regulators, and all their legal frameworks.
An IEO platform would be no different. "It would not be able to operate freely across boundaries," Feroz noted. "It will still have the same challenges."
That would mean complying with the SEC's restrictive definitions of investment contracts, requiring some tokens to be sold as restricted securities under Coinbase's existing U.S. broker-dealer license.
Last year, Coinbase acquired three U.S.-regulated businesses. One of them was Keystone Capital, which is registered with FINRA and has a license to operate an alternative trading system (ATS), allowing it to operate similarly to an exchange but with less stringent requirements.
These licenses would allow a Coinbase IEO platform to "offer assets that perhaps are treated as securities in the U.S.," Feroz explained. But that would depend slightly on how their conversations with the SEC progress, and what regulators are willing to accept.
Originally a wallet service, Coinbase has struggled to maintain a raison d'etre in the last year as other exchanges implement fiat gateways. Forays into other areas, such as the Coinbase Bundle, have flopped.
The launch of an IEO platform might be an attempt by Coinbase to leverage its regulatory pedigree and capture market share. But that depends on whether regulators are actually onboard with the token sale model.
Asked to guess Coinbase's chances of successfully launching an IEO platform, Feroz said, "watch this space."