Crypto Correlation Increases In Bear Markets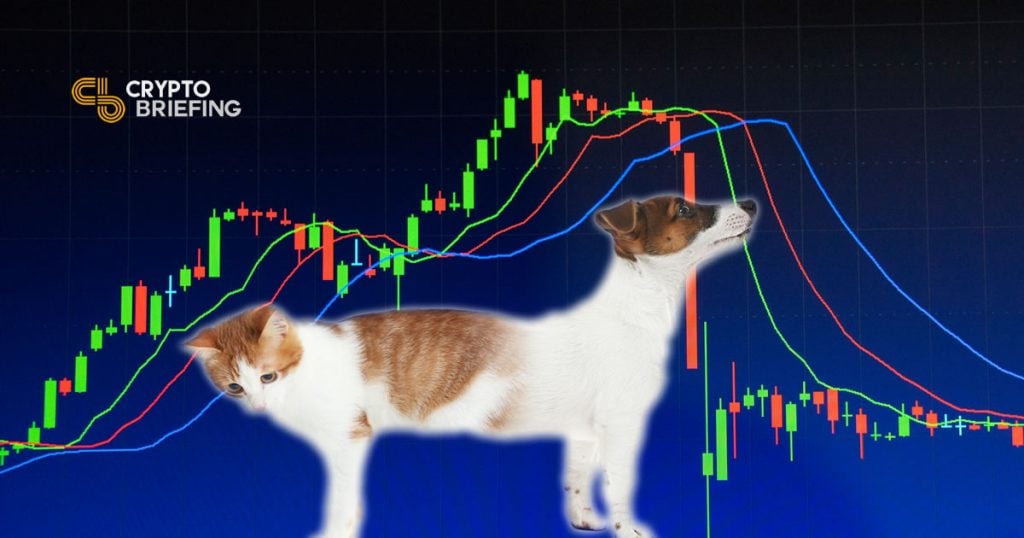 Unlike conventional stocks, shares, and other financial products, an all-coin portfolio cannot completely diversify risk because prices are closely correlated. Cryptocurrencies are essentially influenced by the same factors.
This crypto correlation has increased greatly. Data collected by Sifr shows the 14 coins in its index (including ETH, XRP, and LTC) have all moved more in tandem with Bitcoin over the past year.
The increase was greater in the six month period between August 2017 and February 2018. The BTC/ETH price correlation increased by 25%, XRP by 82% and LTC by 20%: the (mean) average increase was 32.6%, excluding Bitcoin Cash (which didn't trade for the full year examined).
Although the market experienced its largest increases from August until December, there were significant corrections in the first two months, with the market's total value plunging from over $800bn to $290bn by early February.
The correlation is higher during market slides and lower when the market improves. The correlation between Bitcoin and other cryptocurrencies subsided throughout July and early August when the BTC price went from around $6,500 to a peak of nearly $8,400. There was a noticeable uptick in correlation following the SEC's postponement, as the graph below shows.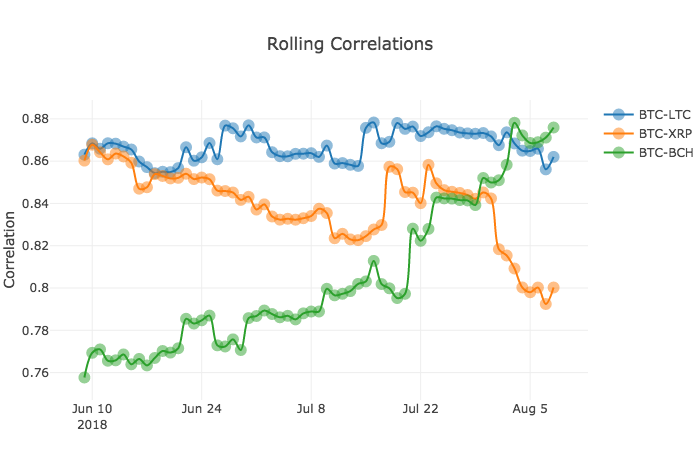 ---
The BTC effect
High profile, accessibility, and (relatively) low volatility makes BTC an attractive option for investors looking to minimize risk but keep value in cryptocurrency. That Bitcoin's position normally strengthens during bear markets, often leads to an increase in coin correlation.
This week shows just how much coins move in tandem with Bitcoin. The SEC's decision this week to postpone its ruling on Bitcoin (BTC) ETFs sent shockwaves through the market, $36bn being wiped in less than 24 hours.
Bitcoin is at the epicenter: it's in a unique position, as well as being the first cryptocurrency and the most accessible, it is also the largest. BTC dominance, the percentage of the market's capitalization accounted for by Bitcoin, is at an all-year high.
BTC's influence in the cryptocurrency market is strong, and news affecting Bitcoin's price impacts the prices of other coins.
---
Crypto Correlation
This may not last for much longer. Although all coins were negatively affected by the ETF delay, some were affected far more than others. Of the top ten biggest coins, EOS, Stellar Lumens, and XRP all experienced price drops at equal or above 20%. Ether, on the other hand, only fell by 13%.
This could indicate a change in perception. If Ether's price decrease is shallower than other leading coins then it indicates investors are staying put with ETH. There is no all-encompassing answer, but it might mean Ether's price is less dependent on that of Bitcoin than other cryptocurrencies at earlier stages of development.
A coin's price remains the most popular factor in gauging a project's real-value and long-term viability, despite the pleas of founders and developers to heed the underlying fundamentals of the business and technology. Their value presently remains at the behest of speculation in many cases, and crypto correlation rests on the moves of the market leader, Bitcoin.
Volatility will inevitably decrease as cryptocurrencies begin to be valued on utility than on changes in the wind and scurrilous rumor, and as projects move to mainstream implementation, BTC dominated crypto correlation will become a thing of the past.
At that point, altcoins may finally be able to separate their value from the price of Bitcoin.
The author is invested in BTC and ETH, which are mentioned in this article.