Crypto Market Closes in on Worst January Performance Since 2015
The bleed in crypto assets continues.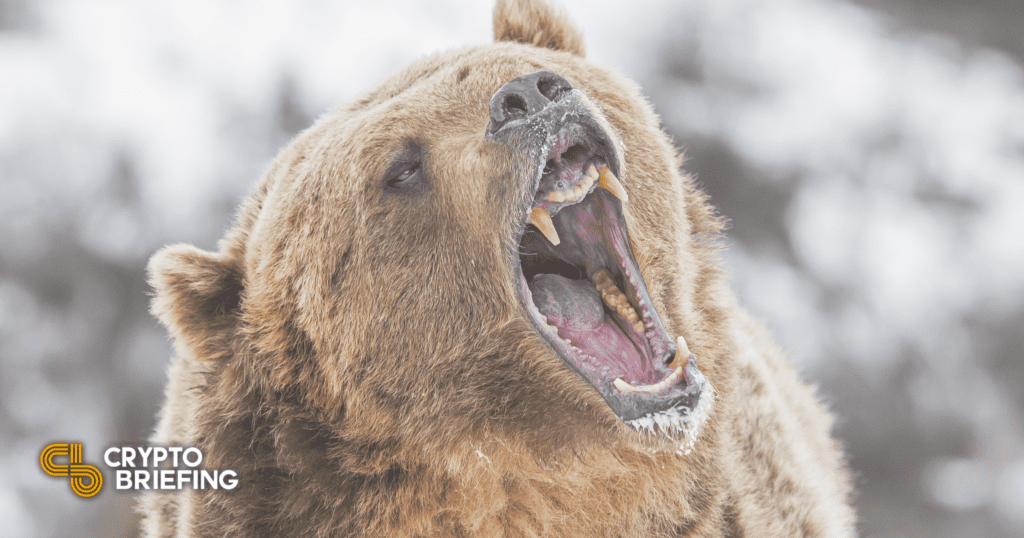 Key Takeaways
The crypto market is approaching its worst January close since 2015 after dropping 22.7% this month.
The market is over $1 trillion from its peak.
Though Bitcoin, Ethereum, and other assets are suffering, the NFT market is still booming.
The crypto market has shed $500 million of its value this month.
Crypto Market Heads for January Close
It looks like the crypto bull market could be over—at least for fungible assets.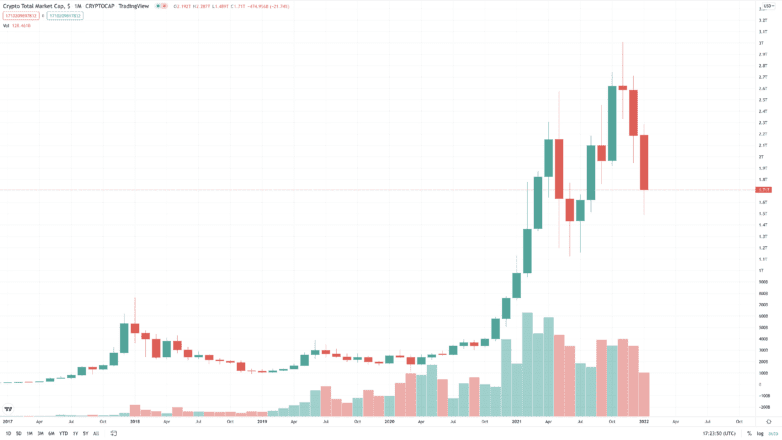 It's been a rough few weeks for Bitcoin, Ethereum, and other digital assets after the market has shed over $1 trillion in value since its November peak. Now, the market is approaching its worst January close since 2015.
According to data from TradingView, the global cryptocurrency market cap has lost $500 million this month, tumbling from around $2.2 trillion to $1.7 trillion today. Though severe, the 22.7% drop is not the only weak monthly performance crypto enthusiasts have endured over the last few months. In December, the market tanked 15.5%. The market also suffered a brutal crash last May amid fears of China's Bitcoin mining ban and an overexhausted environment, closing the month 24.1% in the red.
While the May crash was the most severe the market has seen for some time, this month's performance looks set to go down as crypto's worst January on record. The two years prior to this, the market has kicked off the year with a green month. In January 2019, the market shed around 9.4% of its value. January 2018 closed 15.3% in the red, kicking off an extended bear trend that saw the market tank 80% in the space of a year. By the end of 2018, Ethereum had bled 94% from a high of $1,430 to $80. Many other assets fell over 95% and never recovered to new highs.
At press time, Bitcoin is 44.5% off its $69,000 all-time high. Ethereum is 45.7% off its peak, and many of the winners of 2021—including Solana and Axie Infinity—are over 60% short of their highs. The dog-themed meme coins Dogecoin and Shiba Inu are respectively down about 80% and 75%.
While major assets have been hard hit of late thanks in part to Omicron fears and the Federal Reserve's threat of interest rate hikes, some corners of crypto are booming. NFTs have fared particularly well in recent weeks, likely because most traders price their digital collectibles in Ethereum. According to data from Dune Analytics, OpenSea has seen a record $4.8 billion in volume this month as demand for hot collections like Bored Ape Yacht Club and Cool Cats soars.
Disclosure: At the time of writing, the author of this feature owned ETH and several other cryptocurrencies.