Crypto Market Tanks $10bn Ahead Of Libra Testimony
The crypto market has plunged down by more than ten billion dollars today as traders begin to sell in anticipation of a bearish outcome as Facebook founder Mark Zuckerberg appears before Congress today.
The crypto market, which had been wobbling for quite some time, began to slide at the beginning of the American trading day. Bitcoin's market cap has fallen by more than $3bn since noon BST with other leading cryptocurrencies, including Ether (ETH), XRP and Binance Coin (BNB), reporting similar losses above the 5% mark.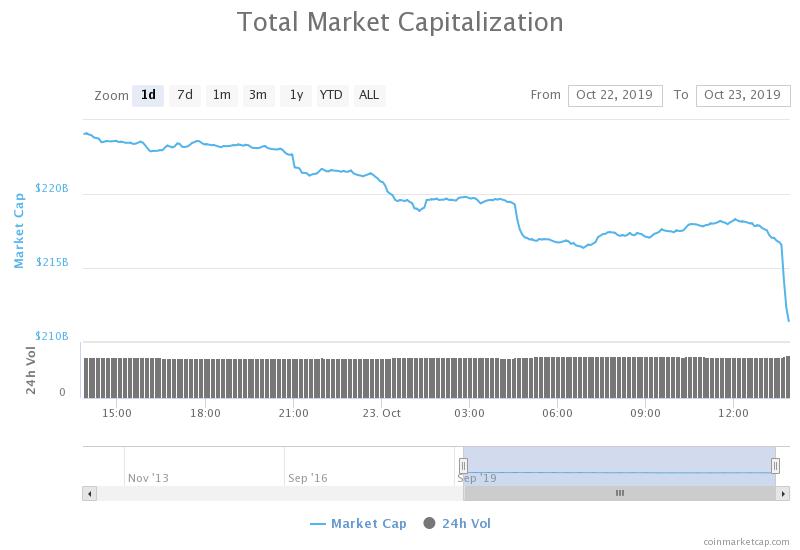 The only cryptocurrencies to have experienced any gain at all are the stablecoins, the likes of Tether (USDT) and TrueUSD (TUSD) , which are trading 2% above their USD pegs. That is generally a sign of a sudden influx of demand that has temporarily pushed spot prices above the dollar parity; investors are looking for a safe store of value as the rest of the market tanks.
The slide comes an hour or so before Zuckerberg is expected to give testimony in front of the House Financial Services Committee about what Libra's plans are going forward.
Regulators have expressed concern about how Libra will not facilitate money laundering activities as well as on whether Facebook, or any other Libra member, will have access to users' financial data.
This comes weeks after some founding members, including PayPal and Mastercard, pulled out of the Libra Association citing regulatory pressure.
This is a developing story.