Crypto Preferred Over Stocks & ETFs by French Investors
French regulators take note of crypto's rising popularity among retail investors.
Crypto has surpassed stocks and exchange-traded funds (ETFs) as the most popular investment among new retail investors in France, according to a recent study conducted by France's financial markets regulator Autorité des Marchés Financiers (AMF) and the Organization for Economic Co-operation and Development (OECD).
The study found that 9% of French adults own crypto assets like Bitcoin and Ethereum. That outpaces the 7% who own individual stocks and 2% invested in exchange-traded funds tied to stock markets.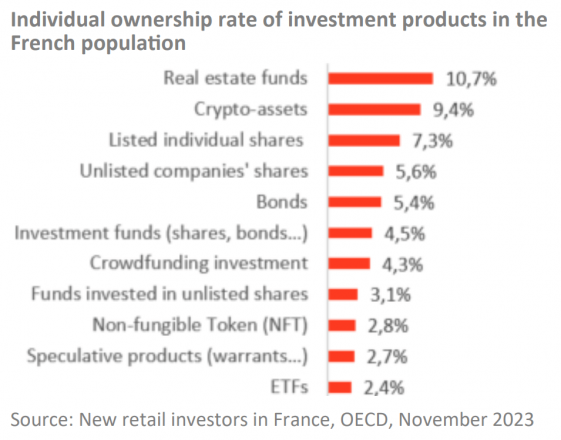 According to the AMF, about half of the country's investors entered markets for the first time during the Covid-19 pandemic. This new cohort gravitates more toward crypto and NFTs than traditional securities like stocks and bonds.
The profile of these newcomers skews heavily male and youthful, with most in their 20s and 30s. They rely far more on advice from social media, friends, and influencers than professional financial advisers.
The survey identified three motivations driving French adults to begin investing in recent years: seeking higher returns than traditional savings accounts, the COVID-19 pandemic, and the socio-economic and political context in France such as pension reforms and the energy crisis.