Crypto Doesn't Get Much Wilder And Wester Than Wyoming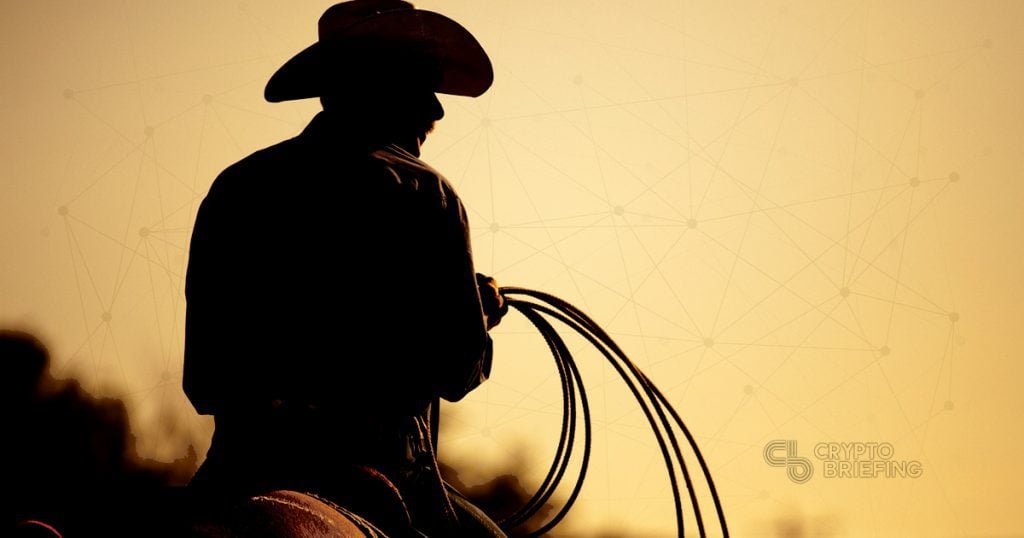 You know a town has real Western cred when a pickup truck is named after it. Yarp, Laramie is a cowboy town, through and through – it may have the lowest sneaker-to-cowboy-boot ratio in the entire nation. But this weekend it played host to an entirely different Wild West: the WyoHackathon, a celebration of blockchain tech at the University of Wyoming.
Earlier this year Wyoming became "America's Cryptocurrency Capital", passing five pro-blockchain laws led by the Wyoming Blockchain Coalition and Representative Tyler Lindholm.
Some of these bills passed through the House unanimously. Wyoming is now welcoming blockchain companies with open arms, regulatory support, and excellent education system for families who are considering relocation.
---
The pro-blockchain bills are as follows:
HB 19 provides a money transmitter exemption for virtual currency (e.g., Bitcoin, Ethereum, etc.) used within Wyoming
HB 70 utility token exemption from securities laws
SF 111 virtual currency is not subject to taxation as "property" in Wyoming.
HB 101 maintenance of corporate records of Wyoming entities via blockchain
HB 126 modifies Wyoming's corporate code to permit the formation of "Series LLCs."
As such it was no surprise to have the first ever annual WyoHackathon hosted in the beautiful mountain town of Laramie, WY ,nestled between two mountains at 7,165 ft with a unique blend of western hospitality and sophistication.
The event was organized by Caitlin Long Chairman of Wyoming Blockchain Coalition and the University of Wyoming, supported by some of the Colorado Blockchain community members.
The event was free, giving people an opportunity to hear an extraordinary lineup of speakers including
Joseph Lubin, Founder of Consensys and Co-founder of Ethereum
Patrick Byrne (Founder & CEO of Overstock.com and tZero)
12 year-old CEO of Pocketful of Quarters George Weiksner
Dr Robert Macinnis CEO of ActiveAether, and many more.
During the event
Wyoming announced the Creation of a Crypto Bank
ActiveAether announced that they will be moving their teams from NYC to Wyoming.
Patrick Byrne mentioned that "100% of Wall Street stocks will be tokenized!"
All participants were provided a delicious breakfast, lunch, dinner and lots of free promotional gifts from sponsors such as T shirts, water bottles, phone popsockets, mugs, warm cozy blankets and even toothbrushes (which were a hugely successful item)!
WyoHackathon donated all left-over snacks and food to Laramie Soup Kitchen.
---
The winners:
First Place, $12,000 (Sponsor – University of Wyoming) – Token Subscription Team
Second Place, $8,000 (Sponsor – University of Wyoming) – Peregrine Team
Third Place, $4,000 (Sponsor – University of Wyoming) – WyoFlow Team
Most Creative, $1,000 (Sponsor – University of Wyoming) – Cowgirl Technologies Team
Audience Favorite, $1,000 (Sponsor – University of Wyoming) – Rawhide Team
Best Use of Technology, $1,000 (Sponsor – University of Wyoming) – Topicless Team
ConsenSys Challenge, 3 ETH – Etherize.it Team
SingularDTV Challenge, Up to $5,000 Music Festival Tickets – Top 100 Musician Billboard Team
Best for Wyoming Challenge, ~$9,000 each (Sponsors – Caitlin Long, UW, Visceral Art, Wyoming Technology Business Center, JAM Escrow) – Rawhide Team & Electronic Corporate Formation Portal Team
EOS Nation Challenge, $2,500 of EOS – No Winner
BullPay Challenge, 3 ETH – Pokkit Team
DECENT Challenge, 10,000 DCT each – Explore Team, Shoshone Team
MakerDAO Challenge, 500 DAI each – Token Subscription Team, Peregrine Team, WyoFlow Team, Trustin.Me Team, Rawhide Team, Electronic Corporate Formation Portal Team, Topicless Team, Undertaker & Petrix Team
MetaX Challenge, 2 ETH & Ledger Blue – Municipal Bonds on the Blockchain Team
Best Government Blockchain Solution Challenge, 4 Passes to Government Blockchain Summit – Trustin.Me Team
NODEhaven Challenge, 100,000 NODE – No Winner
EOS Tribe Challenge, $2,000 – EOS EasyAccount Team
ShapeShift Challenge, KeepKey Hardware Wallet – Peregrine Team, Electronic Corporate Formation Portal Team, Undertaker & Petrix Team, WYO.LLC Team
ActiveAether Challenge, 10,000 FOG Coin each – Electronic Corporate Formation Portal Team, WyoMesh Team
(Csilla Brimer, reporting from Wyoming.)