"Dark Horse of DeFi" Bancor Adds Fiat Ramp
Bancor has announced a number of upgrades in the past 30 days.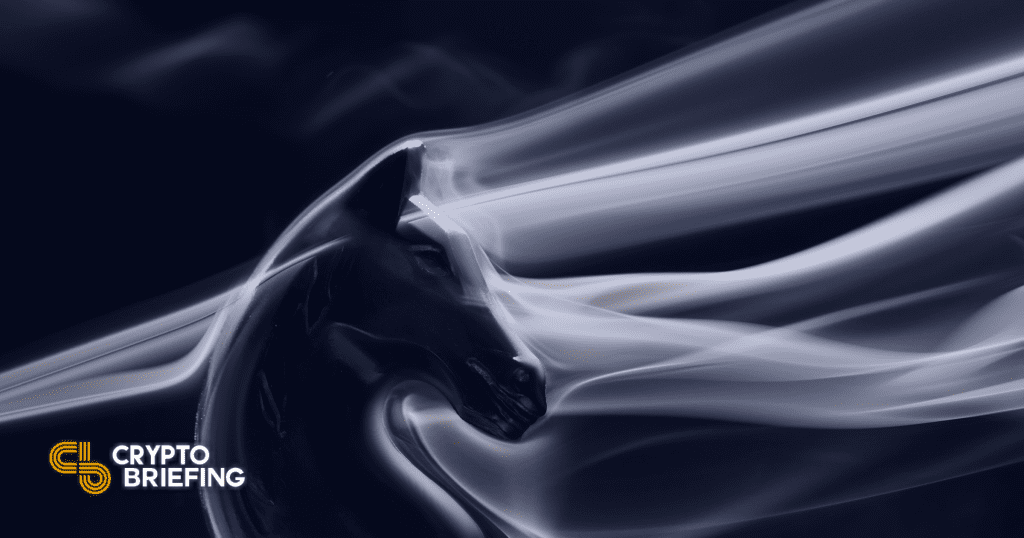 Key Takeaways
Bancor's token BNT has seen a 223% increase in price in the last 30 days.
Its platform has been attracting capital interested in its impermanent loss protection system.
This fiat ramp should help facilitate newcomer's access to DeFi.
After quadrupling its Total Value Locked (TVL) in the last 30 days, Bancor announced a flurry of upgrades—including a fiat on- and off-ramp.
The Latest Updates Are Painting a Bullish Picture
While Bancor is no newcomer to the scene and has been running since June 2017, February was a big month for the DeFi protocol.
While the fiat ramp is clearly the standout new feature—a much-needed way of facilitating access to DeFi for the general public—it is certainly not the only update worthy of attention in Bancor's announcement.
Progress update coming soon 👀

Here's a preview of what's being worked on

⛓ Contracts:

🔹 $vBNT fee burner (full Vortex)
🔹 Gasless voting
🔹 New stablecoin pool design
🔹 Tiered whitelisting 4 DeFi gems (Launch Pad)

📊 UI:

🔸 Fiat ramp
🔸 Limit orders
🔸 Trader incentives

— Bancor (@Bancor) March 10, 2021
Gasless voting, limit orders, and vBNT burns are some of the more important additions to Bancor. The protocol has also seen rising attention in the last few months by adding single-sided liquidity and impermanent loss protection.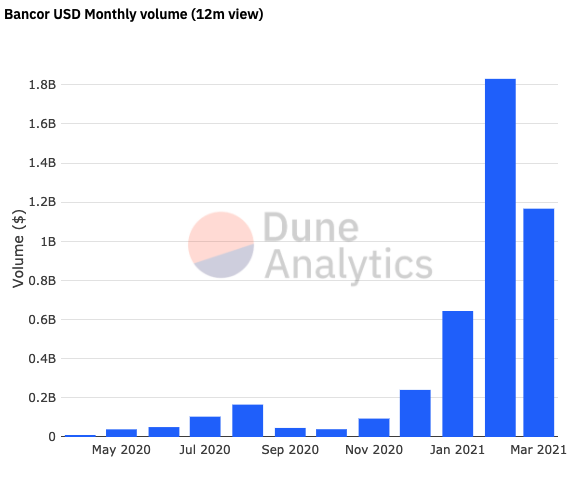 As noted by Wangarian of DeFiance Capital on Twitter, since the implementation of their impermanent loss protection system four months ago, Bancor has seen a 70x increase in TVL and a 55x increase in volume. The investor said:
"The way Bancor is designed, $1bn TVL is just the beginning. It's possible we see billions of dollars of liquidity inflows seeking IL-free yields in the near future. 2021 may just be the year for Bancor to become the dark horse DEX contender."
The opportunity to both onboard new DeFi users through Bancor's fiat ramp and allow them to move some of these profits back to their bank accounts will give it a significant advantage against its competitors.
Originally, Bancor was the very first Automated Market Maker (AMM) to run on Ethereum. The protocol offered liquidity to the sparse order books of the time and garnered a lot of attention and success.
Since then, other AMMs such as Uniswap have taken the spotlight.
Disclaimer: The author held BNT and several other cryptocurrencies at the time of writing.