What Is Bancor Network Token? Introduction to BNT Token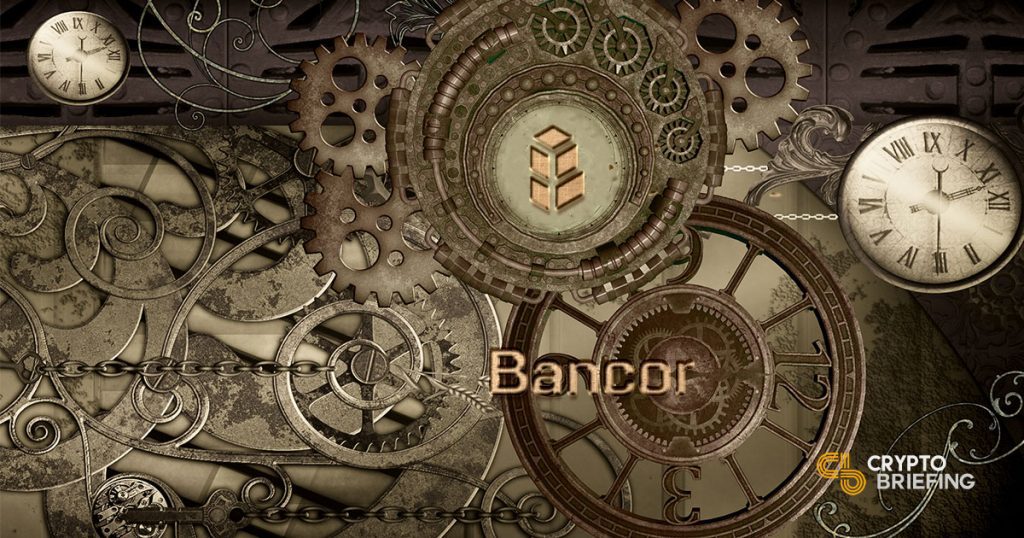 What Is Bancor Network?
The Bancor Network is a cross-chain cryptocurrency conversion platform that lets you convert between Ethereum and EOS tokens (others are in the works) without the need of a middleman or other third party. Bancor Network Token (BNT) is the intermediary token used by Bancor to initiate exchanges. It's both an ERC-20 token and EOS token.
This helps keep exchange costs down, as it often takes multiple exchanges to move investments around. Of course, decentralized exchanges have reduced costs over popular options like Binance and Coinbase, but that's not the real secret sauce in Bancor's network.
It also reduces the time it takes to perform an exchange.
In most exchange platforms (even decentralized, P2P platforms like Kyber and 0x), a trade order needs another party to accept the buy/sell/exchange for it to occur. This takes time, and there are a lot of factors involved, both technical and financial.
At the heart of the network is the Bancor Protocol, which is inspired by a currency balancing system conceived all the way back in 1944 by John Maynard Keynes and E.F. Schumacher. The Bancor Foundation, headed by self-proclaimed cryptocurrency expert President Bernard Lietaer, is dedicated to leveraging this protocol through blockchain technology.
And it's continuing to build – both a decentralized-application (dApp) marketplace and further cross-chain capability is in the immediate development roadmap.
Let's start better understanding Bancor by examining the performance of Bancor Network Token (BNT) on the cryptocurrency market.
---
BNT Cryptocurrency Summary
There's a total supply of 73,605,657 BNT. The peak price of BNT so far was $10.08 on January 13, 2018.
The Bancor ICO token sale raised over $153 million worth of ETH on June 12, 2017 by selling approximately 40,000,000 BNT at an exchange rate of $3.92.
BNT can not be mined – instead it's created as needed to initiate token exchanges. Essentially it represents the value of currencies held in the smart contract, and used as the medium for token-to-token trades. It's then easy to convert any supported tokens into ETH or EOS, which can be sold for fiat cash on an exchange like Coinbase.
BNT currently exists as an ERC-20 token, but a mirror-image EOS-based token is created to mimic the ERC-20 token.
It's not necessary to convert anything into BNT; it can be bought on its own and converted into any supported tokens. It takes ETH to purchase BNT.
Approximately $2,000,000 worth of BNT is traded on a daily basis, most of which occurs within the platform itself. Other cryptocurrency trading platforms that accept BNT include LATOKEN, Binance, CoinBene, and HitBTC. Trading pairs include ETH, EOS, BTC, and USDT (along with ETH and EOS tokens).
As an ERC-20 token, BNT can be stored in any ERC20-compatible cryptocurrency wallet, such as MyEtherWallet, Trust Wallet, and hardware wallets from Trezor, Archos, and Ledger.
---
Inside the Belly of the Bancor
I know what you're thinking – does the world really need another exchange or liquidity platform for cryptocurrencies?
The short answer is yes, and the reason is because Israel-based Bancor provides a much-needed service for cross-platform and inter-platform currency exchanges. Instead of exchanging tokens with another trader, you are only trading with a program.
If you think about it, this isn't even something you can do with fiat cash. If I wanted to exchange a US Dollar for Euros, I need someone with Euros to accept the exchange. Otherwise I might as well be standing on the Las Vegas strip handing out pamphlets.
While it sounds complicated, the inner workings of the Bancor Network are pretty simple. Liquidity is provided by creating a smart contract that tracks balances of different tokens to ensure they're fully balanced at all times. The total will always equal the BNT balance represented by the smart contract.
This skeletal structure removes the need for an exchange as an intermediary third-party for the other end. You can continuously perform on-chain conversions within your Ethereum- or EOS-compatible web3 wallet without the need (right now) of even registering.
Think of an hourglass – no matter which direction you pour the sand, the object itself will always contain the same amount of sand. In this scenario, the hourglass itself is the smart contract, and each grain of sand represents the tokens you're trading between.
And the development team isn't just resting on its laurels. It's also encouraging an open development marketplace for dApps that could make use of this balance system and the platform's cross-chain capability.
Now finishing its second year of active development since funding, 2019 should be a solid year if the team can stay on track.
---
Summary
Bancor Network is based on the Bancor Protocol, a currency exchange concept from the 1940s. It uses Ethereum and EOS smart contracts to enable token exchanges between these platforms. The key reason it's successful is because it doesn't take a third-party intermediary – you're only exchanging tokens with a program. The success of the project hinges on these key factors.
Bancor Network Token (BNT) is the native ERC-20 cryptocurrency token used by the platform. It's generated by an Ethereum smart contract.

Bancor supports both ETH and EOS tokens and plans to support more chains down the road. It's also building a dApp marketplace to encourage integration of its protocol.

Bancor enables cheaper trades without the need of an exchange or even another party.
With these pieces in place, Bancor Network has a solid chance for survival. It's a smaller, less experienced business team, but this feisty startup has all the ingredients of a disruptor. We'll just have to see if they can survive a bearish crypto market.