What Is the Kyber Network Exchange?  Introduction to KNC Token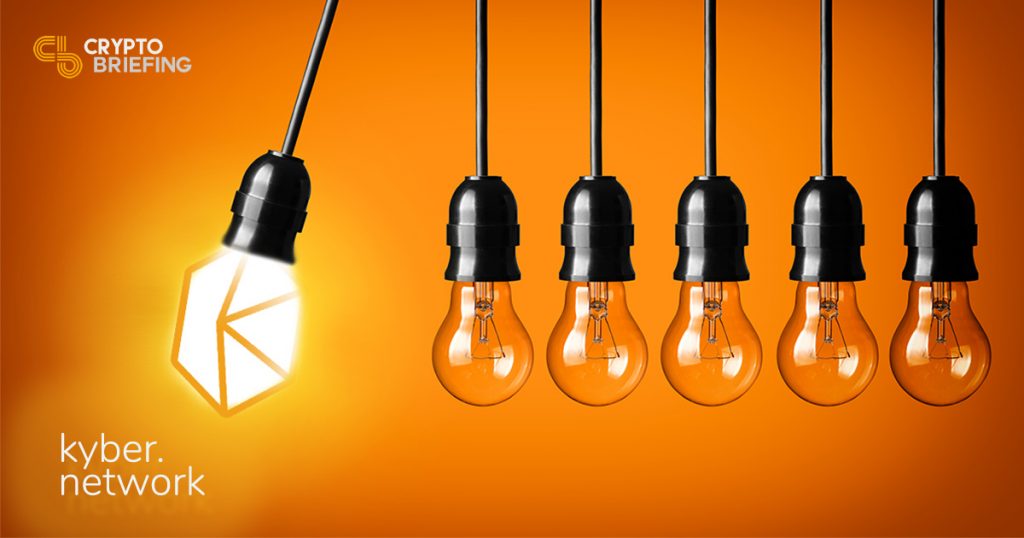 What Is Kyber Network?
Kyber Network is a decentralized, peer-to-peer crypto asset exchange based on the Ethereum blockchain. A dynamic reserve pool ensures the network maintains liquidity to keep exchanges as cheap and fast as possible. The project was created in Singapore by CoFounders Loi Luu, Yaron Velner, and Victor Tran. Kyber Network Crystal (KNC) is the proprietary ERC-20 cryptocurrency token used to pay exchange fees.
Centralized cryptocurrency exchanges like Binance and Coinbase are among the strongest performing blockchain companies. Both exchanges generated an estimated $1 billion in profits in 2017 and 2018.
But complaints of regulatory uncertainty, security concerns, exchange costs, and delays in cashing out plague these popular exchanges. From the disappearance of 850,000 BTC from Mt. Gox in 2014 to the $145 million worth of crypto assets frozen in the exchange wallet of the deceased QuadrigaCX CEO in 2019, cryptocurrency exchanges are not getting good press.
Decentralized and OTC exchanges like Zero-X (0X) (which the author is invested in), IDEX, OAX, and OasisDex are finding more use during these uncertain times. In fact, Crypto Briefing has long held a belief in decentralized exchanges as the future of cryptocurrency.
Kyber Network's promise of liquidity and bookless trades makes for an easy sell. And it helps that the company delivered on its development roadmap throughout 2018, making early investors and adopters happy. Ethereum's Vitalik Buterin is a member of the team's advisory board.
The Foundation also created an Initial Exchange Offering (IEO) that facilitates ICOs on the platform. While ICOs took a massive publicity hit in 2018, they're still a popular method of cryptocurrency funding in 2019, as evidenced by the $7.2 million BitTorrent (BTT) public token sale.
Let's start our research into the viability of the ambitious Kyber Network with an exploration of KNC, the native ERC-20 cryptocurrency token used by the platform.
---
KNC Cryptocurrency Summary
Kyber Network Crystal has a total supply of 215,250,053 KNC. The peak price so far was $5.32 on January 9, 2018.
A total of 226,000,000 KNC was initially minted during the ICO token sale, which ended September 16, 2017, raising $52 million worth of ETH, BTC, and USD.
KNC cannot be mined – instead it is awarded to Reserve Entities, Reserve Contributors, Reserve Managers, and The Kyber Network Operator (discussed below).
Reserve Managers use KNC tokens to operate network reserves and pay trade fees. Some of the transaction fees are used for operating costs and participation rewards, while the remainder is burned.
Aside from its own internal crypto exchange, KNC is also traded on Binance, DragonEX, Bitrue, Coineal, and 55 Global Markets. Popular trading pairs include ETH, BTC, XRP, and KRW.
As an ERC-20 token, KNC can be stored on any ERC20-compatible wallet, including MyEtherWallet, TrustWallet, and hardware wallets by Trezor and other manufacturers.
---
Kyber Cyber Gif Jif Whatever
The major differentiating factor between Kyber Network and 0x is that the Kyber Network records exchanges onchain, while leaving the order book offchain. 0x, on the other hand, keeps both the order book and exchange offchain. Other than that, both exchanges operate very similarly, while also separate from centralized exchanges like Coinbase and Binance.
There are four key roles that maintain the Kyber Network for users.
Reserve Entities

– Reserve Entities provide liquid assets to ensure tokens can easily be exchanged to/from the network. Both public and private Reserve Entities can be registered, depending on whether the public contributes to the reserves.

Reserve Contributors

– If a Reserve Entity is public, Reserve Contributors share in its reserve profits.

Reserve Managers

– Reserve Managers act essentially as accountants on the network, calculating exchange rates and maintaining the reserve.

Kyber Network Operator

– The Kyber Network Operator governs network operations, approving Reserve Entities (or removing, as needed), listing tokens for exchange, and ensuring overall security of operation of the network.
When a exchange is made on the Kyber Network, a smart contract is created, and each role has different access to verify and execute the contract for the end users.
The "reserve" referred to in the roles above is the dynamic reserve pool, which is the collective total of all reserve nodes. The exchange contract is automatically routed to the Reserve Entity with the best rates for the requested tokens. If rates exceed certain thresholds above or below what's expected, the node is flagged for verification.
The inner workings of the platform are great, but it also has strong business partnerships, and a shiny GUI called Kyber Swap.
---
The Crypto KyberSwap Meet
KyberSwap is a web-based and mobile exchange app developed by the team to let you either "swap" tokens for another type or transfer tokens to another address. It also offers market price analysis and a suite of other tools. This service is being marketed as a separate dApp from the Kyber Network.
With the tools it has in place, Kyber Network can pivot a lot of different directions, following the lead of other crypto exchanges or forging its own path. In fact, it has plans to do the latter – the overall goal of the team in 2019 is to integrate more smart-contract networks, move toward decentralized governance, and create a vibrant reserves ecosystem.
It has the chops to do it, too. Kyber's dApp ecosystem has a variety of reserve types, including the newly developed Order Book Reserve and Automated Price Reserve. And it's Kyber Trading API makes it easier to onboard new dApps and cryptocurrencies to increase liquidity across a wider net of exchanges.
The team received investments from Hyperchain Capital, Pantera, Fenbushi Capital, Kenetic Capital, FBG, Danhua Capital, Hashed, and Signum Capital. The website includes partners such as Wanchain, Gifto, Icon, Coinduck, and Enigma.
As the team continues forging partnerships and developing more tools to draw both liquidity and users to the platform, Kyber Network is poised to grow through 2020.
---
Summary
Kyber Network is one of many decentralized cryptocurrency exchange markets. That doesn't mean it's not useful, and KyberSwap is one of many easy-to-use dApps to enable crypto token and asset exchanges. The success of Kyber Network hinges on these key factors.
Kyber Network Crystal (KNC) is a deflationary ERC-20 token used by Reserve Managers to pay exchange fees for on-chain exchanges. A portion of KNC is burned in every transaction.

Unlike 0x, exchanges happen onchain, but the book is stored offchain. This creates a smart contract to handle all aspects of the crypto exchange.

Kyber Network has institutional investors and partnerships that include Wanchain, Icon, and more. Its development team and board of advisors is also strong.
With these pieces in place, Kyber Network is poised to remain a powerful force in the crypto market. Problems continue plaguing centralized exchanges, and Kyber can relieve many of these issues.