Dash Network Beats Bitcoin At Transactions In Stress Test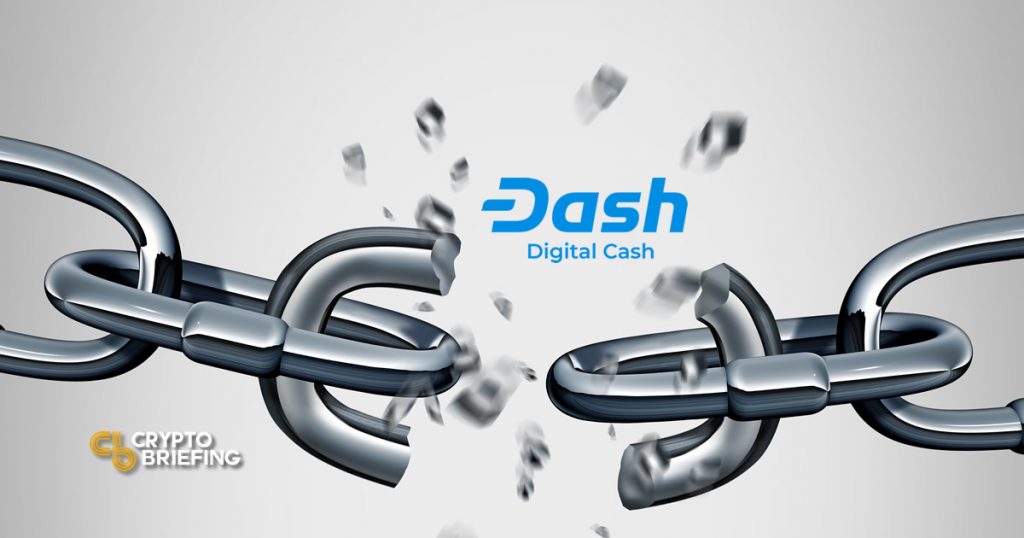 The peer-to-peer cryptocurrency Dash (DASH) successfully confirmed over half a million transactions in a recent surprise stress test, surpassing the highest ever reached on the Bitcoin (BTC) network.
Dash confirmed 591,166 transactions during a 24 hour period, over 100,000 more than Bitcoin's record 490,644 transactions back in December. Whereas high traffic led to $34 transactions fees on the BTC network, average transaction fees on Dash remained below one cent.
Dash forked from Bitcoin in 2014 as a peer-to-peer currency; by making activity history and balance private, Dash can also be used as a privacy coin. For the community to make decisions on the project's direction Dash uses a DAO structure; earlier this month it announced the creation of Dash Ventures, a decentralized investment fund.
Speaking to Crypto Briefing from his office in Arizona State, Dash Core CEO Ryan Taylor explained the stress test was unexpected for Dash's core team of developers. A group of unaffiliated users built a stress test tool that generated thousands of artificial transactions for the network to process.
With Bitcoin moving towards off-chain solutions to improve scalability, Dash didn't notice any change in the network's pace during the stress test, which took place on-chain. "The results were really astounding", said Taylor. "There was no network lag and no increasing friction costs for our users; average fees were a tenth of a penny."
---
Past the ETF: the Dash Network
Following a month in the doldrums, markets returned to positivity with the prospect of a BTC exchange traded fund (ETF). After CBOE's proposal was submitted to the SEC, bitcoin's price began to turn upwards and increased by 28% since the beginning of July
Regulated ETFs are open only to accredited investors, those with an income of over a million dollars, far above the average income of most of the world's population. With a high barrier of entry, some have expressed concern that the recent hype surrounding ETFs goes against cryptocurrency's purpose to decentralize finance.
Bitcoin's price was affected by the rejection of a similar ETF proposal submitted by the Winklevoss twins on Thursday, with a $6bn drop in its total value in the space of a day. Although markets have since recovered, figures have suggested the sector has become too preoccupied with financial instruments.
I think there's too much emphasis on BTC/ETH/whatever ETFs, and not enough emphasis on making it easier for people to buy $5 to $100 in cryptocurrency via cards at corner stores. The former is better for pumping price, but the latter is much better for actual adoption.

— vitalik.eth (@VitalikButerin) July 29, 2018
Low friction costs and fast network speeds mean Dash has focused on micro-transactions; it is currently developing a smart-meter energy infrastructure with the U.S Department of Energy. The idea is to use the Dash network for houses to buy and sell energy surpluses generated from renewable sources, like solar power.
Taylor said the recent stress-test highlights Dash's potential to scale. The long-term scaling plan will have the Dash network handle forty-times the number of transactions as Bitcoin can and over half of what the centralized online payments system, PayPal, can currently process. "The results show there is no limit to Dash's scalability", Taylor said.
The author is invested in BTC and ETH, which are mentioned in this article.