Decentralization Advances, One Giant Corporation At A Time
Can a centralized company launch a decentralized currency?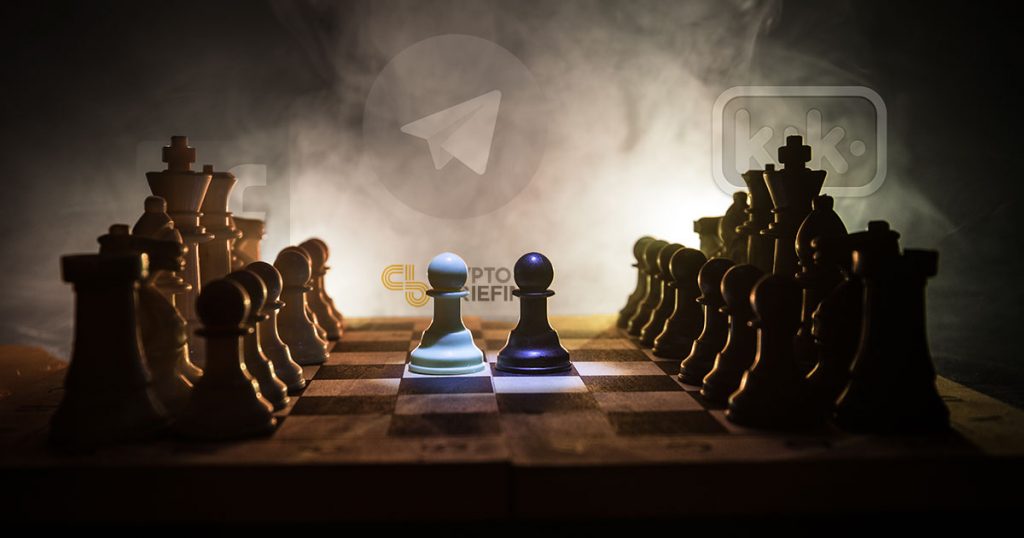 The blockchain is out of the bottle, with Facebook the latest corporate giant to announce a native cryptocurrency. It won't be without competitors, though.
Telegram's TON blockchain is expected to launch by the end of the year and if Kik has its way, KIN could threaten to Facebook's ability to monopolize peer-to-peer payments. The company has recently launched a $5M legal defense fund, apparently hoping others will help finance its court fight.
As Kik prepares to square off against the U.S. SEC, the crypto community has to decide which is the greater threat to decentralization: big companies, or the regulators.
---
Facebook Tries To Cut A Piece Of The Pie
Zuckerberg and his colleagues put more time establishing ties with regulators than they did being creative with its crypto-to-be's name. After holding talks with the Bank of England and the U.S. Treasury, according to Reuters, the company proceeded to announce the forthcoming arrival of the insipidly named GlobalCoin.
Facebook reckons it can up-end competing cryptocurrency projects by offering its users more convenience. One can imagine the social media giant tapping into the $2.9 trillion cross-border payments market by appealing to its enormous user base of 2.4 billion monthly Facebook, WhatsApp, Messenger, and Instagram platforms.
But the cryptocurrency community is less likely to take the bait. Facebook's woeful history of data breaches is unlikely to inspire consumer trust.
---
Kik's KIN Set For A Bout With The SEC
Kik, the messenger platform, also has its sights set on a native token, KIN, though with broader plans. About two years ago, the Kin Foundation raised around $100 million in a token sale. Then the SEC came knocking.
Kik responded with a biting reply that:
The foundation has now sought donations from the crypto community to take the fight up to the regulator in U.S. courts. On his DefendCrypto.org campaign, Kik founder Ted Livingston told Laura Shin on her Unchained podcast that:
Kik is not Facebook, but it still has its critics. Outspoken Crypto Twitter identity WhalePanda was pointed in his condemnation of the proposed court action:
Kin & the "defend crypto" fund: we did a shady ICO which was obviously a security. We took $100 million from idiot investors. Our negotiations with the SEC are going terrible.
Now we want to socialize it and use other shady ICOs/VCs to put pressure on the SEC.
This 👇 is a lie. pic.twitter.com/es7xR5S2hz

— WhalePanda (@WhalePanda) May 29, 2019
According to its November 2018 rebuke to the SEC, Kik's argument for a cryptocurrency seems to pin itself on crypto's ability to jump platforms. But KIN is still issued by a single, central entity, casting some doubts on the legitimacy of those claims.
---
Telegram: Ambitious, But (Kinda) Decentralized
Perhaps a more positive model than Facebook's is that established by messaging app, Telegram. The encrypted messaging giant's TON (Telegram Open Network), which expects a Q3 2019 launch after a $1.7 billion private sale, promises slightly more than a siloed P2P payments method.
The TON blockchain will host smart contracts, powered by GRAM tokens, which are listed on a number of exchanges.
The Telegram project at least pays lip service to the spirit of decentralization, but its actions are another matter. The company caused mutterings in the crypto community when it elected to conduct a private sale. Only two hundred accredited investors were able to participate, meaning that any benefits from the new network will be limited to a handful of people.
---
What Is Crypto All About?
Cryptocurrency is steeped in the ethos of decentralization and personal liberty. While Kik and Telegram are more mindful of users' privacy than Facebook, their self-issued tokens raise serious concerns that digital currencies could be reduced to nothing more than company credit and loyalty points .
No matter how hard they try, these tokens will always be perceived as naturally native to their respective platforms, just as Binance's native coin is to the exchange. Telegram and Kin may not be the big bad wolf, but they could be building straw houses.