DeepBrain Chain (DBC) Token Progress Report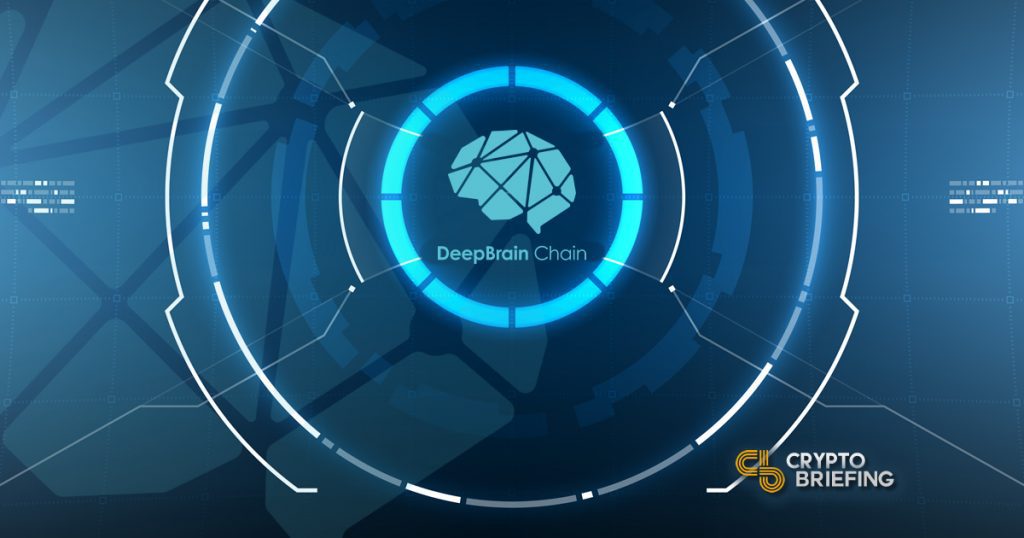 DeepBrain Chain (DBC token) is a blockchain created for use by Artificial Intelligence (AI) developers. Recognizing that building AI systems creates massive computing challenges, the DeepBrain Chain team seeks to offer dedicated resources to AI teams, without the barrier-to-entry of a mammoth computing infrastructure.
Overview on DeepBrain Chain
DeepBrain Chain (DBC) offers a decentralized AI computing platform that aims to disrupt the monopoly of resources held by centralized services. Utilizing the blockchain to access and aggregate disparate computing power, DeepBrain Chain creates an ecosystem of contributors incentivized to provide processing power for AI developers.
Idle computing nodes can be deployed for use to earn DeepBrain Coin (DBC).
Underlying the proposition DeepBrain Chain can reduce costs, AI developers will not require direct access to hardware to meet the demand for large amounts of computing power. Further, DeepBrain Chain offers a way to increase the quantity of resources available for computing as anyone with a properly configured device can participate in the network, effectively creating a decentralized AWS for AI.
Lower costs combined with higher processing capabilities will provide any AI developer access to a vast amount of computing resources, spurring development and adoption in turn
DBC token rewards nodes for contributing processing power to the network. DBC uses a probabilistic model for selecting nodes to contribute resources, prioritizing those that have already successfully completed tasks. Nodes that drop out of the network before a task is complete are penalized with a reduced probability of participating in future tasks.
---
DBC Proposed Roadmap
DBC has an extensive list of milestones laid out in the project roadmap, which is available in the whitepaper. Below we have highlighted some of the more significant milestones:
2018 Q1
Completion of development of core layer architecture and key components, completion of development of the DBC AI Testnet, and building internal testing environment

Support test users' submission of AI training requests to DBC AI Testnet and finishing training in the Testnet
2018 Q2
Finishing development of features including AI users management, group management, role management and authorisation management

Finishing integration of DBC AI Testnet with blockchain

June 30th launch of Skynet Testnet (yes, it says Skynet)
2018 Q3
August 8th launch of Skynet AI Training Net and DBC token utilization

October 31st Start of AI computing mining
2018 Q4
Further improvement on and testing of the blockchain network and Beta test

December 31st launch of mainnet
2019 Q1
March 31st 2019 integration of AI Training Net and mining function on the mainnet
---
DBC Project Development Progress
According to a press report released on June 1st, the AI Training testnet was rescheduled for release later in the month. Launch of the AI Training Net was again delayed until mid-July.
According to a weekly progress report released on July 10th, the team was focused on conducting extensive training of AI modules on the network. On August 8th, DeepBrain Chain released the AI Training Net, which is currently running on centralized nodes.
The first version of the DeepBrain Chain mainnet release is now scheduled for October, along with a swap from the NEP-5 to DBC native token according to the Telegram channel. As per the roadmap, the full mainnet launch integrating the AI Training Net and publically accessible mining function is scheduled for March 31st, 2019.
---
Ecosystem Building
DBC has launched two programs toward building out a system of nodes for the network. For community members capable of offering the compute resources required for training AI models, DeepBrain Chain announced the Skynet Initiative to recruit nodes for the testnet in mid-June. The details on node specifications are available here.
The results of this program have yet to be released. In addition to this initiative, the project has developed their own custom mining hardware for sale, which will comprise the first nodes integrated into the mainnet if the launch goes according to schedule in October.
An Exchange for AI Tokens?
In a surprise move, the DeepBrain Chain team recently announced plans to launch another ICO for DeepToken Exchange, a digital asset exchange dedicated to trading AI-related tokens. The ICO will offer DeepToken (DPT) to investors, which will be utilized under a vote-to-mine scheme to screen and select projects for listing. While DBC will be included on the exchange, USDT, ETH and BTC comprise the initial base trading pairs.
With plans to go live in October, response to the project has been underwhelming even after a DPT airdrop registration was announced for holders of DBC (who undergo a verification process). The DeepToken Exchange official Twitter account has a mere 113 followers at the moment and on Telegram the community consists of 486 members.
The launch of the exchange raises a number of questions regarding the direction of the DeepBrain Chain project itself. In all likelihood, DBC will see little if any boost in performance since it has no unique utility on the exchange.
The need for a digital asset exchange exclusively for AI-based projects at all is questionable at this stage, given DeepBrain Chain has not launched their mainnet or established an ecosystem to support the value of the original project token.
---
DBC Token Performance
DBC currently holds 219th place on CoinMarketCap at the time of publishing, with a market cap of $18,411,764 USD USD. The total supply of DBC is 10,000,000,000 tokens, with 1,500,000,000 currently in circulation.
Between January 1st and January 10th, DBC experienced a dramatic spike from $0.12 to an ATH of $0.60. The following week saw a drop back down to $0.12 again. A steady decline ensued, with DBC reaching prices around $0.04 before experiencing a brief recovery in May back to $0.12 per DBC.
Since the slight recovery in May, DBC has followed a steady downtrend to $0.012 at time of publication.
Even by the standards of crypto volatility, the fall from a market cap of $547M in January, to under $19M today, is dramatic and likely disillusioning for investors – although the token is still trading at above its original ICO price.
---
Our Verdict on DBC
DBC is marketed as a decentralized AI solution, yet up until this point the project has focused on development of a centralized AI training network, all the while missing a number of key milestone by months.
Integration of the AI Training Net with the native protocol must happen first to assess the potential value add distributed AI mining offers over the alternatives. Once this is accomplished, the move toward tokenization of AI training will arguably hold more promising prospects.
To compete with the likes of Amazon AWS and Microsoft Azure, not only must the project pass the proof-of-concept stage; an ecosystem with sufficient demand for the service must be built. It will be up to the ability of the team to convert a large enough number of AI developers into users for DBC to achieve any real underlying value.
At this stage, we will not be adding any DBC to our holdings.
Learn more about the progress of DBC Token from our Telegram Community by clicking here.
Published: 9/8/18
Token Name: DBC
ICO Date: December 15, 2017
Raised: $11,800,000 USD
Crowdsale Token Ownership: 15%
ICO Price: 1 DBC = $0.008 USD
Current Price: $0.012
Token Return: 1.54x
Market Cap: $18,411,764 USD
The author is not invested in DBC Token.