Delta 2.0 Crypto App Introduces Personalized Newsfeeds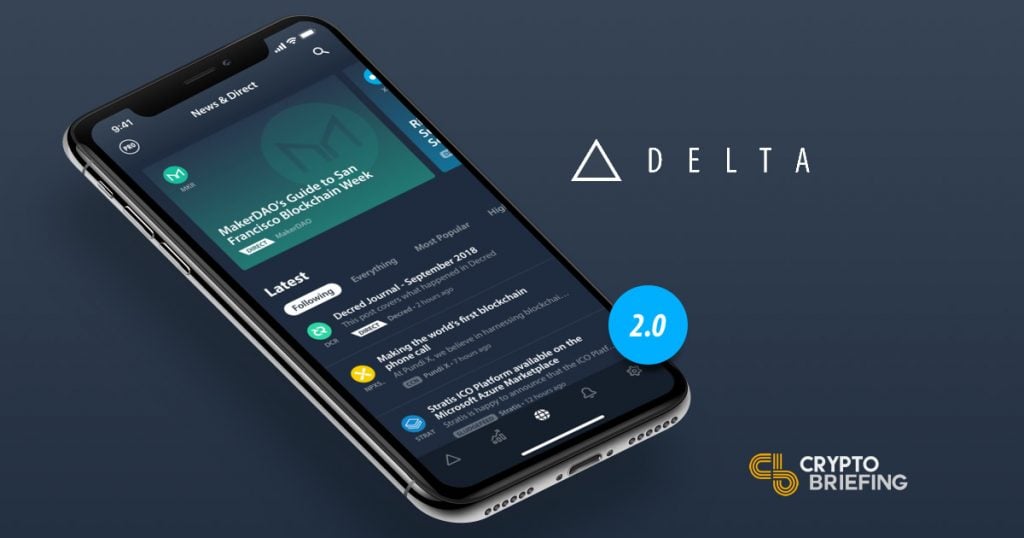 Delta is making it easier to check your portfolio on the go, with features that bundle news, prices and updates into a single mobile application. According to Opus Labs NV, the Belgium-based company behind Delta, the new release will further the company's goals of "smartly connecting the entire crypto space."
In addition to price charts and price action for the major cryptocurrencies, the biggest new addition to Delta 2.0 is "News & Direct," a personalized newsfeed that allows Delta users to follow news and updates on the projects in which they are interested.
"We wanted to create a feed that is not just like every other aggregator feed out there," explained Delta CTO Filip Minev, in a statement. "Thanks to our following system, we can personalize it completely to the user's preference while our collaborative filtering algorithms make sure that the content that is most relevant to you, is shown first."
However, Delta will limit the available sources, in order to ensure that users are exposed only to "high quality and trustworthy" content. Four news organizations have been selected as Delta's initial news providers: Crypto Briefing, Sludgefeed, Cryptoglobe, and CCN.
In the announcement, Minev emphasized that the new recommendations engine would help expand the horizons for most crypto investors, many of whom are only familiar with the most high-profile projects.
"Naturally, bigger market cap coins are reported on much more and will be shown to more users," Minev explained. "However, we really found it super important to make sure that significant news around lower market cap coins don't get pushed aside."
The new release follows on the heels of Delta Direct, a function which connects token teams with potential investors. Launched in September, Direct allows Delta's users to learn the latest news about blockchain technology and investments. The company says that the service proved a huge success, with 350 token teams joining the program and sending over 5,000 Directs per month.
Since being founded in October, 2017, Delta now claims over one million users and has been acclaimed for an intuitive user interface. Last year, the app won the Webby judges award for "Best Mobile User Interface."
Although the app trails competitor Blockfolio in overall downloads, Delta appears to be seeking differentiation points.
"[I]t was never about 'the most' to us," said Delta CEO Nicolas Van Hoorde, about the company's success with Delta Direct. "We're all about delivering the best and fastest way for our users to get insights and leading-edge information about the token teams they care about."
The author is invested in digital assets.