Dennis Rodman Shills Potcoin During Trump North Korea Summit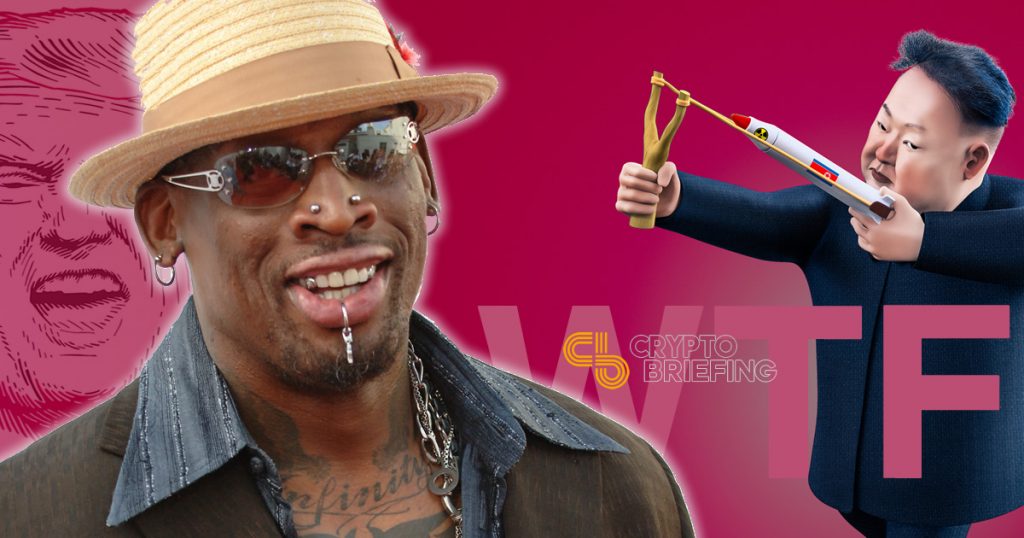 If you've never, never done acid and wondered what it's like, this week's news is pretty spot-on. Markets are panicking as the bitcoin price plummets to "only" seven thousand dollars. The host of The Apprentice, President Donald Trump, opened face-to-face negotiations with the DPRK which may finally end the 68-year Korean War. And master statesman Dennis Rodman, the "Kissinger of our times", appeared on international television to shill a cryptocurrency for the marijuana industry.
If you weren't high yet, you are now.
In ordinary times, we wouldn't spend too much time on a minor weed coin that's ranked 300-something by market cap. But this is 2018, and here we are. What is "potcoin" and why did Dennis Rodman choose their T-shirt as his official diplomatic apparel?
No one can say why Dennis Rodman does anything, least of all The Worm himself. But, with all eyes on Singapore, it may be possible to divine some motivations.
In part, the Potcoin Tee may be considered Rodman's traditional garb, like a Dashiki or a Thobe. Mr. Rodman has played the diplomatic game before, having repeatedly visited Pyongyang and brokered negotiations for the first official DPRK-USA basketball tournament. On his second visit, in 2017, Rodman wore similar garments.
Another reason is that Rodman was on a mission, and we're not just talking about denuclearisation. Although Rodman offered "moral support" to the negotiations, PotCoin knows an opportunity when it sees one.
"The PotCoin team as a community has been incredibly supportive of Rodman's peace mission from the beginning," a PotCoin spokesman told The Washington Post, on the subject of sponsoring Rodman's trip to Singapore. "We're thrilled to see how the political climate has improved between North Koreans and the U.S. since he became involved."
So, while Mr. Rodman doesn't exactly need encouragement to relish the devil's lettuce, a sponsorship from his favorite cryptocurrency is probably not unwelcome.
PotCoin is not the only token for toking, but the Rodman sponsorship does put it "high" above the competition. Shortly after the teary-eyed Rodman appeared on CNN with his T-shirt and MAGA hat, PotCoin prices mooned as the international media picked the story up. A similar spike occurred during Rodman's last sponsored trip to North Korea.
And, it seems, Mr. Rodman may get a little more for his troubles than a cool shirt. "We at PotCoin definitely believe that Dennis Rodman deserves the Nobel Peace Prize jointly with President Trump and the Marshal Kim Jong Un," a Potcoin spokesman told the Washington Post.
Normally, most of us would scoff at the idea of any of those three people receiving a Nobel Prize. In a year like 2018, it wouldn't even be the strangest thing to happen.
The author is invested in Bitcoin.