Dentacoin Price Spiral Now Seems Toothless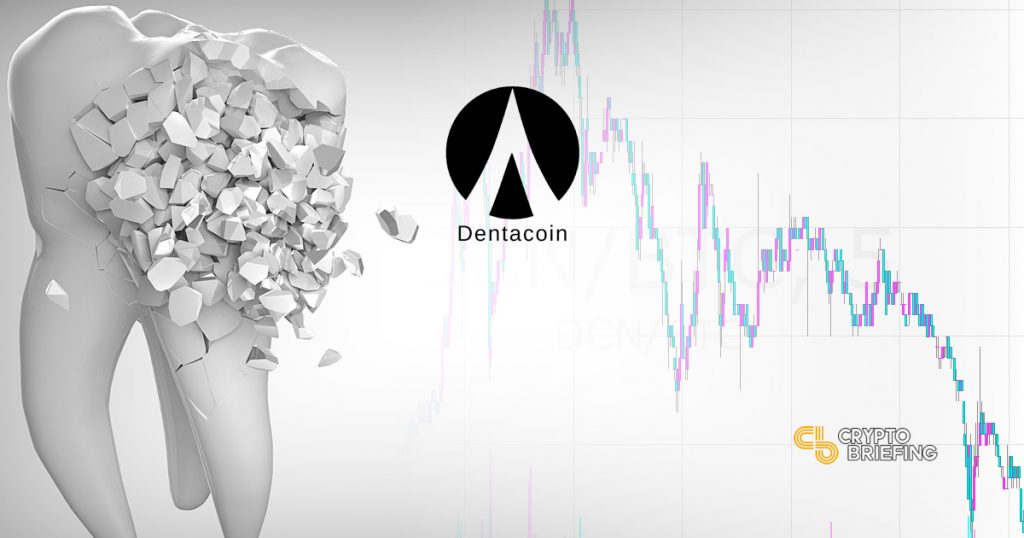 The cryptocurrency Dentacoin (DCN), designed to enable better reviews for dentists, has begun to fall hard at the end of a week-long price rise.
The token had enjoyed a seven-day rally and a near 230% rise in its price, making it one of the highest performing coins in the market last week.
Starting last Monday at $0.000374, Dentacoin reached a high of $0.001248 by Sunday evening; although minuscule per coin, on a macro-scale this represented a near $390m surge in DCN's market cap.
The price rise, which continued until Monday morning, has since reversed and is now down nearly 50% since yesterday, according to CoinMarketCap.
According to the order book from the cryptocurrency exchange, HitBTC, the sale volume for DCN is much larger than the buy volume, indicating that speculators are making a quick sell to profit from the returns.
The DCN price had originally risen following a listing on Changelly two weeks ago. Based in the Czech Republic, the exchange made buying Dentacoin easier as it offers relatively low-cost conversion rates and enables customers to directly buy listed coins using their fiat bank cards.
---
Dentacoin: A crypto for dentists?
Sometimes called the 'Bitcoin of Dentistry', Dentacoin has a very specific and defined use-case: namely improving the global dentistry sector through accurate and reliable reviews.
Founded in 2014, Dentacoin aims to create an ecosystem where patients can give dentists reviews and be rewarded for doing so with DCN.
According to its white paper, the end-game is to collate all these reviews together to create a strong medical database which can be used by anyone looking for dental treatment.
Although the project has been met with apprehension since it first started, Dentacoin showed it was a serious contender in June last year when it bought a London-based clinic – reportedly valued at $92m – entirely in DCN.
According to the American Dental Association, one of the main obstacles why people don't regularly visit the dentist is because of the cost.
Implementing a reward system where patients can give reviews and earn money, which can then be put towards further treatment, could encourage more people to go for a check-up.
Perhaps unsurprisingly, Dentacoin is the only crypto of its kind – but its strength comes from its limited use-case. It may not be the next Bitcoin, but it could likely spread if it can actually address one of the key obstacles facing dental practices.
However, until Dentacoin can convince practitioners and patients to use its platform, DCN will likely remain at the mercy of speculators – which will likely cause wild price volatility.
In a sector where cost is a major inhibiting factor, a new crypto that offers incentives and cheaper dental care has proven to be something real investors can sink their teeth into.
Unfortunately, the speculators now appear to be putting their mouths where their money was.