Earn 240% APY With Ampleforth's New "Beehive" Incentive
Ampleforth's incentivized Uniswap pool is not only the most liquid, but also the most profitable.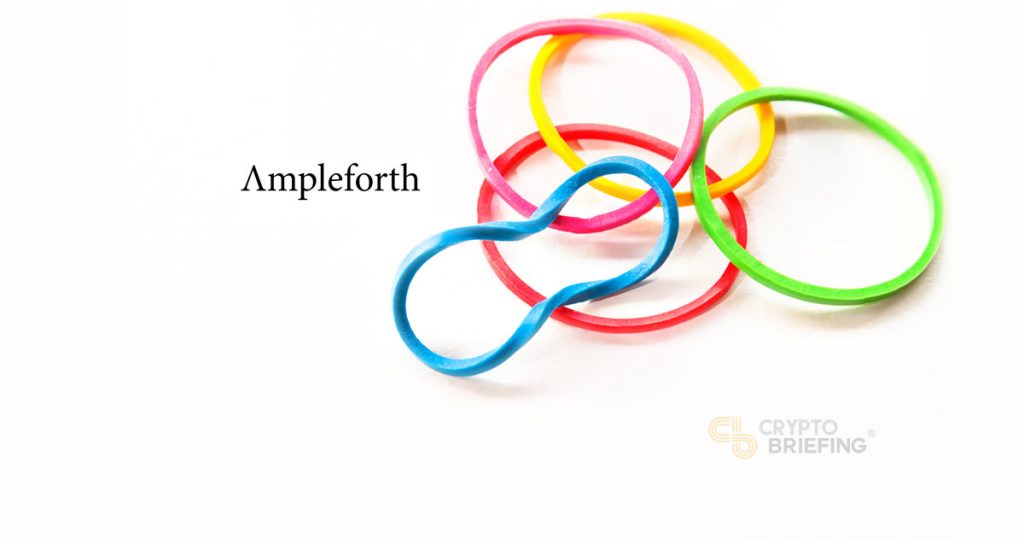 Key Takeaways
AMPL-WETH is the most liquid Uniswap pool, more than doubling investor value in the last month.
Providing liquidity on Uniswap is not for everyone as a HODL strategy often outperforms a liquidity provision strategy.
Despite Ampleforth's immense growth, the protocol's intricacies are understood by few.
Since becoming Uniswap v2's most liquid pool, Ampleforth has now launched a new incentive that offers yield farmers up to 240% annualized yield.
Ampleforth Incentives Propel Liquidity
In June 2019, Ampleforth launched its Geyser program, offering liquidity providers in Uniswap's AMPL-WETH pool additional rewards.
It took just a few weeks for this incentive to push the pool into Uniswap v2's most liquid. Yesterday, the Geyser was upgraded to the Beehive program.
Beehive 1.0 will run for 90 days in total, and currently offers investors 242% APY. The gross reward over three months is approximately 60.5%, assuming this yield stays constant.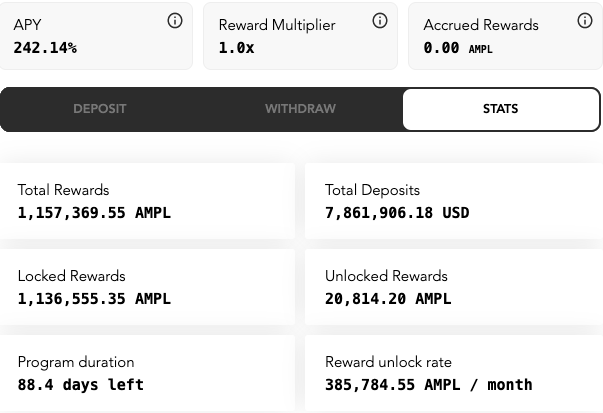 The AMPL-WETH pool has over $11 million of liquidity, with $15 million of volume done in the last 24 hours. Roughly $8 million of Uniswap pool tokens are locked in Beehive, while $2.3 million remain in Ampleforth's pilot, Geyser.
Over the last 30 days, the AMPL-WETH pool has given liquidity providers an effective yield of 132.7%, outstripping the gains of every other liquidity pool. This return excludes additional incentives from the Geyser and Beehive.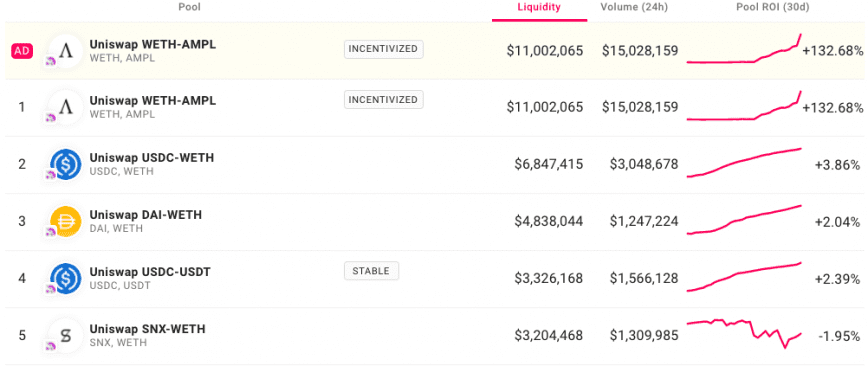 However, those interested in AMPL and attracted by the enormous yield should understand the risks of providing liquidity on Uniswap. For tokens that are performing well, a HODL strategy outperforms liquidity provision by a long way.
At the time of writing, the Ampleforth token has a market cap of $125 million based on circulating supply, up from $7.3 million just a month prior.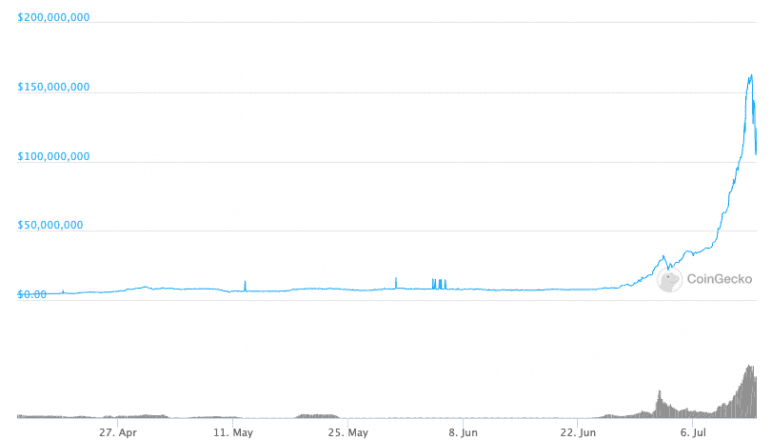 AMPL, which aims to become collateral for the nascent DeFi ecosystem, is undergoing massive price appreciation at a time when DeFi tokens are outperforming the broader crypto market.
Disclosure: This article was independently selected by our editorial team for coverage. However, Ampleforth is an ad sponsor for Crypto Briefing.