Emotiq ICO Review and EMTQ Token Analysis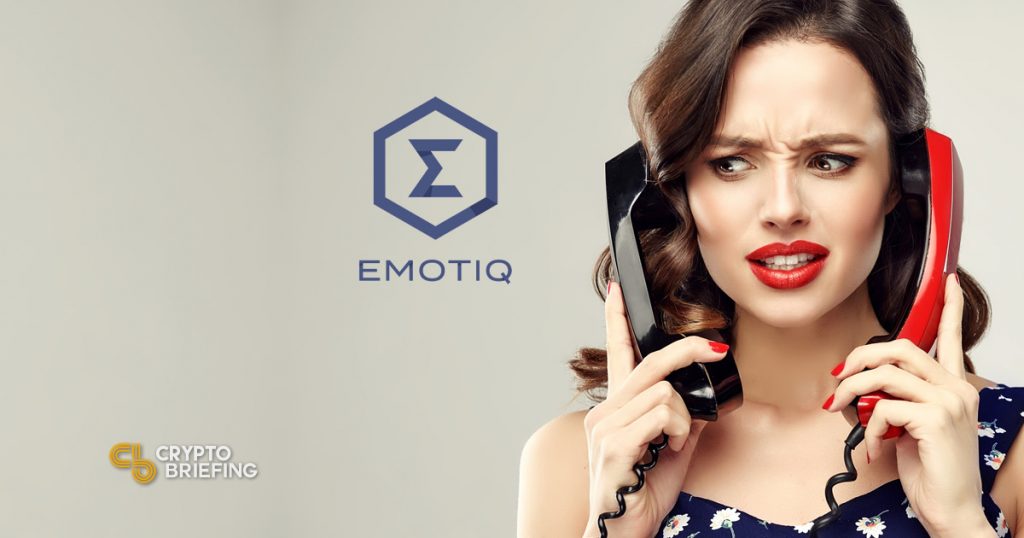 Emotiq ICO Overview
The Emotiq ICO and EMTQ token sale are raising funds to build an accessible, user friendly blockchain protocol which maximizes both privacy and scalability. Emotiq features its own programming language for smart contracts based on natural language, called Ring. The protocol is designed specifically so users without prior coding knowledge can now read and create smart contracts.
This may sound fascinating and clever; but unless you have $100k to invest, this is where you hop off the bus. In the face of regulatory uncertainty (and like many current ICO projects) the team has been forced to cancel the public portion of their sale – they will be offering private sale investment, as detailed here.
Of course, the EMTQ tokens will eventually reach secondary exchanges, and diligent researchers will still find much in this ICO review to be of interest. We just wanted to inform our readers up-front.
Emotiq ICO Value Proposition
Emotiq propose a universally accessible protocol for creating smart contracts with the goal of igniting the next phase in the evolution of dapp development. The catalyst for making this dream a reality is through natural language smart contracts, created in a native programming language based on plain English. Non-programmers use Ring to create contracts, which are then converted into Lisp language and can be tested in the Ring VM Sandbox before being committed to the blockchain. For programmers, smart contracts on Emotiq can be written directly in Lisp.
For every blockchain protocol, scalability is paramount; yet imagine a scenario in which anyone can create a smart contract without prior programming knowledge, and the necessity becomes even more palpable. To achieve the goal of scalability, Emotiq is built on OmniLedger for high-throughput facilitated via sharding. Along with scalability, Emotiq make privacy a crucial focus, with zero-knowledge proofs employed for transactions, ensuring they do not appear on the public ledger.
The Emotiq platform consists of three primary components:
Blockchain: the chain is built on top of OmniLedger and scales horizontally through sharding. Emotiq also employs UTXO to further increase scaling capability, enabling both independent and parallel transaction processing. For the consensus mechanism, Emotiq utilizes Proof of Stake.
The Ring VM: a sandbox that enables experimentation with smart contracts for refinement through an interactive environment prior to committing them to the blockchain. The Ring VM runs smart contracts written in the native language as well as most Ethereum-based contracts.

Oracles: allow smart contracts to interact with the outside world providing a crucial value add in terms of use case scenarios. Emotiq oracles serve both to retrieve real-world data to answer smart contract queries.

EMTQ is the underlying token of the Emotiq blockchain and is a native token to the protocol. The primary serves primarily as a vehicle for value transaction for payments, services and resource consumption on the network. EMTQ will be distributed upon the launch of the mainnet in Q4 2018.

Emotiq ICO Team
Joel Reymont (CEO): Joel began his journey as a software developer in 1993, having worked with the likes of Merrill Lynch, Thomson Reuters, Mozilla and many others. According to his LinkedIn, he has owned his own software development business for nearly 16 years. Prior to Emotiq, Joel served for 6 months as CTO with Aeternity.
Vladimir Lebedev (VP of Engineering): Vladimir has more than 25 years of experience as an entrepreneur and technology leader in the fintech, telecom, and media industries. Standout roles throughout his career include CTO of the first Russian stock exchange after the fall of the Soviet Union and more recently, as COO of Data Storage Systems at Russian tech giant Mail.Ru Group.
Emma Cooper (COO)- According to her profile on the Emotiq website, Emma practiced corporate law before moving on to work with the US State Department on counterterrorism. The URL to her LinkedIn on the Emotiq ICO website is down.
David McClain, PhD (Chief Rocket Scientist): David has 5 decades of experience in computing, 3 of which predominantly involving Lisp. Befitting his current title, David has held various senior level positions in the aerospace industry, including as Principal Scientist on the Raytheon ExoAtmospheric Kill Vehicle project. Yes, he actually destroys space missiles. His GitHub is available here.
More information on the entire 10 member team is available here.

Emotiq ICO Strengths and Opportunities
Emotiq employs solutions like OmniLedger, zero-knowledge proofs, UXTO and the Ring VM to optimize both scalability and functionality. These optimizations serve another purpose beyond just laying foundation for a large user base without programming knowledge. Without skilled developers to build out the ecosystem from an early stage, the net appeal of the project will diminish overall. Therefore, a critical piece of the puzzle for Emotiq involves onboarding developers who are more proficient in other programming languages besides Lisp.
The sheer market dominance of projects built on EVM makes any mechanism for easing developer onboarding quintessential to the future of the project. To this accord, Emotiq purportedly supports a certain level of backward compatibility with Solidity, facilitated by machine translation. Through this feature, the native virtual machine can run Ethereum contracts and therefore support Solidity-proficient developers interested in leveraging any potential advantages they find in Emotiq.
Emotiq ICO Weaknesses and Threats
Emotiq wager their bet on the assumption that a natural language layer will make smart contracts more readable and usable, thereby facilitating mass adoption. As one member of the Emotiq ICO team put it, "reading a smart contract written in Ring should be as easy as reading the newspaper." While the idea may seem appealing at face value, a closer look reveals some potential pitfalls.
To illustrate the potential of natural language programming, the whitepaper draws a distinction between the complexity of smart contracts and legal contracts: "It is impossible to understand the behavior of current smart contracts without using a computer to evaluate them. Legal contracts, in contrast, can be easily read and understood." From a layman's perspective, "understanding" a legal contract is best done with expert assistance (i.e. a lawyer), as even a simple misinterpretation could spell disaster.
Correspondingly, smart contracts written in plain English are also subject to misinterpretation. As a non-programmer executing a smart contract written in Ring, I'm forced to trust my own interpretation of the language, as well as the creator of the contract. Smart contracts are only as "smart" as the people writing them, and the notion that natural language code is the key to millions of non-programmers creating and executing viable contracts is highly doubtful.
Based on social media indicators, the community support for the Emotiq ICO is at the lower end of the scale for a protocol. The long-term success of a protocol is dependent on both developers to build out the ecosystem and a support base of enthusiasts to sustain awareness and engagement, especially when taking into consideration the sheer number of competitors in the protocol sphere.
As for ecosystem growth, the whitepaper outlines tentative plans for a blockchain education and developer marketing program, though no specific date for this is set. At this stage, any strategies for growth beyond the Q4 2018 mainnet launch remain vague at best.
The Verdict on Emotiq Labs ICO
A cursory look at the Emotiq ICO reveals one of the most head-turning teams in the space, and along with it, a project that's both novel and ambitious. Yet the the gulf between the vision and reality quickly becomes apparent upon further examination, not simply from an abstracted, conceptual standpoint, but from a close-up look at the fundamentals.
We're going to pass on the Emotiq ICO.

Additional Information
Emotiq have cancelled their public sale, originally scheduled for June 15, 2018, in accordance with FINMA regulatory policy. To remain compliant, the structure of the token sale now consists of a series of private rounds. Exact details on the structure of the token sale are available here.
Learn more about the Emotiq ICO (EMTQ) from our Telegram Community by clicking here.
EMOTIQ ICO REVIEW SCORES
SUMMARY
The Emotiq (EMTQ) team is seeking to make smart contracts 'as easy to read as the newspaper'. And in that one quote lies the extraordinary challenge facing them. If we, regular people, reading an article, with our individual biases, and perspectives, and histories, and political predilections… and possibly even the fact that we have different dialects, linguistic mannerisms, levels of education, natural vocabularies… if we can't agree if an article in the newspaper is #FAKENEWS or objective truth, how can we expect natural language smart contracts that any two parties can agree upon? The argument that legal contracts can be 'easily understood' is fallacious, and conveys to us that despite their undoubted academic prowess, the team may have unrealistic expectations of their success.
Founding Team……………………….8.2
Product…………………………………..6.1
Token Utility…………………………..8.6
Market…………………………………..7.0
Competition…………………………..6.5
Timing……………………………………9.2
Progress To Date……………………4.5
Community Support & Hype…..6.3
Price & Token Distribution……..3.6
Communication……………………..6.8
FINAL SCORE……………………….6.5
UPSIDES
Lead team members have impressive track records with previous endeavors

Technical expertise is exceptional
DOWNSIDES
Core concept raises some serious concerns

Community support is minimal along with efforts to address this

Project progress tilted heavily toward tech
Today's Date: 6/7/18
Project Name: Emotiq
Token Symbol: EMTQ
Website: https://emotiq.ch/
White Paper: https://emotiq.ch/whitepaper.pdf
Hard Cap: $39 million
Total Supply: 1,000,000,000
Token Distribution: 51% to private sale, 35% to team (18 month lockup), 13.75% to reserve for promotion, airdrops, bounties
Price per Token: $0.1524
Initial Market Cap (at sale price): $53 million
Fully-diluted Market Cap (at sale price): $150 million
Accepted Payments: ETH
Countries Excluded: China, US
Bonus Structure: N/A
Presale Terms: Minimum investment $100k
Whitelist: [email protected]
Important Dates: https://t.me/emotiq_official
Expected Token Release: Mainnet Launch Q4 2018
Additional Information: https://t.me/emotiq
---
ICO Review Disclaimer
The team at Crypto Briefing analyzes an initial coin offering (ICO) against ten criteria, as shown above. These criteria are not, however, weighted evenly – our proprietary rating system attributes different degrees of importance to each of the criteria, based on our experience of how directly they can lead to the success of the ICO in question, and its investors.
Crypto Briefing provides general information about cryptocurrency news, ICOs, and blockchain technology. The information on this website (including any websites or files that may be linked or otherwise accessed through this website) is provided solely as general information to the public. We do not give personalized investment advice or other financial advice.
Decentral Media LLC, the publisher of Crypto Briefing, is not an investment advisor and does not offer or provide investment advice or other financial advice. Accordingly, nothing on this website constitutes, or should be relied on as, investment advice or financial advice of any kind. Specifically, none of the information on this website constitutes, or should be relied on as, a suggestion, offer, or other solicitation to engage in, or refrain from engaging in, any purchase, sale, or any other any investment-related activity with respect to any ICO or other transaction.
The information on or accessed through this website is obtained from independent sources we believe to be accurate and reliable, but Decentral Media LLC makes no representation or warranty as to the timeliness, completeness, or accuracy of any information on or accessed through this website. Decentral Media LLC expressly disclaims any and all responsibility from any loss or damage of any kind whatsoever arising directly or indirectly from reliance on any information on or accessed through this website, any error, omission, or inaccuracy in any such information, or any action or inaction resulting therefrom.
Cryptocurrencies and blockchain are emerging technologies that carry inherent risks of high volatility, and ICOs can be highly speculative and offer few – if any – guarantees. You should never make an investment decision on an ICO or other investment based solely on the information on this website, and you should never interpret or otherwise rely on any of the information on this website as investment advice. We strongly recommend that you consult a licensed investment advisor or other qualified financial professional of your choosing if you are seeking investment advice on an ICO or other investment.
See full terms and conditions for more.
Founding Team
This category accounts for the leaders, developers, and advisors.
Poor quality, weak, or inexperienced leadership can doom a project from the outset. Advisors who serve only to pad their own resumes and who have ill-defined roles can be concerning. But great leadership, with relevant industry experience and contacts, can make the difference between a successful and profitable ICO, and a flub.
If you don't have a team willing and able to build the thing, it won't matter who is at the helm. Good talent is hard to find. Developer profiles should be scrutinized to ensure that they have a proven history of working in a field where they should be able to succeed.
Product
What is the technology behind this ICO, what product are they creating, and is it new, innovative, different – and needed?
The IOTA project is a spectacular example of engineers run amok. The technology described or in use must be maintainable, achievable, and realistic, otherwise the risk of it never coming into existence is incredibly high.
Token Utility
Tokens which have no actual use case are probably the worst off, although speculation can still make them have some form of value.
The best tokens we review are the ones that have a forced use case – you must have this token to play in some game that you will probably desire to play in. The very best utility tokens are the ones which put the token holder in the position of supplying tokens to businesses who would be able to effectively make use of the platforms in question.
Market
There doesn't have to be a market in order for an ICO to score well in this category – but if it intends to create one, the argument has to be extremely compelling.
If there is an existing market, questions here involve whether it is ripe for disruption, whether the technology enables something better, cheaper, or faster (for example) than existing solutions, and whether the market is historically amenable to new ideas.
Competition
Most ideas have several implementations. If there are others in the same field, the analyst needs to ensure that the others don't have obvious advantages over the company in question.
Moreover, this is the place where the analyst should identify any potential weaknesses in the company's position moving forward. For instance, a fundamental weakness in the STORJ system is that the token is not required for purchasing storage.
Timing
With many ICO ideas, the timing may be too late or too early. It's important for the analyst to consider how much demand there is for the product in question. While the IPO boom funded a lot of great ideas that eventually did come to fruition, a good analyst would recognize when an idea is too early, too late, or just right.
Progress To Date
Some of the least compelling ICO propositions are those that claim their founders will achieve some far-off goal, sometime in the future, just so long as they have your cash with which to do it.
More interesting (usually) is the ICO that seeks to further some progress along the path to success, and which has a clearly-identified roadmap with achievable and reasonable milestones along the way. Founders who are already partially-invested in their products are generally more invested in their futures.
Community Support & Hype
Having a strong community is one of the fundamental building blocks of any strong blockchain project. It is important that the project demonstrates early on that it is able to generate and build a strong and empowered support base.
The ICO marketplace is becoming more crowded and more competitive. While in the past it was enough to merely announce an offering, today's successful ICO's work hard to build awareness and excitement around their offering.
Price & Token Distribution
One of the biggest factors weighing any analysis is price. The lower the price the more there is to gain. But too low of a price may result in an under capitalized project. It is therefore important to evaluate price relative to the individual project, its maturity and the market it is going after.
The total supply of tokens should also be justified by the needs of the project. Issuing a billion tokens for no reason will do nobody any good.
Communication
Communication is key. The success of a project is strongly tied to the project leaders' ability to communicate their goals and achievements.
Things don't always go as planned but addressing issues and keeping the community and investors in the loop can make or break a project.