EON Ditches Tezos Delegation Service: Baker Sifts Focus
Pastry performance is no indicator of future profiteroles.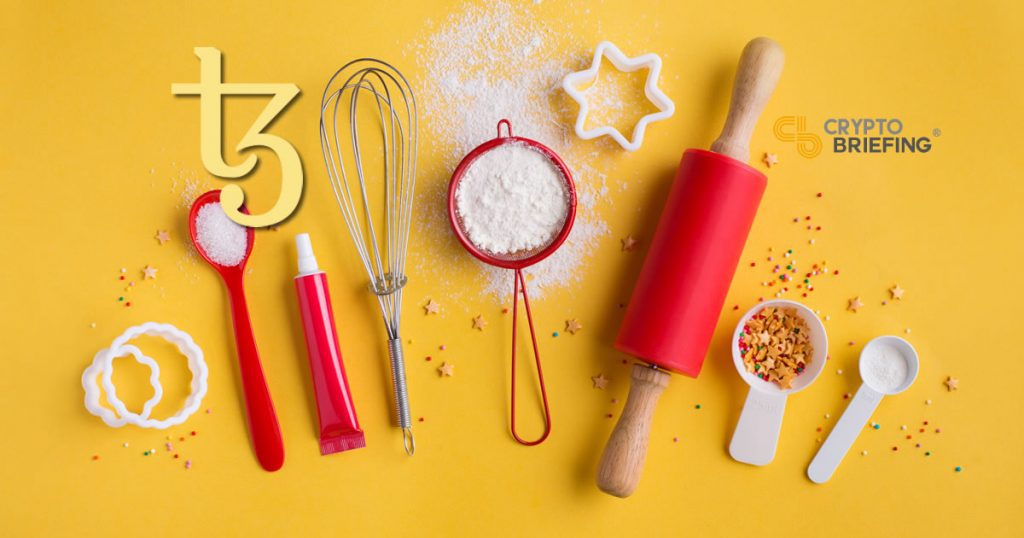 The San Francisco-based staking platform EON is sticking a fork in Tezos… Sadly, this baker is done. The service, touting itself as "the trusted staking provider for some of the best minds in crypto including network foundations, founders, and early investors" is discontinuing its support for the "baking" of Tezos (XTZ) digital assets.
Earlier this year, EON secured over 1.3 million Tezzies and supported over 250 delegations, acting as a Tezos baker, according to a letter issued by EON to Tezos delegates. Originally announced October 21, the end of this service is quickly approaching, with EON taking Tezos out of the oven, ending delegate support as of November 8, 2019.
The move requires users to un-delegate by that date. A final payout will be issued to users on November 29, 2019.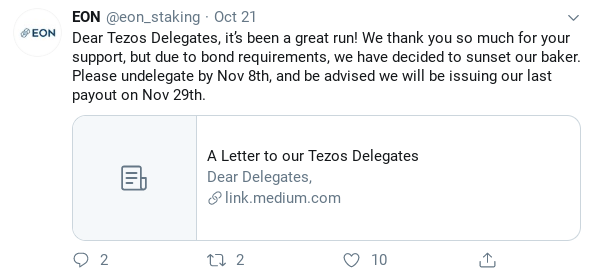 EON announced the news on Twitter, thanking delegates for their support. The tweet explained that "due to bond requirements," the team decided to "sunset" the baker. A letter posted on Medium goes into the details of the reasoning behind the breakup.
The letter explains, "… operating a Baker comes with significant overhead (tax, accounting, legal) and self-bond requirements. By way of background, a Baker must post a self-bond which is proportional to the total delegations received (approximately 12% of self-bond to total delegations)."
The letter continues, explaining the difficulties in scaling requirements: "The bond scales proportionately with delegations, which has made it hard to scale our Baker to meet increasing demand from delegates. While we have bootstrapped the self-bond with our balance sheet, we have found it challenging to find alternatives [sic] viable sources to meet such demand."
While delegating baking rights through services like EON is easier and more secure for the average user, individuals can still delegate independently by setting up their own nodes, as long as they hold a sufficient quantity of Tezzies. This is now easier to do with the recently introduced 'History Modes and Snapshots' staking tool.
While not as intuitive as the user-friendly EON service, solo bakers can continue to participate in staking to secure the Tezos network with this feature.
EON's letter includes instructions for safely un-delegating Tezzies using the TezBox Wallet, Galleon Wallet, and the Magnum Wallet.
While the market as a whole has experienced some rough waters over the last couple days, Tezos experienced more turbulence than average. Market valuation of the asset was hit with a double-whammy: it fell more than 5% on October 23 along with Bitcoin and the majority of the market, following a drop of more than 5% on the previous day, when EON announced the cessation of its delegation service.
As of now, XTZ is fluctuating around $0.77 cents USD.