Erik Voorhees Bets on Ethereum DEXs, THORChain
Crypto Briefing connected with Erik Voorhees to understand ShapeShift's plans to expand its DEX-centric model.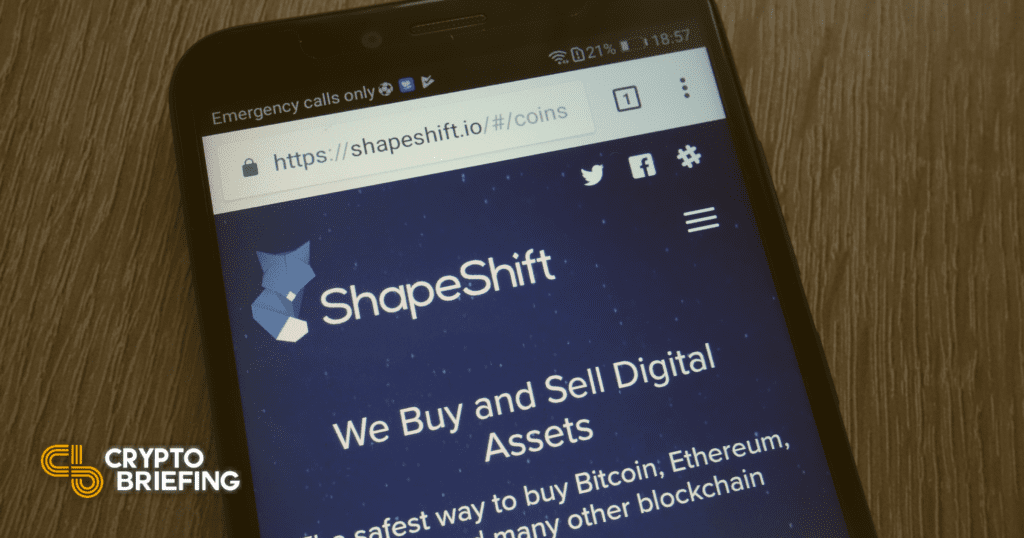 Key Takeaways
ShapeShift has gone from a centralized exchange to adopting a full DEX aggregator model.
The platform has aggregated various Ethereum DEXs and cross-chain trading via THORChain.
Since launching its DEX offering in Jan. 2021, Voorhees says there has been a surge in activity on the platform.
Erik Voorhees Bets on Ethereum DEXs, THORChain
Switzerland-based crypto platform ShapeShift has come a long way since Erik Voorhees founded it in 2014. From its launch until late 2017, it became one of the most widely known centralized exchanges.
In recent years, the platform has pivoted to focus on being a decentralized exchange (DEX) aggregator. In an exclusive interview with Crypto Briefing, Voorhees shed light on ShapeShift's DEX strategy and the project's forthcoming roadmap.
A New Era For ShapeShift
ShapeShift's DeFi-focused plan of action took off in January 2021 with the launch of its Ethereum-based DEX aggregator.
Its new product allows users to trade ERC-20 assets and get the best prices across DEXs from a single interface. This puts it in competition with other leading aggregators such as 1inch and Matcha.
While ShapeShift itself is no longer a trading venue, it has integrated nearly all of the leading DEXs on its mobile and web platform.
Inside the web and mobile app service, users trade through decentralized exchanges like 0x, Balancer, Bancor, Curve, mStable, Uniswap, and others. The objective behind the move is to make trading non-custodial, and in line with the ethos of decentralization.
"We decided that we were going to have a new strategy and not try to provide an exchange service ourselves anymore," Voorhees said. "Shapeshift has been around since 2014 as a centralized exchange, and that was not really competitive versus the DEXs."
Voorhees also reflected on the issues with know-your-customer (KYC) procedures that adversely impacted ShapeShift in its early years. "On the new DEX offering you can add far more assets much faster, and there is obviously no KYC," he explained. "It's borderless and we could get out of the business of regulated activity."
In 2018, owing to regulatory pressures, the exchange asked users to go through mandatory know your customer and anti-money laundering procedures, which caused a sharp drop in trading activity. Voorhees said that it worsened the user experience and cost the exchange 95% of its users.
"Back in 2018, when we added KYC to ShapeShift trading, it was really dismal," he recalled. "This made the users' experience bad because we were forcing them to give up their private information. By not providing the service of centralized trading anymore, we can remove the KYC restrictions."
The revamped trading service does not require traders to complete any KYC procedure. Following the launch of ShapeShift's DEX aggregator, the platform saw a surge in user activity.
Erik Voorhees is Bullish on THORChain
In addition to being an Ethereum DEX aggregator, ShapeShift offers the functionality of trading assets across different blockchains using THORChain.
THORChain is a cross-chain automated market maker (AMM) built on Cosmos SDK that allows users to trade Bitcoin natively with Ethereum and other ERC-20 tokens.
Using liquidity pools, Thorchain removes the need for any wrapping or centralized custodians.
ShapeShift was the first aggregator to integrate THORChain in April 2021. Erik Voorhees said that he believes Thorchain may be a game-changer, and not only for ShapeShift's future goals.
"Some of the biggest trading pairs in cryptocurrency like BTC/USDT and BTC/ETH, are handled on either centralized exchanges or using wrapped tokens," he said. "By using THORChain, the traders can remove centralized risk from such large volume trading pairs, and trade Bitcoin with other assets without giving up control over their assets."
By routing orders through Thorchain, ShapeShift users can trade a native Bitcoin for a native Ethereum cross-chain, without wrapping assets or using any intermediaries.
Even though other projects bridge Ethereum and Bitcoin via wrapped tokens, Voorhees pointed to their security issues, arguing that wrapping Bitcoin with a centralized custody mechanism exposes users to counterparty risk.
Shift between ETH <> BTC

– Non-custodial
– No intermediary
– No KYC
– No added fees
– No wrapped tokens
– No limits

ShapeShift is the only company that offers this on mobile today. Enjoy!#bitcoin #ethereum https://t.co/rwM8dxT7bs

— Erik Voorhees (@ErikVoorhees) June 17, 2021
The Advantages of Non-Custodial Services
Voorhees iterated that centralized exchanges pose risks that are at odds with the concept of immutability. Due to their custodial nature, centralized exchanges (CEXs) often put their customers at certain risks, the primary being the possibility of losing funds to a hack or theft.
According to him, while some of the biggest crypto exchanges are centralized today, the tide has been turning in favor of the many decentralized trading protocols. He said:
"We see that centralized platforms are no longer competitive versus decentralized exchanges. With DEXs and DeFi, you are trusting the open source protocol code. But you don't have to trust any one of the business operations or jurisdictional risks of a company."
With the Ethereum ecosystem's ongoing DeFi boom, DEXs like Uniswap process about $1 billion of volume daily today, more than what is traded at major exchanges such as Gemini and Kraken combined.
Voorhees believes that DeFi provides an alternative, which not only overcomes risk but also becomes a breeding ground for open source innovation.