Ethereum Tops $800 as Bitcoin Marks Birthday at $34,000
First Bitcoin, now Ether: demand for the two leading cryptocurrencies has surged on Bitcoin's 12th birthday weekend.
Key Takeaways
Ethereum has just crossed a new local high of $800, following Bitcoin's latest price action.
The rise of Bitcoin has historically been an indicator of improved returns for various altcoins.
Despite ETH's bull run, BTC continues to dominate the market by a massive margin.
Ethereum just hit $800. The milestone follows a rapid 18% price increase for Bitcoin, now trading above $34,000.
Ethereum Follows Bitcoin's Price Surge
Bitcoin and Ether are soaring.
Ether is trading at $814 on multiple exchanges at the time of writing, its first time above $800 since March 2018. Meanwhile, Bitcoin has been registering new all-time highs all weekend—it's now at $34,505.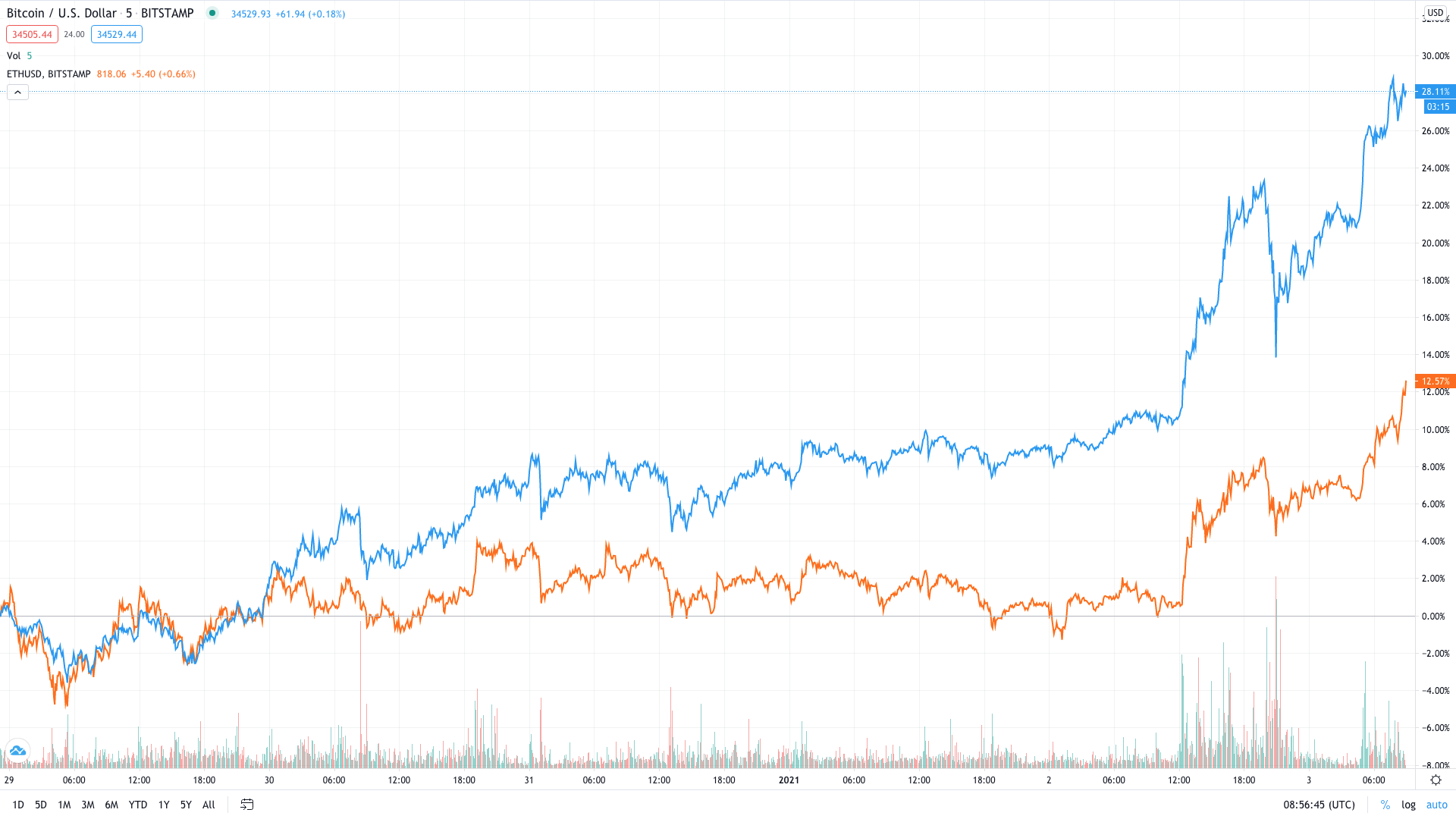 This weekend's market frenzy started with Bitcoin hitting $30,000 for the first time on Saturday, though fertile market conditions have had a positive impact on the price of both currencies for a while.
Last Sunday, Ether hit $700 for the first time in two years. The currency suffered a prolonged downturn throughout 2018 and 2019 but then registered a 533.8% increase in 2020.
Bitcoin has also been powerful recently: since hitting $20,000 on Dec. 16, its price has already increased by another 72%. Market activity hit a peak this weekend once it crossed $30,000. In the last 24 hours alone, it's surged another 18%.
In the last five days, Bitcoin has seen a price increase of around 28%, while Ether's gains slightly trail at 12.5%.
It's a familiar pattern to seasoned cryptocurrency traders and investors. Typically, when Bitcoin experiences a rally, demand for Ether also increases. Money inflows into Bitcoin like those seen throughout the end of last year are generally seen as a positive for Ether and the wider cryptocurrency space.
The Etherean community will doubtless welcome the price action for Ether. With Bitcoin celebrating its 12th birthday today, though, the main talking point of the weekend will be the original crypto's relentless ascent over the last few days.
Ethereum's market cap is roughly $92.5 billion at the time of writing. Bitcoin is just short of $644 billion, and it currently holds 71.45% dominance of the cryptocurrency market.
Disclosure: At the time of writing, the author of this feature owned ETH, among a number of other cryptocurrencies.