Bitcoin's Bull Run Above $20,000 Threatens to Go Parabolic
Bitcoin could be about to go parabolic, although record high sentiment is a concern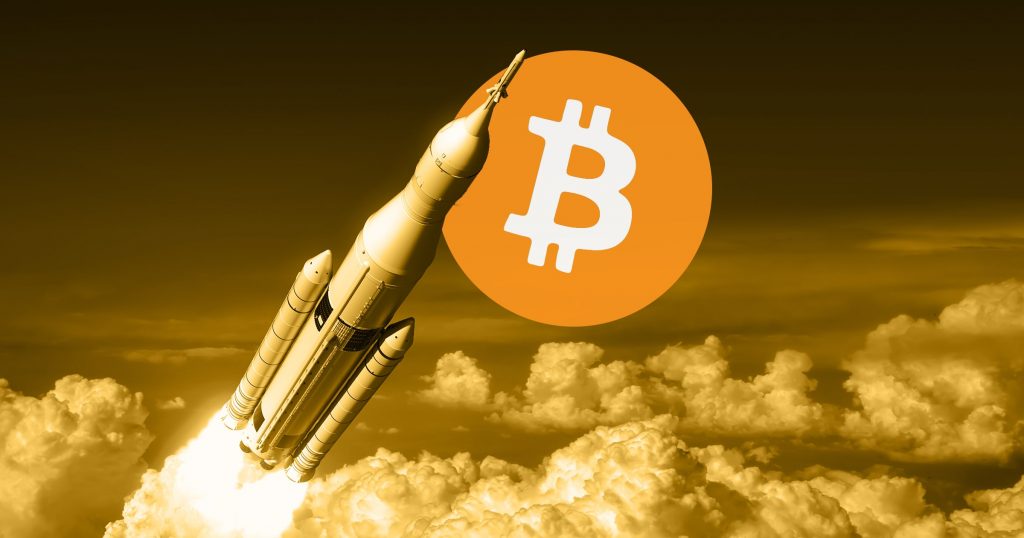 Key Takeaways
BTC could go parabolic if bulls start to take the bellwether crypto above the $24000 level.
Fibonacci analysis shows the $28000 level as weekly resistance if the $24000 level is broken.
On-chain data suggests that there is more room for upward growth for BTC as selling pressure remains limited from the whales.
Bitcoin has experienced a massive surge over recent days, following a plethora of bullish developments and yet more interest from institutional investors.
Institutional FOMO Boosts Bitcoin
CEO of Phemex, Jack Tao, confirmed this dynamic with Crypto Briefing. He said:
"This entire move was primarily led by spot demand, with many worldwide asset managers hastily correcting their zero exposure positions. World-class managers such as Paul Tudor and Stanley Druckenmiller have paved the way and removed the career risks associated with publicizing their interests. Michael Saylor, for example, has also taken a substantial portion of supply off the market."
Traders are now wondering if this move is about to turn parabolic after finally breaking above the $20,000 level, or if investors will begin booking profits on what has been an incredible multi-week bull run for BTC.
This week's price action marks a historical cycle, with the $24,000 level the next major upside hurdle for bulls looking at Bitcoin's technicals.
The current bullish trend could go into overdrive if the $24,000 resistance level is broken, with the $28,000 level the next major upside target. The $28,000 level coincides with a 2.618% Fibonacci retracement extension of the recent up move.
To the downside, failure to hold the price above the $23,000 level could cause short-term selling pressure as whales may start liquidating some of their holdings in the near-term.
Simon Peters, an analyst with trading platform eToro, shared with Crypto Briefing that:
"Bitcoin has quite rightly caught the world's attention with its breath-taking rise to an all-time high of over $23,000, where it currently remains. It's a major milestone some three years in the making, but this is still early days for the current bull run."
This places the $20,900 level, and a former all-time high, around the $19,900 region, as possible downside targets for BTC bears.
On-chain data from crypto behavioral platform Santiment showed a sizable spike in social volume on Dec.16., syncing with the ultimate break of $20,000 all-time high.
This metric suggests increased involvement from BTC traders around that price range.
Comparing the current spike with past data, it is highly possible that the current trend may not change the near-term outlook since it remains in a lower range. This suggests that the BTC market has yet to reach peak euphoria.
However, the Crypto Fear and Greed Index is at an all-time high and shows that traders are in a state of "extreme greed," meaning that the danger of a sharp downside move could occur at any time.
BTC Coinholder analysis from Santiment shows that from Dec. 17, Bitcoin addresses holding 10,000 to 100,000 coins started to accumulate again.
Balances holding 100,000 – 1,000,000 coins have also been holding their accounts at constant balance, suggesting limited selling pressure on the cryptocurrency.
Thus as the market advances, traders should probably expect dips to be bought and a continuation of the near-term trend unless we see this group of large BTC whales begin to move their holdings.
Peters of eToro concluded his analysis with a much more bullish prediction for 2021. He said:
"Looking ahead, I believe that $70,000 – $90,000 is a realistic target for bitcoin to reach by next Christmas. Demand continues to outstrip supply and institutional investors continue to seek exposure to bitcoin to hedge against inflation, both of which have helped to keep the price above $20k. If that trend increases in the months to come, then prices could be driven even higher."