Ethereum and Cardano Post Major Gains Ahead of Network Upgrades
Speculation around Ethereum and Cardano will surge as major network upgrades near completion.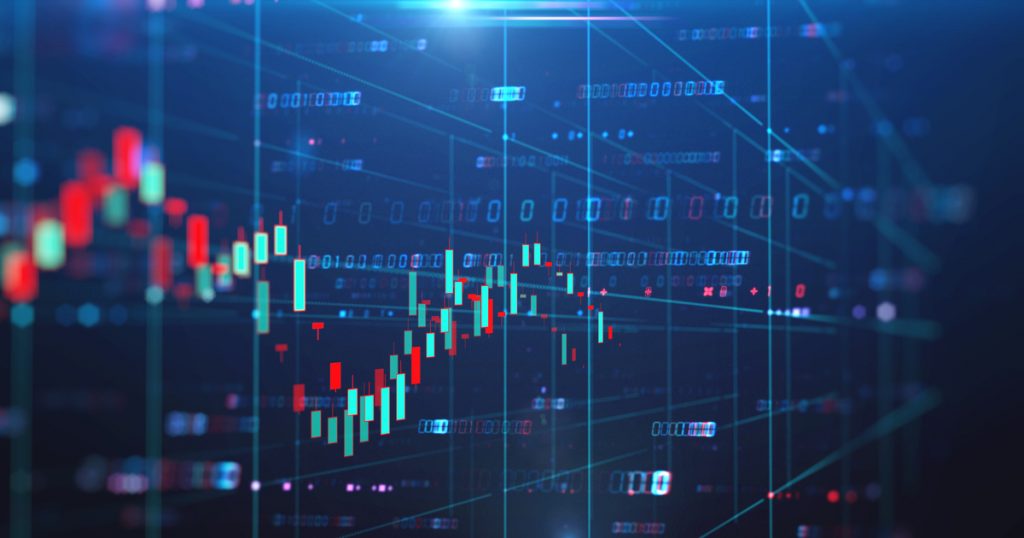 Key Takeaways
Ethereum is trending up, but demand may rise further in anticipation of ETH 2.0.
Cardano is up 50% in the past week after its founder revealed that the Shelley upgrade should come out next month.
While some investors begin to FOMO, ETH and ADA could be preparing for a major upward price movement.
Ethereum and Cardano are scheduled to transition to new proof-of-stake consensus algorithms, igniting double-digit gains.
Two Major Hard Forks Underway
Ethereum and Cardano are scheduled to change their underlying consensus mechanisms. Both of these smart contracts platforms will transition from a proof-of-work (PoW) algorithm to proof-of-stake (PoS). These algorithm changes will transform the crypto-economic incentives around validating transactions.
The launch of ETH 2.0 is scheduled for Q3 2020, while Cardano's Shelley upgrade has been slated for Jun. 30.
As speculation mounts around the upcoming hard forks, demand for these cryptocurrencies is expected to rise. Those who want to earn staking rewards while these blockchains transition to PoS could further fuel the buying pressure.
"It's hard to be bearish with Ethereum staking coming soon. I suspect there will be a lot more ether staked than the projected 10-30 million. Perhaps even 50 million-plus if a lot of people select to stake through exchanges/rocket pool," said David Schwartz, a senior software engineer at decentralized exchange Nash.
Along the same lines, Mati Greenspan, founder at Quantum Economics, noted that the bullish sentiment behind Cardano has been building up. After looking at ADA's social engagement metrics, Greenspan noticed a steady increase in the chatter about this altcoin since the beginning of the month.
Cardano recently saw over 12.4 million interactions across all social network platforms, which is the highest level seen since mid-February. Roughly 76% of all comments, replies, retweets, quotes, shares, and other metrics have been bullish about ADA, based on data from crypto insights provider LunarCRUSH.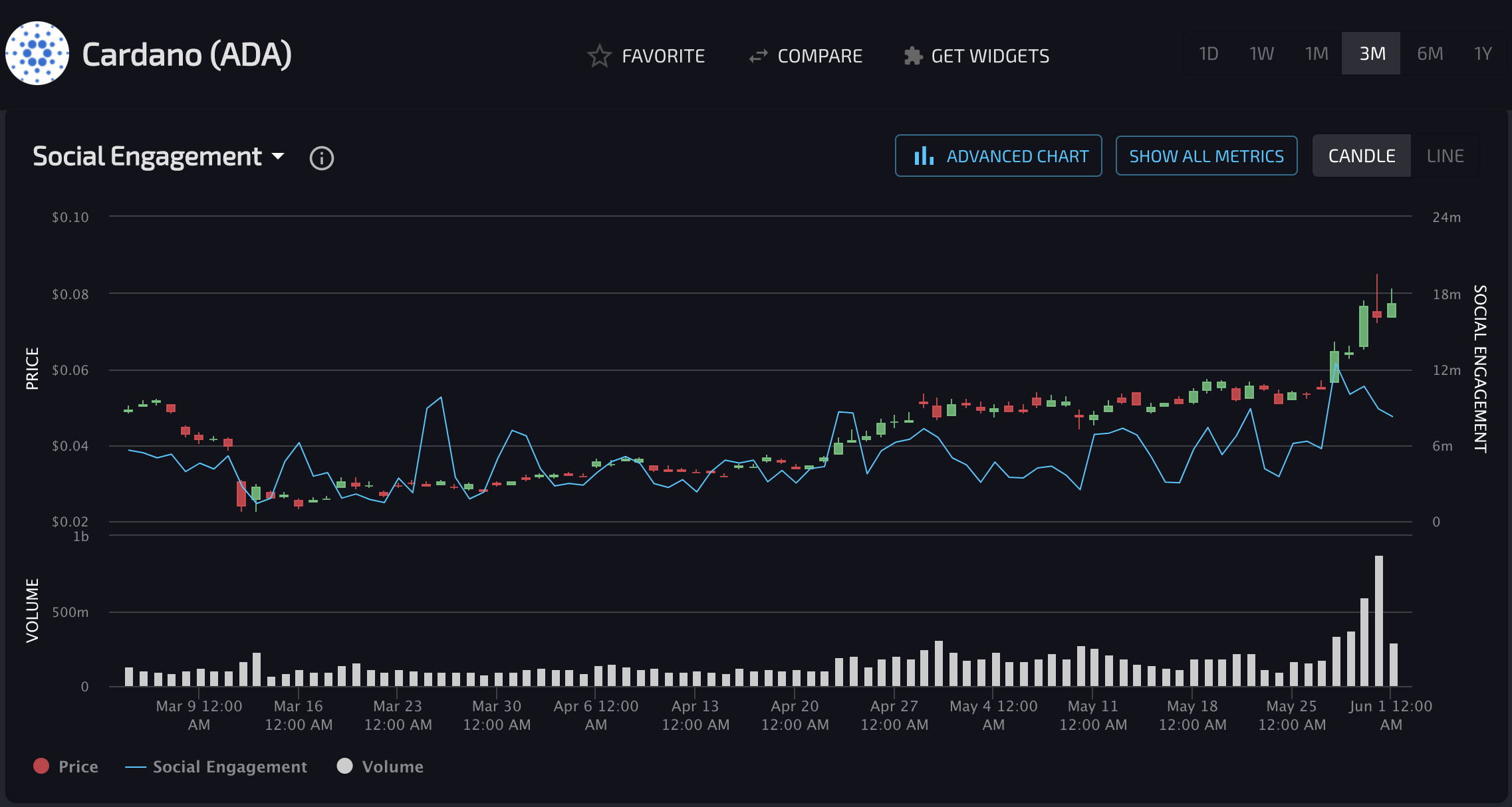 Investors are growing overwhelmingly bullish about what the future holds for Ether and Cardano. Charting patterns further validate this momentum.
Ethereum Could Rise Further
The smart contract giant continues to trade within an ascending parallel channel that developed on its daily chart during the March market meltdown.
Since then, each time ETH rises to the upper boundary of this channel, it retraces down to hit the lower boundary, and from this point, it bounces back up again. This behavior is consistent with the characteristics of a channel.
The upswing that Ether went through last week allowed it to rebound from the bottom to the middle of the channel. Now, the second-largest cryptocurrency by market cap presents an ambiguous outlook.
If the overhead resistance continues to hold, ETH could retrace to the lower boundary of the channel. However, moving past the supply barrier ahead will allow it to advance further towards the upper boundary of the channel.
IntoTheBlock's "In/Out of the Money Around Price" (IOMAP) model suggests that there is a higher probability that the optimistic outlook will take materialize.
Based on this on-chain metric, roughly 57,000 addresses bought over 5.6 million ETH between $231 and $238. These price levels represent a massive supply wall that may absorb any downward pressure.
On the flip side, the IOMAP cohorts reveal that a spike in demand could push Ethereum to $270 since there are few barriers ahead of it.

The Fibonacci retracement indicator, however, indicates that the 23.6% Fib level must be turned into support first before Ethereum can rise further. A candlestick close above this resistance area may see an increase in demand that sends Ether to the upper boundary of the aforementioned parallel channel.
It is worth mentioning that in the event of a correction, investors should pay close attention to the 38.2% Fibonacci retracement level. If this support area fails to hold, then Ethereum could suffer a steep retracement that may see it plummet to $150, as many have argued.
Cardano Lets Loose
Like Etherum, the hype around Cardano is real. The so-called "Ethereum killer" is up over 50% since last week. The sudden upswing came after Charles Hoskinson, CEO of IOHK, revealed the official roadmap of the upcoming Shelley upgrade.
Despite the bullish sentiment behind this cryptocurrency, the IOMAP shows there is a massive supply wall ahead that may prevent it from reaching higher highs. Approximately 13,600 addresses bought 420,000 ADA between $0.08 and $0.085.
This massive resistance wall must be broken first for Cardano to continue its uptrend.

Given the overhead resistance, the Fibonacci retracement indicator suggests that Cardano is currently contained in a no-trade zone. This area is defined by the $0.072 support and the $0.087 resistance level.
A daily candlestick close below support may push the price of this altcoin to the 78.6% or 61.8% Fib level. The bearish impulse could allow sidelined investors to get back into the market, which may help ADA rise to new yearly highs.
Nonetheless, if the buying pressure behind this cryptocurrency continues increasing, ADA might move past the $0.087 resistance level. If this were to happen, the next significant barriers to watch out for are the 141.4% and 161.8% Fib levels. These areas of resistance sit at $0.094 and $0.11, respectively.
Moving Forward
With the significant upgrades that Ethereum and Cardano are set to go through, many crypto enthusiasts seem quite optimistic. However, Santiment, a behavior analytics platform, has repeatedly stated that when the crowd grows bullish around a particular digital asset, its price tends to do the opposite.
As the respective hard forks approach, it is worth mentioning that both of these crypto projects have notoriously delayed many of their network upgrades. Thus, these events could potentially serve as a "buy the rumor and sell the news" schemes.
Whales that bought in earlier and may soon dump their holdings on overly confident investors. Even though this theory has yet to be proven right, implementing a robust risk management strategy can help minimize the risk of adverse market conditions.
For more key market trends, subscribe to our YouTube channel and get weekly updates from our lead bitcoin analyst Nathan Batchelor.